In 2022, Australian Sailing launched The Participation Programs providing retention opportunities for clubs, and class associations to transition participants from Discover Sailing Centre Programs, (stages 1-3 of the sailor pathway) to club and class coaching (stages 4-6 of the sailor pathway), in a way that is seamless, structured, and allows participants to continue progressing no matter what class of boat or board sailed.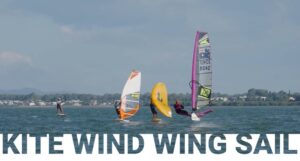 To assist coaches to deliver the Participation Programs, Australian Sailing provided the Participation Program curriculums, for Green-Fleet, Intermediated-Fleet and Advanced-Fleet. The curriculums include individual session plans that are stage appropriate across the 3 levels.
Australian Sailing are now pleased to release the next phase of resources for coaches to aid them in their delivery of Participation Programs for foiling classes.
The new foiling curriculums are now available for all accredited Sailing Coaches to access by logging into the coach HUB, and are currently accessible for SailFOIL, WindFOIL and KiteFOIL classes.
The curriculum for delivering the WingFOIL program is in the final stages of development and will be ready for coaches to access by the end of September 2023.

Each of the 4 Foiling class curriculums include multiple individual session plans across the duration of a season, with suggested activities and associated resources and drills. All of the sessions are designed to achieve stage appropriate development for sailors at any age and can be adapted to any foiling class of boat or board.
It is intended that coaches use the session plans as a guide, and as a starting point while overtime developing what works best for them, their participants, and the environment they are coaching in.
The sessions can be delivered in any order to suit the needs of the group, and also to achieve the best outcomes considering the weather and seas state on any particular day.
The sessions are broken into the following core areas:
Session Purpose
Activity Ideas
Tips and Cues
Competency Measures
All of the Foiling Programs are designed with the assumption that prior to starting a foiling Program, a participant is competent at the non-foiling version of the specific discipline first and has undertaken a FoilLAB to enable them to understand the key principals of how foils work.
Below is a diagram of what a participants foiling journey may look like: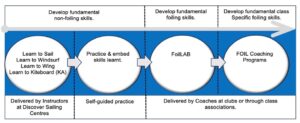 Information on any of the ''learn to'' courses can be found here, or for kiteboarding Australia learn to kite courses here.
Information on the delivery of FoilLABs and how to become accredited to deliver them, can be found here.
Information and videos on safety relating to foiling classes can be found here.
For more information visit www.sailing.org.au
To keep up to date with all marine industry news visit www.marinebusinessnews.com.au