News from Marine & Safety Tasmania
Weather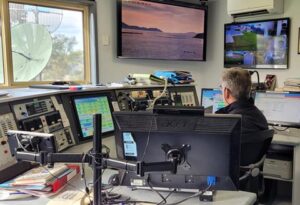 Tasmania experienced some horrendous weather statewide early this week. Gusts of 108 knots were recorded at Maatsuyker Island, which is enough breeze for everyone!
This a reminder to all those who like to get out and try the downwind paddling in gale-force winds. Please consider joining or ringing Tas Maritime Radio to register and log your paddle?
Search and Rescue Authorities were alerted on Monday when a downwind paddler got into difficulty and was initially thought to be missing. SAR was deployed and the person later rang to say they were fit and well. Massive resources were deployed at significant cost.
Please register your paddle, or any boat trip for that matter, and check the weather.
Dredging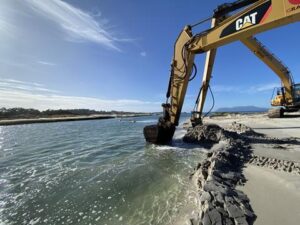 Dredging is being conducted on the Prosser River over the next couple of weeks prior to the bird breeding season. The sandbags were meant to be replaced, however, there was an issue with the quality control of the material, therefore this work will now be delayed until April 2024.
There is also some dredging starting at Triabunna. This will take the "dog leg" out of the channel near what is locally known as Parkers Jetty.
Infrastructure
Some big projects are on the horizon with an extension planned for Freemans Jetty at Coles Bay and the planning for a walkway at Eddystone well underway. The ramp at Lake Binney has now been completed and the pontoons moved at Great Lake and Arthurs Lake ready for the trout season this coming weekend.
If you are heading out for the opening of the trout season, make sure you are compliant as MAST, Inland Fisheries Service and Tasmania Police will be in various parts of the state checking IFS licences and boating safety gear.
Remember cold water immersion and the effects it can have on you. Stay safe and stay inside the boat.  If the weather forecast is not good, stay ashore!
Winter Maintenance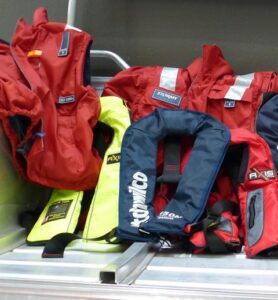 Now is a great time to get stuck into the winter maintenance program. Are the inflatables serviced, what are the wheel bearings like on the trailer, does the motor need servicing, when was the mooring checked, what are the lines in the marina pen like? Don't leave all this too close to the start of the better weather. Get prepared now.
Checking your Inflatable Life Jackets
To keep up to date with all marine industry news visit www.marinebusinessnews.com.au