55 Marine Rescue NSW volunteers from all eight Hunter/Central Coast units and one member from Greater Sydney's Cottage Point unit along with officers from Marine Area Command, members from Surf Life Saving NSW and the Westpac Rescue Helicopter Service have taken part in a major regional Search and Rescue Exercise (SAREX) at Lake Macquarie recently.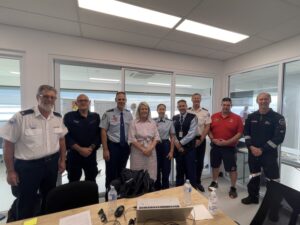 The SAREX scenario coordinated by Marine Area Command was held to test rescuers capability, multi-agency teamwork and communication in responding to a simulated emergency situation in offshore conditions.
Chief Inspector Anthony Brazzill from Marine Area Command said today's training scenario involved a capsized port pilot vessel off Newcastle near the pilot boarding grounds.
"It was unknown whether there were persons still on board.
"We deployed a police vessel which located the vessel and called in divers.
"There was information that there was four persons on that vessel that were last seen in lifejackets floating away, so we organised a search for those missing people," Chief Inspector Brazzill said.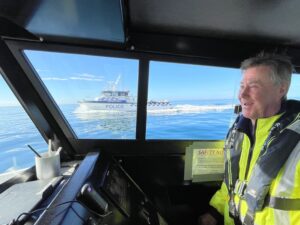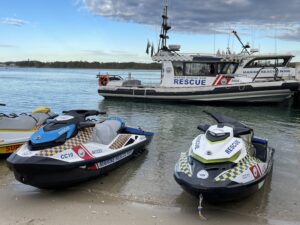 The emergency response scenario involved seven Marine Rescue NSW vessels from Lake Macquarie, the Central Coast, Terrigal, Norah Head, Lemon Tree Passage, Port Stephens and Newcastle, four Marine Rescue NSW rescue water craft (RWC) along with IRB and RWC assets from Surf Life Saving NSW, Water Police 24 and a Westpac Rescue Helicopter.
Chief Inspector Brazzill said the emergency responders were confronted with a large offshore search area from Swansea Heads to Merewether to locate the four missing targets in the simulation.
"The search area was about 70 square nautical miles plus we were also looking at the shoreline around the beaches and the foreshore," he said.
Marine Rescue NSW Hunter/Central Coast Zone Duty Operations Manager Steve Raymond said members of the multi-agency response used their skills and experience to locate the targets swiftly.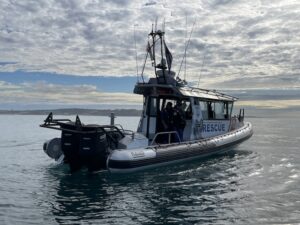 "The exercise went very well, the volunteers found the targets and performed extremely well.
"These exercises are very important to practice what we need to do in an emergency.
"It gives us a chance to go back and look at what we have done and to make sure that we're doing things properly so that it is not costing lives if we make mistakes, it's a good chance to hone our skills and to prepare further for other incidents.
"The scenario set by the Marine Area Command was created to replicate a real-life situation," he said.
Marine Rescue NSW Inspector Raymond said while the on-water exercise was taking place, almost 50 other Marine Rescue NSW Radio Operators and staff participated in a Search and Rescue Desktop Exercise.
Minister for Police Yasmin Catley observed the exercise from the Marine Rescue Lake Macquarie Search and Rescue Coordination Centre at Swansea Heads and highlighted the importance of the multi-agency training exercise.
"Today is about the bringing together of all of our emergency first responders and ensuring that they have the training to implement and to ensure that they can execute their operational requirements when it comes to significant surf and rescue missions.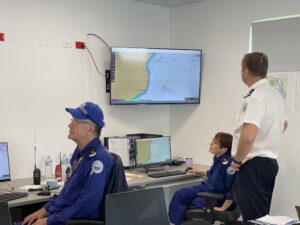 "It's about making sure that there's a collaboration of the different agencies and them knowing what they have to do and when they have to do it.
"What is also critical is understanding their chains of command because that ensures that we have successful operations.
"It is also ensuring that things are done in a timely fashion with the highest level of skill and ensuring that our emergency agencies can cooperate collaboratively together and work together for results to keep our community safe," Ms Catley said.
More than 120 Marine Rescue NSW members and representatives from partner agencies will take part in a Search and Rescue forum tomorrow.
Marine Rescue NSW will hold its final major regional SAREX for the year at Batemans Bay in September.
To keep up to date with all marine industry news visit www.marinebusinessnews.com.au