Greg Stroud joined the Maritimo team in mid-2022 as the Quality Assurance Manager. "It's a great family owned and run company," said Stroud. "I agree with their principles relating to shaft propulsion, the long-range offshore capabilities of the boats, and the new designs coming through now. Maritimo produce proper offshore capable vessels with low maintenance costs."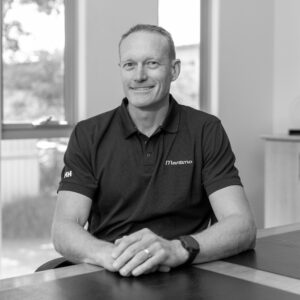 Stroud started his career in the marine industry gaining his trade certificate as a Marine Engineer, and his Master 4 ticket (Certificate IV in Maritime Operations for boats up to 80 metres). He then moved from Sydney to the beautiful Great Barrier Reef where he captained a 100-foot Norman Wright high-speed ferry, called the Whitehaven, for almost six years.
His career then took a slightly different direction when he joined MUR Shipping as Operations Manager, moving back to Sydney and into the office. "MUR owned about 80 bulk carriers that were on voyages all around the world. Each vessel was valued around $30M, caring cargo up to two million dollars. We would be running about ten voyages, at any one time," said Stroud.
Stroud went on to say, "We ran the ships and the voyage to strict budget criteria. This involved many different aspects, including doing the Master's passage plans, organising fuel, finding the cheapest ports for the vessel, arranging port agents, and running the voyage to match the projections of the commercial department."
"Working in a commercial shipping operation was definitely a career high for me. It was a very challenging and demanding role, particularly when we had our ships taken by pirates," Stroud said.
While in this demanding role Stroud also managed to completed his degree, from the Institute of Chartered Shipbrokers – MICS UK, with a distinction in shipping law and vessel operations. He was also granted membership into the Institute of Chartered Shipbrokers.
After ten years in this role, Stroud needed a break. "We were just done with Sydney, the cost and the congestion, and so we did a six-month trip around Australia. We did all of the East coast, going down from Sydney, through into Adelaide and the ranges, then up the Oodnadatta Track in the Red centre, and across to Ayres Rock.
From there we went up to the Gulf Country to Normanton, and subsequently across to Cairns. It really was a great experience," said Stroud. Following this trip, Stroud and his family decided to make the Gold Coast their new home.
"I love living here. I am a keen surfer and try to get down to Main Beach two to three time a week." Most of the weekends are spent around the water with his family. "We've got a Caribbean 20, which we take out a fair bit. Tommy, my youngest is obsessed with boats. He'll see another boat across the other side of the Broadwater, and straightaway he'll know the make and model. He probably picks it better than me."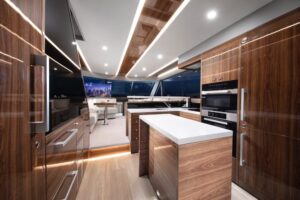 Stroud continued to work in many different areas of the marine industry, including as a marine assessor and loss adjuster for both Club Marine and Nautilus, where he would determine damages, conduct accident investigation and organise salvage operations. During this time Stroud continued to further his education, completing a diploma in Marine Surveying from the Australia Institute of Marine Surveyors.
Before joining Maritimo Stroud also spent a few years in sales continuing to expand his skills in the marine industry. "Stroud is a valuable addition to the Maritimo team with his extensive and varied knowledge of the industry, garnered from fixing, surveying, driving and selling boats", said Tom Barry-Cotter, Maritimo's Managing Director.
"As part of the Quality Assurance process, we go through the boat and just double check everything's perfect. We do a full QA survey on the boat before it gets launched. We find any bits and pieces that are either unfinished or need to be rectified. A survey report including photos is then issued back to the Production Manager, Kym Fleet. It is then back to the floor, so any rectification can be done before the boat leaves the factory," said Stroud.
"I enjoy my role at Maritimo. Getting the quality of Maritimo's boats even higher than they already are has been a challenge, but I find that very satisfying and rewarding."
For more information visit www.maritimo.com.au
To keep up to date with all marine industry news visit www.marinebusinessnews.com.au