Australian Sailing has announced long term partner Zhik has agreed to come on board with support for the 2023 and 2024 Youth Sail Series.
Zhik gear is the choice of Olympic and world champions around the globe, including our own Australian Sailing Team and they will now bring this quality apparel to the Youth Sail Series as prizes for each event.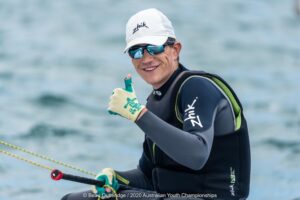 The current State Youth Sail Series are set to roll out from September around the country.
All event details can be found on the Australian Sailing Youth website.
Zhik Youth Sail QLD – 18-23 Sept 2023 – Keppel Bay Sailing Club
Zhik Lake Mac Youth Sail NSW – 27 Sept – 2nd Oct 2023 – Teralba Amateur Sailing Club
Zhik Youth Sail WA – 30th Sept – 5th Oct 2023 – Mounts Bay Sailing Club
Zhik Youth Sail TAS – 12-15 Oct 2023 – Royal Yacht Club of Tasmania
Zhik Youth Sail SA

Youth Championships – 25-26 Nov 2023 – Brighton & Seacliff Yacht Club
Coach Clinic – 19-21 Dec 2023 – Henley Sailing Club

Zhik Youth Sail VIC – 11-14 April 2024 – Sorrento Sailing and Couta Boat Club
The Youth Sail events are a combination of a coaching clinic and the State Youth Championships. The events are open to all junior and youth sailors. They are a fantastic event for learning new skills with top coaches, meeting new friends and having a great time on the water and at the end you get to put what you have learnt into action by competing against your peers in a fun and supportive environment.
Australian Sailing National General Manager, Ben Callard says "it is a thrill and very exciting to have Zhik on board as our naming rights sponsor for the Youth Sail Series. These events are the premier Junior and Youth Sailing events across the country and it is only right that they are matched with our country's premier sailing apparel brand, Zhik. We are very much looking forward to being able to boost our events by handing out Zhik gear and vouchers as prizes to the junior and youth sailors across the country."
Zhik CEO Mat Belcher, also Australia's most successful Olympic sailor, has been a long-time supporter of the Youth Sail Events attending many of the events himself to provide inspiration and advice to the young participants. It is fantastic that this support is able to continue and grow.
To purchase your Zhik apparel please visit their website or local trade partner and support those who support sailing.
For more information visit www.sailing.org.au
To keep up to date with all marine industry news visit www.marinebusinessnews.com.au