International market leaders on board at the world's largest yachts and water sports fair
16 exhibition halls with boats, yachts, boards, diving accessories and destinations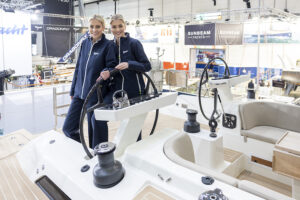 blue innovation dock sustainability forum with outstanding expertise
ocean tribute and love your ocean campaign – beacons for ocean protection
boot Düsseldorf 2024 is heading for a top result. The international market leaders will again be on board from 20 to 28 January and the world's largest yachts and water sports show will follow on from its excellent pre-pandemic results. Commenting on this, Wolfram Diener, President & CEO of Messe Düsseldorf, says: "We have had very successful talks with the manufacturers over the summer months and feel great enthusiasm and anticipation for boot 2024. In January, we will also be able to welcome back brands that took a break this year. In particular, we see very high international attendance from exhibitors. This means boot 2024 will reach the highest level, present wide and varied ranges for both water sports and destinations and will again position itself as the world-leading show for this industry."
16 exhibition halls will be brimming with powerboats with classic and alternative propulsion, luxury yachts from leading manufacturers, sailing yachts – from dinghies to large yachts, diving accessories, canoes and kayaks, houseboats and at Destination Seaside the whole plethora of dream holiday regions by the sea.
Diving deep in Hall 12
Alongside boats and yachts, diving is a mainstay of boot and at home in parts of Hall 11 and 13 and in Hall 12. "Here sport divers find everything their hearts desire and here everyone with a name in the industry will feature. Instructors inform visitors on how to get started in the underwater sport and advise them on the purchase of matching equipment or suitable dive destinations. Subsequently, orders can be placed directly with manufacturers, dealers and tour operators at the show," Christian Hruschka, responsible for diving, technical equipment and tourism in the boot Team, is describing the diving hall. Those seeking a foretaste before diving in open waters for the first time, can immerse themselves in the novices' pool. Experienced sportspeople with a licence head for the futurist diving tower which was recently inaugurated at boot 2023. Petros Michelidakis, Director of boot, adds: "The diving community are loyal boot fans and we have created a real paradise for them. To make this topic even more mainstream in the public, boot has created the Dive Award presented in the categories "Personality", "Climate", "Product", "Destination" and "Innovation" starting this year. It comes with EUR 3,000 prize money in each category and is presented on the stage of the Dive Center at boot in Düsseldorf every year."
boot Düsseldorf: trendsetter in wingsurfing, wingfoiling and pumpfoiling
In surf sports boot is becoming the trendsetter. Here it showcases the latest sports on the water always hitting the mood of the moment. For the forthcoming boot active sportspeople will have their sights on wingfoiling and pumpfoiling as well as wingsurfing, flying or gliding over the water. After the sport presented itself in action-packed fashion this summer and autumn, for example at the Fehmarn Surf Festival (www.surffestival.de) or at the Surf World Cup off Sylt (www.windsurfworldcup.de), the pros are now heading to Düsseldorf in winter. On the 60m long pool in Hall 17, they will show what they can do. And whoever wants to test the boards themselves can book their personal surf slots at www.boot.com from December. Caroline Mühl, the surf expert on the boot team explains: "Boards and the complete accessories portfolio can, of course, also be found in Hall 17 because the renowned manufacturers and dealers in the surf and SUP sectors will join the fray showcasing the latest trending boards."
Fun at join-in activities – enjoying maritime art
Complementing the exhibitors' ranges, the stages and join-in activities as well as maritime art will thrill boot fans. Stars in the diving community will present "cliff-hanger" film scenes of their adventures and be available as experts on the stage in the Dive Center. At the Sailing Center international sailing superstars will report on their sailing trips and participation in challenges. Lara Hannappel, stage coordinator on the boot team, rejoices: "On the Destination Seaside stage, for example, the tour operators will whisk away visitors to dreamlike holiday regions and demonstrate a wide variety of holiday formats by the water in the most dazzling colours." Awaiting all those wishing to be on or in the water themselves will be exciting join-in activities at the Actionpool, the diving tower also offering free-dive training, Sailing School and the World of Paddling. "With so much action water sports enthusiasts also need a little rest and pleasure. Hall 7 will host artists and galleries with maritime art inviting attendees to a varied ocean 'vernissage'," explains Svenja Zimmermann, responsible for Galeria boot in the team.
blue innovation dock – the sustainability forum in Hall 10 – ocean tribute Award and love your ocean campaign – beacons for ocean protection
Also, in focus at boot 2024 will be ocean protection and innovative, sustainable technologies. After its successful launch at boot 2023, the blue innovation dock (bid/Hall 10) will continue to be featured as a sustainability forum. In cooperation with the European Boating Industry (EBI) a unique dialogue format is created here with political, business, technical and media expertise. Petros Michelidakis explains: "The blue innovation dock was created by boot and is a genuine innovation driver. At boot 2023 we were already able to see the ideas and technologies for water sports but also for the operation of marinas and moorings on the bid stage. We are now in the concrete planning stage of the programme and I am not overpromising when I say we will be introduced to a host of new developments, also in alternative propulsion or for sustainable boatbuilding in 2024." In addition, two beacons of ocean protection will once again be on board with the presentation of the prestigious "ocean tribute" Award with partners Prince Albert II. Foundation and the German Sea Foundation as well as the "love your ocean" campaign.
A fireworks display of premieres
The nine trade fair days will see a Fireworks display of global firsts, innovative accessories and new water sports gear. "Many exhibitors choose boot as the venue for launching their innovations for the coming season so as to create an as large a buzz in the sector possible. We can look forward to many trail-blazing developments both in boat building and in propulsions. In addition, we will also leverage the synergies resulting from Messe Düsseldorf's wider portfolio," explains Michelidakis.
A tour of the 16 exhibition Halls
Halls 1 to 4 are reserved for small to medium-sized powerboats, fishing boats and e-boats (up to max. 20 m). Hall 3 will also host the Sportfishing Center as a special meeting point for sports anglers. In Superboat Hall 5, the market leaders for luxury tenders and shadow boats are on board. "Moored" next door in the exclusive marina of Hall 6 will be the luxury yachts segment presented in a concentrated display format that is unique worldwide. Hall 7a is home to super yacht manufacturers with their information stands since their yachts are simply too big for exhibition halls. Halls 9 and 10 are boot's Silicon Valley. Here, the latest technological developments for boating and marine propulsion of all sizes and classes, as well as ribs big and small, inspire technology and rib fans. Hall 11 houses all the useful accessories yachtsmen and women require on board. With the 'love your ocean' stand and the partnering NGOs, ocean protection will also move back to Hall 11 as will the Water Pixel World in response to the requests from many boot fans. Add to this the diving ranges starting in Hall 11 and continuing in Hall 12 and the northern part of Hall 13. Here and at the adjacent Destination Seaside diving and holiday regions from all over the world invite visitors to dream. Another highlight in Hall 13 is the presentation of houseboats and international charter operators. On top of this, services and consulting will be provided on the subject of investment in yachts and yacht-owner programmes. Hall 14 is the meeting point for sporting canoe and kayakers with the World of Paddling and its wild romantic waterway. This is also where the intriguing combo of caravanning and water sports as a form of holidaying is demonstrated. Halls 15 and 16 will serve as the sailing center at boot 2024 and shine with the Multihall-Village and well-known international manufacturers who will be showcasing a broad range for all yachts people – from dinghies to large yachts. "The boot sailing halls will again be a true mirror image of the market and we will also be able to welcome back the manufacturers who suspended participation this year. We can look forward to yachts up to 70 feet," says Arne von Heimendahl, who is the expert for motor boats and sailing yachts in the boot team. The "round trip" of the 16 halls of boot Düsseldorf 2024 closes with spectacular trend sports in Hall 17.
boot.club and admission tickets
Those always wanting to keep abreast of the latest news on boot 2024 even now or take part in attractive prize draws should become a member of the boot.club as soon as possible (at present 166,000 members!). Reduced admission rates and access to the boot.club Lounge on the fairgrounds including free Wi-Fi are guaranteed.
Online tickets for boot Düsseldorf will be available from 12 October 2023 for € 21.00 and € 19.00 for boot.club, caravan.club and ADAC (General German Automobile Association) members; tickets sold at the ticket counters on site cost € 29.00. "It's never too early to start your Christmas shopping: an admission ticket to boot Düsseldorf is a very special Xmas present for water sports enthusiasts. And with a little luck, you might also win tickets in the boot Advent Calendar which goes live on 1 December," says Petros Michelidakis looking forward to the winter months.
For more information visit www.boot.com