Okanagan Lake is a picturesque glacial fjord in British Columbia, Canada. It's also home to Mission Group's new dry stack-only Aqua Boat Club, part of the developer's Aqua Waterfront Village in the city of Kelowna. In comparing the many options available for moving boats from the storage building to the water, Mission Group chose the safety and ease of use of an eight-ton Top-Running Stacker Crane from Capria S.A.
Mission Group located its 2,801sqm 160-vessel dry stack building away from its valuable mixed-use shoreline. With the structure's narrow aisles and 19.5m ceiling, forklifts weren't the best choice. "We looked at our options and travelled to Canadian and US marinas for references," said Austin Friesen, VP of Aqua Boat Club. "They voiced many annoyances regarding working with forklifts at heights. We wanted our operators to be able to move with the crane forks so as to mitigate accidents from a loss of depth perception."
CE-Marked and manufactured to ISO 9001 standards, the all-electric Capria Top-Running Stacker Crane is semi-automated. As members select an arrival time using the Boat Cloud mobile app, the crane operator is notified of the request. Whether on a lower rack or nearer the ceiling, the operator is in an anti-fall cabin and always at eye level with the boat. This drastically reduces the chance of pulling a boat off centre or hitting an adjacent vessel while working.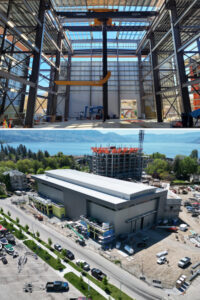 "Our crew has never been happier," said Friesen. "The crane is simple to use and there's no exhaust noise or dust kicked up from tires."
Once the boat is pulled, the operator uses the Capria Top-Running Stacker Crane to place it on one of Aqua Boat Club's loading trucks that then transports it to the water for launching. When the member arrives, the boat is fuelled, potable water topped up and a complimentary bag of ice placed on board. The club currently moves 86 vessels a day but will grow this figure when they increase their ground loading slips from nine to 16. Once construction is finalized, the club will accommodate 193 boats of lengths up to 9m.
Operating from May through September, Aqua Boat Club makes getting out on the water as simple and as fast as possible. Members don't have to deal with the stress and hassles of trailering, nor the time-consuming tasks that come with it. With its optional Boat Sharing Program, members can choose from one the club's fleet of brand-new premium sport boats. The website is www.missiongroup.ca/aqua-boat-club.
Capria S.A. has manufactured precision heavy machinery for over 50 years and marine systems for over 20 years. With low-cost dry stack installations around the world, it has a proven record of improving profits for its customers.
Capria International Sales Representative in Australia is
Butchart Marine Services
Greg Butchart
02 9905 7713
To keep up to date with all marine industry news visit www.marinebusinessnews.com.au