Spotting an iconic Moreton Bay Cruiser in Queensland's waterways evokes a sense of nostalgia and admiration among most boating aficionados.
It's why Andrew Harper decided to curate Classic Moreton Bay Cruisers Volume II, a 440-page collection showcasing amazing imagery and the stories behind 47 vessels that showcase the classic Cruiser style.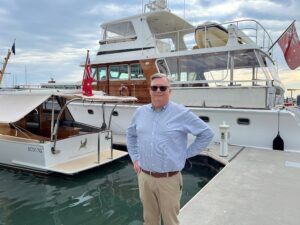 Andrew first fell in love with the iconic wooden boats as a boy growing up in Brisbane in the late 1960s and wanted to share that passion with other boating enthusiasts across Queensland.
"Public interest in wooden boats is stronger than ever," Andrew said.
"The stories of these boats are also closely intertwined with the modern history of Moreton Bay and the famous Brisbane families that have enjoyed its delightful waters for many decades.
"While some great characters have passed away and many of our most skilful craftsmen have retired, a new generation of custodians have emerged to care for our classic boats and keep their stories alive. I hope that by pursuing this personal passion project, I can introduce even more people to the wonderful world of classic Moreton Bay cruisers."
The book is sponsored by Rivergate's onsite contractors and world-renowned boat builders Norman R. Wright & Sons and captures boats ranging from a 3.5-metre sailing dinghy to a luxury 23-metre cruiser, all built between 1912 and 2014.
Bill Wright of Norman R. Wright & Sons said the collective works produced by Andrew Harper had reconnected people and helped them to recall cherished memories of time spent on classic boats down the Bay with family and friends.
"The superb photography illustrates the depth of skills that exist in Brisbane and the beautiful creations that resulted from over a century of creativity from our master craftsmen," he said.
Andrew Cannon, Rivergate's General Manager, said the project managers and marine professionals onsite were accustomed to working with classic timber craft during maintenance and major refit works.
"Many wooden boats choose to prepare for the Moreton Bay Classic at Rivergate's shipyard," he said.
"The skilled trades at Rivergate include engineers, fabricators, upholsterers, painters, marine electricians and mechanics, propulsion specialists, riggers, naval architects and shipwrights. Norman R. Wright & Sons has 113 years of history building timber boats and are considered icons of the industry."
You can purchase a copy of Classic Moreton Bay Cruisers Volume II by visiting www.classicmoretonbaycruisers.com.
For more information visit rivergate.com.au