The Boating Industry Association Ltd (BIA) announced the 2022 winners of the BIA Apprentice of the Year Award during the Opening Ceremony of the Sydney International Boat Show.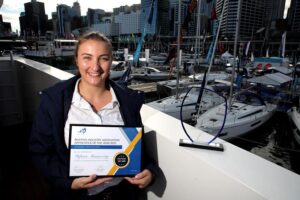 The Apprentice of the Year Award is designed to recognise both the outstanding contribution that apprentices provide to the marine industry and the importance of developing a strong future for training and careers. Nominees are assessed on their achievements throughout the course of their apprenticeship, personal development and contribution to the business.
The overall 2022 award went to:
BIA Apprentice of the Year 2022: Stefanie Mannering (Cruise Craft Boats)
In the State award category, winners were:
NSW Apprentice of the Year 2022: Joel Hercus (Callaghans Marine Services)
QLD Apprentice of the Year 2022: Stefanie Mannering (Cruise Craft Boats)
Winners were presented with a trophy, certificate and a $500 voucher for trade tools of their choice. The overall winner received an additional $500 voucher.
Stefanie Mannering is a 4th year apprentice boat builder with Cruise Craft Boats based in Brisbane. Stephanie is a committed employee who has demonstrated leadership and teamwork, whilst maintaining kindness, honesty, zest and humour in everything that she does. She has worked hard to become the best boat builder she can be and has relished her role at Cruise Craft, proving to be a real asset and an integral part of the team. Her dedication and passion have seen her progress and she is now a key member of the boat production team, assembling Cruise Crafts newest model the F360 Centre Console.
Joel Hercus is a 4th year apprentice marine mechanic with Callaghans Marine Services in Sydney. Joel is a reliable, hard-working employee who recognises the importance of jobsite safety, teamwork and technical capability. Always up for new challenges, Joel has proven himself on a range of difficult diagnostic tasks. Having worked on multiple offsite jobs on large scale servicing and maintenance works, Joel works well independently and with other trades and staff members. He has also demonstrated skills in mentoring junior apprentices. During his apprenticeship, Joel has built a strong skill set as a quality tradesman, particularly working on diesel engines and is keen to further his skills.
BIA Vice President Adam Smith said: "A well trained and skilled workforce is the lifeblood of the boating sector and the BIA Apprentice of the Year Awards are a way of recognising extraordinary talent. BIA has a strong commitment to support and promote education, skills and jobs in marine."
"The marine industry offers a variety of career pathways, working on and around some of the best waterways in the world. Apprenticeships offer anyone interested in a career in the marine sector the opportunity to learn a trade in our industry."
The marine industry reported in 2021 a turnover of $9.55 billion and directly employed more than 26,000 people with thousands more working as contractors. With seventy-five per cent being small businesses, employing local workers and supporting local communities, the need for a trained and skilled workforce is key and apprentices are an important part of our future.
BIA Apprentice of the Year winners Stefanie Mannering and Joel Hercus pictured with BIA Ltd Vice President Adam Smith (left) and Tim James MP (right)
For more information on BIA go to: bia.org.au