Hunts Marine was the first appointed Quintrex dealer in Australia? Quintrex and Hunts Marine have a strong 68 year partnership which started in 1955!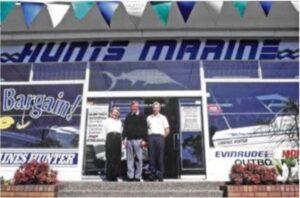 In the years immediately following World War II, Terry Quantrill the founder of Quintrex boats, began experimenting with manufacturing boats made from steel and aluminium in a tin shed behind his home in Sans Souci, Sydney.
By the early 1950's, demand for aluminium boats had increased and Terry built a small factory at Taren Point.
In 1955 Quintrex Alumium Products PTY LTD was established and the decision was made to build a range of boats and market them through stockist dealers. Hunts Marine was the first appointed dealer in Australia and have maintained an unbroken connection with the brand ever since.
On display in our Carlton showroom is a 1955 10 foot dinghy with the serial number 8. While it is not possible to give an absolute guarantee, this boat is very likely to be the first production model sold by Hunts Marine in December 1955. Over 6,000 have been sold by Hunts Marine since.
In the 1950's, a popular low cost solution to powering a boat was the Victa Power Mower conversion kit. The motor could be quickly removed from the mower and bolted to the conversion kit.
The Clipper motor on this boat was supplied by Clipper Products PTY LTD of Carlton, Sydney and is most likely to be the original motor.
To find out more information visit Quintrex or Hunts Marine
To keep up to date with all marine industry news visit www.marinebusinessnews.com.au