Global music pioneer Steve Aoki has decided it's time to electrify water, announcing that he will lead a new racing team to compete in the UIM E1 World Championship, the world's first all-electric raceboat competition.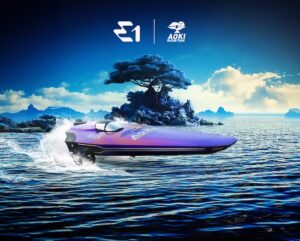 Steve Aoki has lived an extraordinary, adrenaline-fueled life, sharing his passion for music around the world as a hugely successful DJ, music producer, and entrepreneur. He's now set to follow in his father's footsteps by taking his energy and drive to the water. Rocky Aoki, the former wrestler who founded the popular Benihana restaurant chain, was also an offshore powerboat racer in the 1970s and 1980s, even surviving a near-fatal crash in 1979 under the Golden Gate Bridge in San Francisco. Aoki joins an illustrious line-up of team owners with five teams already announced, led by NFL superstar Tom Brady, tennis legend Rafa Nadal, F1 icon Sergio Perez, former Chelsea soccer star Didier Drogba, and the Venice Racing team – and more will be unveiled in the coming weeks.
The UIM E1 World Championship not only offers me a chance to continue my father's racing legacy on the water, but this time going electric! E1 is a great blend of adrenaline, sport, sustainability, and fun, and I can't wait to develop our team to entertain fans with our racing and our parties, inspiring change and bringing people together. I'm proud to follow in my dad's footsteps and I can't wait to go full throttle on and off the water against the likes of Tom Brady, Rafael Nadal and Sergio Perez. I love creating outside of my usual spaces, so I'll be seeing you all on the dockside as we electrify racing on the water. - Steve Aoki, E1 Team Owner
For over three decades, Steve Aoki has been making people dance. He's one of the highest grossing dance artists in the world, regularly playing over 300 gigs a year to tens of thousands of revellers, week-in, week-out.
Known for his addictive remixes, he has collaborated with artists such as BTS, Lil Uzi Vert, Blink-182, Linkin Park, will.i.am, Louis Tomlinson, and Fall Out Boy to name a few. His electric energy has built an incredible community of millions of fans on social media and nearly 4 billion streams.
Through the UIM E1 World Championship, Aoki will be competing, performing and creating all at once, bringing music and captivating shows to E1 events, which are designed to be a powerful platform mixing sport, entertainment and tangible change to build a more sustainable future for our planet and our waters.
As an entrepreneur, Aoki has built his own record label and made successful investments in esports, blockchain and the metaverse, as well as establishing himself as a fashion visionary and a published author.
But Aoki also has a deep commitment to sustainability, within fashion, music and technology. He wants to leave a positive legacy, inspiring change for more sustainable living, especially for the marine environment. His memoir was titled "Blue: The Color of Noise", and his passion to protect the big blue around us has attracted him to take the helm of a team in the UIM E1 World Championship.
The UIM E1 World Championship continues to attract leaders in sport, business, and entertainment to spearhead teams to compete in our inaugural electric racing season. We're so proud to welcome Steve Aoki to the E1 racing family. We're a new concept and it's exciting to see these international stars join us as we grow our fleet – it's a really successful model for us. We've already welcomed sporting icons in Brady, Nadal and Perez, so it's great to welcome a big name from the world of entertainment, and we're excited about the pipeline of stars who are also keen to build their own teams. Watch this space! - Rodi Basso, Co-Founder & CEO of E1
For more information visit www.e1series.com
To keep up to date with all marine industry news visit www.marinebusinessnews.com.au