The international conference dedicated to the sport of sailing announces a new concept and format. From 2024 onwards, the annual event will be held in parallel with the world's largest maritime industry trade fair: METSTRADE Amsterdam.
After thirteen successful editions, the Yacht Racing Forum today announces a new format and concept for the future. From 2024, the event will be held alongside METSTRADE Amsterdam, the world's leading maritime industry trade fair.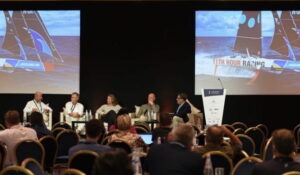 "This is great news for the Yacht Racing Forum, which will welcome a wider audience and strengthen its role as the leading annual conference dedicated to the sport of sailing", said Bernard Schopfer, the organiser of the event. "This new concept will increase participation while significantly reducing the event's carbon footprint."
METSTRADE Amsterdam brings together some 20,000 participants each year, and presents the products of some 1,500 exhibitors in its spacious showrooms.
"We are looking forward to welcoming the Yacht Racing Forum to Amsterdam next year," said Niels Klarenbeek, Show Director of METSTRADE. "The Forum's arrival is expected to bolster METSTRADE's status as a versatile platform that caters to a diverse audience and offers various opportunities for different interests or industries related to yacht racing or the marine sector. We can't wait to join forces and bring together the world of yacht racing and leisure marine equipment."
Organised by MaxComm and hosted by METSTRADE Amsterdam, the event will reassemble the sports' key personalities from all over the world over three days of conferences, debates and business, not to mention an attractive social calendar.
There are different opportunities to join the Yacht Racing Forum as a delegate, speaker, exhibitor or sponsor. Feel free to get in contact ( ) to discuss participation and speaking opportunities.
Yacht Racing Forum facts & figures
The Yacht Racing Forum 2024 will take place on November 20, 21 and 22.
There will be no Yacht Racing Forum in 2023.
Delegates will be welcomed on Wednesday afternoon (November 20) for a plenary session followed by a welcome drinks reception.
On Thursday morning (November 21), delegates will enjoy an exclusive guided tour of METSTRADE, with a special focus on the Yacht Racing Forum partners exhibiting at METSTRADE. The afternoon will be devoted to the Design & Technology Symposium and the Business & Marketing Conference.
The Design & Technology Symposium and the Business & Marketing Conference will continue on Friday morning, while delegates will meet in plenary session on Friday afternoon to conclude the conference.
The evening reception will take place on Thursday evening in StrandZuid beachclub.
The Yacht Racing Forum reassembles the key personalities from within the yacht racing industry worldwide; event organisers, sponsors, designers and builders, athletes, insurance and financial companies, specialised media and more.
For more information and registration: https://www.yachtracingforum.com