Australia's large full-custom superyacht builder Echo Yachts delivers 56m aluminium catamaran Adventure Support Yacht 'M/Y Charley 2'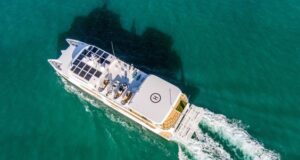 Echo Yachts provide world-class newbuilds, refit and maintenance services to the international luxury yachting market. Build options include Monohull, Catamaran, Trimaran hull types, utilizing Steel, Aluminium and Composite build materials tailored to suit each clients exacting requirements.
Echo's latest project is the 56m catamaran M/Y Charley 2 – now the largest catamaran motoryacht built in Australia, has completed sea trails and is now on her maiden voyage from Fremantle to her new homeport Singapore.
M/Y Charley 2 is the third full-custom superyacht of 50m or larger, to be built by Echo Yacht's full in-house team of project, design and manufacturing tradespeople at their superyacht manufacturing facilities in Henderson, near Fremantle in Western Australia.
Typical of Echo Yachts, a key focus of Charley 2's design was ensuring hull optimization for operational efficiency, by teaming with Australian firm One2Three Naval Architects – the same firm responsible for the Naval Architecture of Echo's award winning 84m trimaran superyacht M/Y White Rabbit.
Improvements associated with Charley 2's aluminium and hydrodynamic hull form have allowed an engine power reduction of 40% – from 2700bhp to 1600bhp per engine, resulting in a small top speed reduction of only 2 knots to 18 knots. Quite astonishing considering the yacht has 50% more internal volume than her predecessor.
Similarly with the use of more efficient electrical and air conditioning systems, generator capacity has been reduced by 34% from 150ekw to 99ekw units. Combined with the installation of 15kw of Solar panels the vessels Carbon footprint has been substantially reduced overall in line with the owners wishes for this new yacht.
Charley 2's larger enhanced layout provides extremely spacious interior accommodation, outdoor entertaining areas and significant water-toy carrying capacity.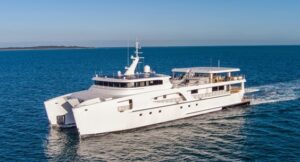 M/Y Charley 2 Particulars:
Builder (Brand): Echo Marine Group (Echo Yachts)
Naval Architecture: One2Three Naval Architects
Hull type: Catamaran
Hull material: Aluminium
Length (Hull): 49.50m
Length (Overall): 56.30m
Beam (Overall): 14.80m
Draft (Max) full load: 3.28m
Speed (Max): 18 knots
Speed (Cruise): 12 knots
Range (at 12 knots): 3800 Nautical Miles
Guest Berths: 18
Crew Berths: 19
Propulsion:
2 x Caterpillar C32 ACERT 1193 bkW @ 2300 rpm
2 x ZF 3350 reduction gears (ratio 4.721:1)
2 x Fixed Pitch Propellers
Tenders & Water toys:
1 x 12m Custom Catamaran tender
1 x 6.8m Custom Naiad RIB tender
2 x Caribe C14 RIB tender
1 x Williams Turbo Jet 285
2 x Pioneer Multi landing craft
3 x Electric Jetskis
Other features:
1 x Launch/Retrieval platform lift for 12m tender
2 x Knuckle boom cranes for water toys
1 x Decompression Chamber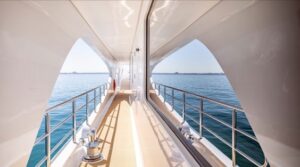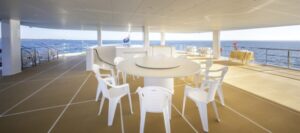 Charley 2 will feature a large 12m custom-built catamaran tender on an upgraded launch and retrieval platform positioned at the stern of the yacht. This new tender platform design ensures improved tender operations and full walk-around access for ease of tender cleaning and maintenance.
The yacht is equipped with a large helicopter touch & go pad suitable for an Airbus EC130 helicopter, dive store, decompression chamber and specialist sonar equipment on the 12m tender for wreck finding and diving adventures.
Notable upgrades include:
Extended Wheelhouse deck
Large Captain's Cabin, Pantry, Rangers/Special Persons Cabin, Ships office and 2 x External Storerooms
An additional Double Guest Cabin
Additional Crew Cabins
Forward Tunnel Storeroom with access to each foredeck
Inboard Anchor Pockets for improved anchoring operations
Full Class – Hull & Machinery.
Starlink Connectivity
15kW of Solar Panels providing 1/3rd energy demand during full daylight
New Hydraulic Side Boarding ladder at Upperdeck for access to high-sided wharfs.
Upgraded Cranes with 3T winch capacity for larger/heavier tenders
Electric Bow Thrusters, Capstans and Anchor Winches for reduced noise during operation.
Upgraded HVAC system using return air to feed into Lower Deck Plant and Void spaces.
Hot water provided by heat recovery system off HVAC chiller unit.
Increased Gasoline Storage to 2360L for Petrol Tenders.
Additional walk-in Cold and Freezer Rooms
General improvements throughout to cabin layouts, appliances, storage, entertainment system, internet and lighting systems.
Doggie toilet (external lawn area)