Faroboats, creators of the Faro Powerdock Set, the first self-sustainable electric boating solution of its kind in the world, has been selected to feature in the 2023 List.
TIME has revealed its annual list of the Best Inventions, which features 200 extraordinary innovations changing our lives.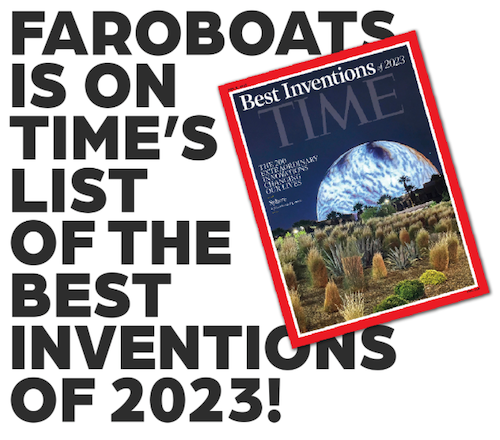 "We could not reach the final quarter of our official launch year with better news than this" Nuno Amaral Frazão, CEO of the Portuguese boat building company, stated upon this joyous occasion. "To make this list, with such global reach and projection, is the corollary of all our efforts and hard work over the past two years; to build something that has never been built before poses unique challenges that need to be overcome on-the-fly. And I'm very proud to say that all of our partners and the full team had a hands-on contribution to make to our Faro Powerdock®", he concluded.
To compile the list, nominations are solicited from TIME's editors and correspondents around the world, and through an online application process, paying special attention to growing fields—such as AI, green energy, and sustainability, a pre-selected list is gathered. TIME then evaluate each contender on a number of key factors, including originality, efficacy, ambition, and impact.
Of the new list, TIME's editors write: "The result is a list of 200 ground-breaking inventions (and 50 special mention inventions)—including the world's most powerful supercomputer, a game-changing entertainment venue, and a new shape—that are changing how we live, work, play, and think about what's possible."
Faroboats, the Faro Powerdock® and the new Powerdock® for electric or hybrid watercraft up to 12 meters, are now available in 16 Countries across 4 Continents.