Exhibitor interest in next year's Sanctuary Cove International Boat Show 2024 (SCIBS), to be held from May 23 to 26, 2024, is expected to be buoyant following this year's record-breaking, sold-out show.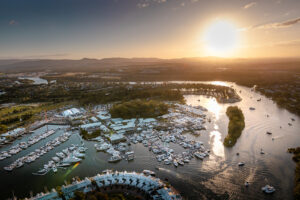 Exhibitor sales at the 2023 event was in the hundreds of millions with a total of 334 exhibitors, 740 boats on show including 315 boats on water, 2,500 marine products and 109 global, Asia-Pacific or Australian product launches viewed by more than 47,000 boating and marine lifestyle enthusiasts.
Mulpha Events General Manager Johan Hasser said that, with the overwhelming success of the 2023 Show, the team was already seeing an extremely high volume of enquiry from industry members who are eager to secure their space for this year's event.
The race for preferred spaces is on, with returning exhibitors having two weeks from Tuesday, October 17, to apply to be part of the Southern Hemisphere's largest marine lifestyle show.
Des Hughes, marketing manager for the Australian Marine Centre says that for those in the industry SCIBS is the most important week on the calendar.
"It allows us to brilliantly showcase our premium boat brands in a festive atmosphere and setting unlike any in Australia," he says. "From a sales perspective the trail of enquiry, follow up, exposure and ultimately contracts go way beyond the Show."
Says Bill Barry-Cotter, founder of Maritimo: "The sales generated from the 2023 Show will be keeping us busy for the next few years.
"We had visitors from around the world, including Southeast Asia and New Zealand, as well as interstate. Our larger boats, in particular the Maritimo M75 Flybridge and S75 Sedan Motor Yachts, were a major focus of attention and sales have been very, very good."
Oliver Bennett, marketing manager of JSW Powersports, the world's number one Sea-Doo dealer, says the company is proud to exhibit at SCIBS 2024 because it delivers results for its key brands.
"Sanctuary Cove International Boat Show is an imperative pillar when it comes to brand awareness and sales," he says. "It's always great to see the boating community come together for this exclusive show that turns the Sanctuary Cove precinct into a true boaties' playground.
"I consider the Show the most exclusive boat show held in Australia and it's a privilege to have it right here in our backyard."
Increased premium exhibition and trailer boat spaces
The 2024 event will again showcase luxury brands along Marina Boulevard, including major sponsor Bentley Brisbane & Gold Coast who are returning for their milestone 12th year as major partner of the event, says Mr Hasser.
In response to demand for additional waterfront exhibition space, Marina Boulevard will also play host to a new, indoor exhibition precinct "Marina BLVD Hall".
"We've also expanded the Show's footprint to include the grounds of the Intercontinental Sanctuary Cove Resort with the introduction of a new look VIP experience hosted at the Lagoon Beach Club," says Mr Hasser.
"This iconic precinct will be the home of luxury at SCIBS, offering an elevated boat show experience that we're very excited to showcase."
The all-inclusive offering will include boat show access, an all-day grazing menu, pop-up bars, tasting experiences and live entertainment, all with a beach club vibe and overlooking the resort's Lagoon Pool and marina.
"We've also listened to feedback from industry and visitors around the growth of the trailer boat segment and have increased space within the Sports, Leisure & Fishing precinct for additional trailer boat exhibitors."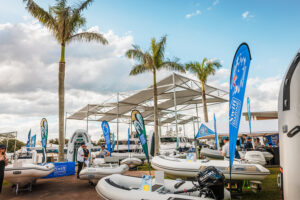 The most exciting boats and trends on display
Owner of Riviera Australia Rodney Longhurst says the company will be hosting its largest and only luxury motor yacht showcase in Australia for 2024 at the Show.
"An exceptional 11-motor yacht showcase, from across our Sports Motor Yacht, Motor Yacht, Flybridge, SUV, Sport Yacht and Belize collections, from 39 to 78 feet, will be on display," he says. "Premiere releases and Riviera family celebrations, presented by our world-class team, will all be a part of our festivities."
Ross Turner, general manager of Eyachts and TMG Yachts, says: "Our team recognises SCIBS as the right place to showcase a cutting-edge range of European boats and to premiere the latest designs and technologies from our yacht and boat portfolio.
"The Sanctuary Cove International Boat Show is now undisputedly a world-class event on par with many of the European and US boat shows."
Mr Turner says the success and popularity of the show allows Eyachts to bring its newest and most popular boats to an increasingly enthusiastic and well-informed mix of new and existing clients from across Australia, New Zealand and beyond.
"SCIBS 2024 can be expected to have the most exciting boats and latest trends on display and Eyachts and TMG Yachts will be there to take our place in what is sure to be an epic event," he says.
General manager Raymarine (FLIR Maritime Asia Pty Ltd) Damien Weber says: "As a leading innovator in marine electronics, Raymarine can't wait to showcase our latest technologies and solutions to the boating community."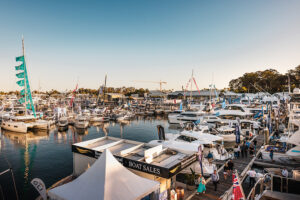 A continued commitment to the marine industry
The Sanctuary Cove International Boat Show is owned and operated by Mulpha Events and is proudly supported by the Queensland Government, Tourism & Events Queensland, City of Gold Coast, Major Events Gold Coast and Major Sponsor Bentley Brisbane & Gold Coast.
Mulpha continues to invest in Sanctuary Cove, the event and the marine industry through continual development of the Sanctuary Cove precinct and Resort and the expansion of the marina including a state-of-the art superyacht berthing offering room service through the InterContinental Sanctuary Cove Resort.
The 35th Sanctuary Cove International Boat Show will be held from May 23-26, 2024. To apply to become an exhibitor or for more information visit sanctuarycoveboatshow.com.au