A remarkable air of excitement lingered at the Coomera Marine Precinct as the curtain drew on the Gold Coast Marine Careers Open Day 2023. On behalf of industry and delivered by Marine Jobs, the inaugural event surpassed expectations and delivered results, confirming its success among stand holders, presenters, and attendees alike.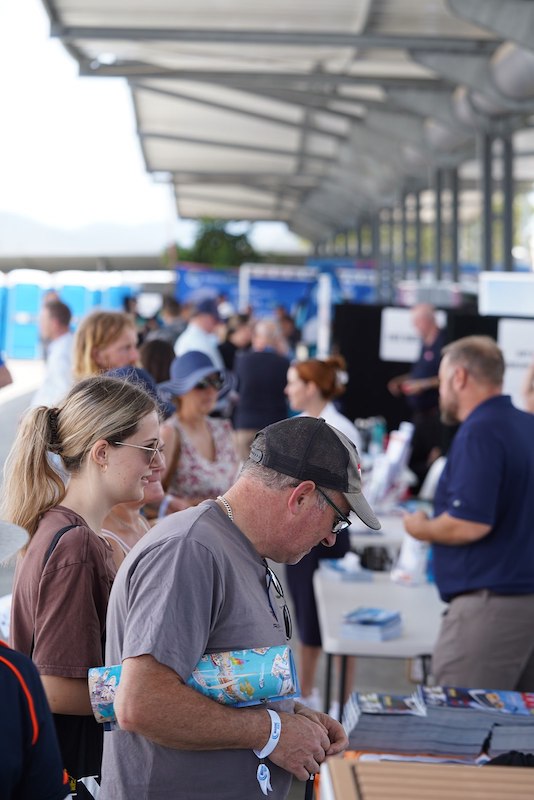 As a first of its kind event, 1,387 attendees explored the vast marine landscape, highlighting the industry's commitment to addressing its ongoing skills shortage. From high school students to trades people and professionals in aligned industries, the event drew marine enthusiasts from many diverse backgrounds, all converging at the event's heart – the bustling central muster point in Waterway Drive, Coomera Queensland.
Spanning five strategic Waterway Dr locations, including global brands of The Boat Works, Riviera Australia, Maritimo, and Gold Coast City Marina & Shipyard, participants had the opportunity to directly engage with businesses who are actively recruiting. With 100 job openings spotlighted on the event's physical job board, this feature was an event draw card, bridging the gap between marine businesses and potential recruits.
Jodi Brackenbury, Employment Facilitator, Workforce Australia – Local Jobs Program said the day was an overall success. "Jobseekers were able to discover a sea of possibilities and dive into the exciting world of the marine sector! The jobs board showcased opportunities ranging from deck hands to engineers, boat builders to vessel operators, this event provided a treasure trove of career opportunities. This is a fresh and innovative way for career changers, jobseekers and school leavers to immerse themselves into the vast employment potential of jobs available within the marine sector – now and into the future!"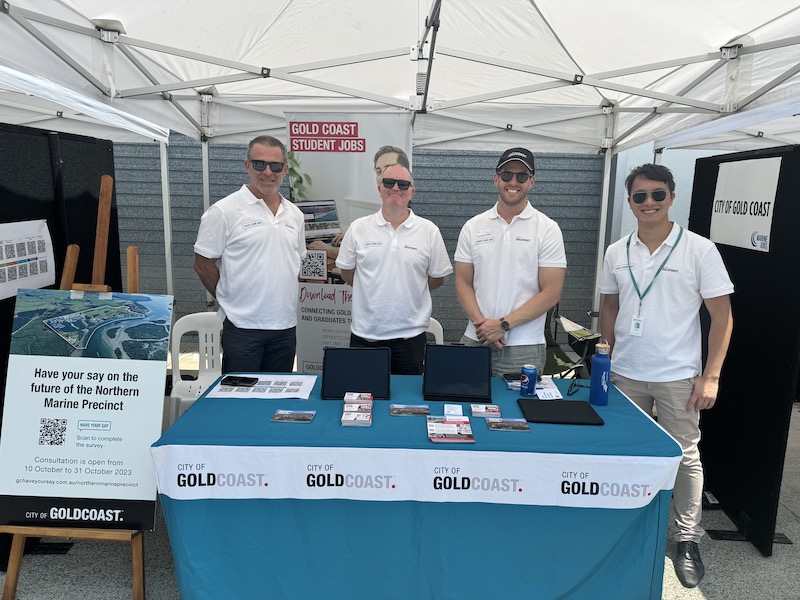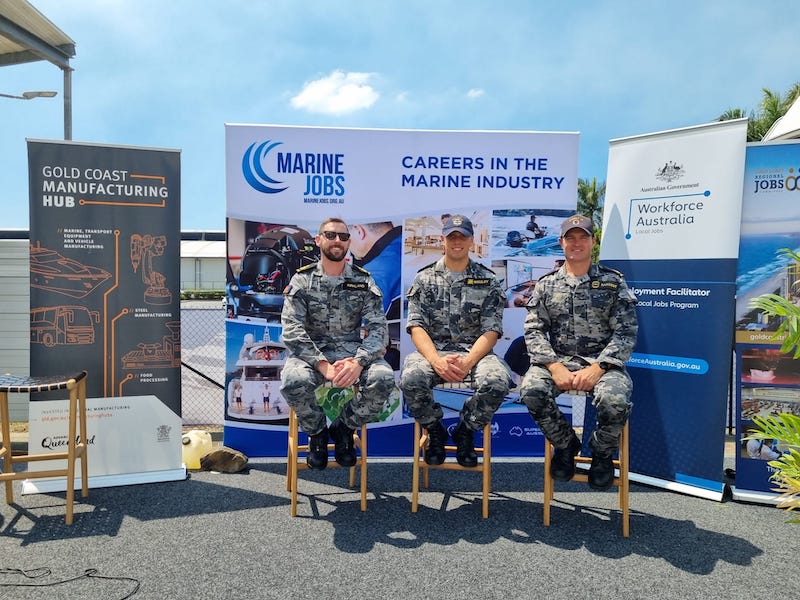 With 43 noteworthy businesses participating in the event, the marine precinct saw a consistent flow of foot traffic throughout each location. Prospective marine industry professionals journeyed from locations as far away as New Zealand, Newcastle, and the Sunshine Coast, demonstrating the event's far-reaching impact.
After seeing the event promotion on social media, Hunter Tuck, an aspiring boat building apprentice travelled from Wanaka in New Zealand with his family for the event. "The industry is huge on the Gold Coast, with so many passionate people building such high-quality products. The tours through the shipyards were such an eye opener.  I can't wait to explore my options when I look relocate to Queensland next year and hopefully begin an apprenticeship as a boat builder on the Gold Coast" commented Tuck.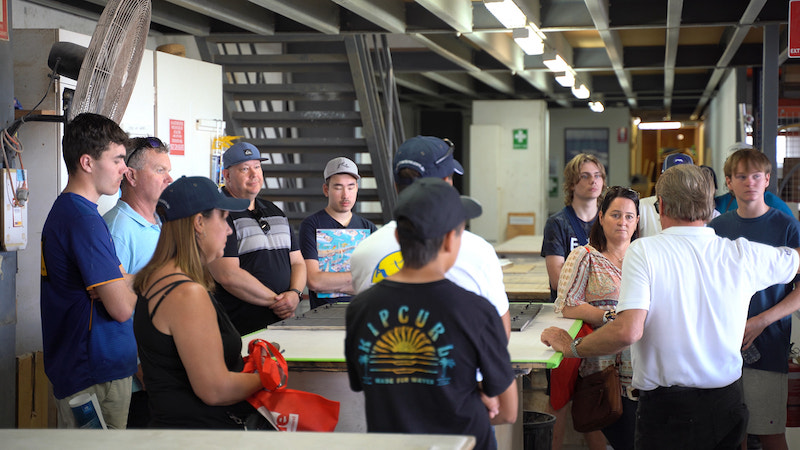 A balanced blend of registered training organisations, training and skill focused government departments and established marine businesses featured at the muster point, amplifying the events' role in connecting businesses with their prospective workforce.
Panel discussions – focusing on apprenticeships, educational pathway programs, women in marine, superyacht careers, advanced manufacturing, and defence force recruiting – were the event's cornerstone, resonating deeply with attendees. One aspiring marine industry recruit was fifteen-year-old Perry Craft from the Australian Industry Trade College. "After hearing firsthand from current marine apprentices during the first presentation it's a no brainer that this is the industry, I want to be in. I can drive my tinny to work in Coomera with my fishing rods on board, then on the way home catch some fish in the river.
Michaela Claes, Operations Manager, Pantaenius Yacht Insurance, encapsulated the day's sentiment, saying, "The first-ever careers day was a brilliant opportunity to showcase the boundless work prospects to Australia's future – our next generation. The enthusiasm was infectious, and we're eager to be involved in the follow up activities and forthcoming events."
This event was delivered with the support of the City of Gold Coast, the Queensland Government – Department of State Development Infrastructure Local Government and Planning, Gold Coast Regional Jobs Committee, Workforce Australia – Local Jobs Program, Manufacturing Hub | Gold Coast – Dept. of Water & Regional Manufacturing, and Pantaenius Yacht Insurance, who laid the groundwork for this event's success. We would also like to thank The Boat Works, Maritimo, Riviera Australia and Gold Coast City Marina and Shipyard for opening their sites for tours on the day.
In orchestrating and delivering this event, Marine Jobs has heralded the beginning of a fresh chapter in marine career exploration.