SailGP, one of the world's fastest growing sports leagues, has announced an exciting purpose-driven collaboration with Mover, a pioneer in 100 percent plastic-free apparel, to create the world's first plastic-free technical sportswear.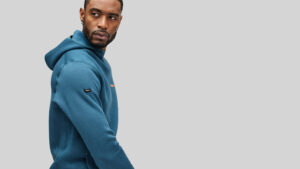 A 2023 survey of 1,500 adults in the US, UK and Switzerland, commissioned by SailGP, found that 72 percent of people would prefer plastic-free sportswear if it were available. This collaboration between SailGP and Mover will see a capsule collection available to purchase now and the future development of a line of high-performance sportswear for athletes to trial in a sailing environment. There are six items in this capsule collection, including t-shirts, polos and fleece hoodies, all of which are crafted from 100 percent natural fibers, featuring plastic-free stitching and labelling, and water-based printing.
This project challenges the status quo in sportswear and apparel, where the industry promotes synthetic fibers as the only viable solution to meet the technical demands of high-performance clothing. Synthetic fibers, such as nylon, polyester and acrylic, account for 69 percent of all fibers used worldwide and this figure is expected to reach almost 75 percent by 2030. These fibers are derived from fossil fuels and contribute to primary microplastic pollution and the plastic waste crisis.
SailGP Chief Purpose Officer Fiona Morgan said: "At SailGP our ambition is to be the world's most purpose driven and sustainable global sport and entertainment platform, and it's only by collaborating with innovative, like-minded partners that we'll be able to achieve this.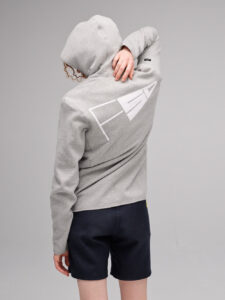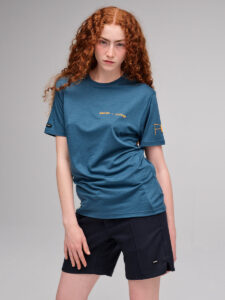 "That's why we're incredibly excited to be joining forces with Mover after two years of development to totally rethink sports performance clothing with plastic free materials, a cause very close to my heart. This purpose-driven collaboration demonstrates that change is possible if you innovate and re-design the norm."
By testing plastic-free technical sportswear in some of the most challenging environments, this pilot project aims to demonstrate that high-performance textiles can be achieved without relying on fossil-fuel fibers.
CEO and Founder of Mover, Nicolas Rochat, said: "Our collaboration with SailGP is a fantastic opportunity to prove that natural fibers can excel in one of the most demanding sports on the planet. Our materials that are the most technical and intelligent, genuinely designed to be digested by nature."
The collaboration between SailGP and Mover is championed by A Plastic Planet, an organization working to inspire the world to reduce its plastic usage.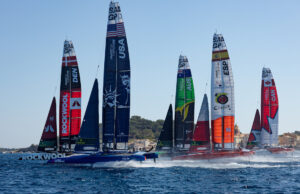 Founder of A Plastic Planet, Sian Sutherland, said: "The plastic crisis can feel overwhelming with billions of pieces of plastic still being pumped out into our oceans and soil. But it doesn't have to be this way. Mover is proving that technical performance textiles from natural, truly breathable materials not only feel great but mean we are no longer adding to plastic pollution with every wear and wash. We are so proud to bring Mover together with SailGP to highlight that change is possible."
The survey also found that 54 percent of people were unaware or unsure of any health or environmental-related impacts of chemicals that are used in synthetic technical clothing.
There are several chemicals involved in the treatment of synthetic fabrics that are a cause of concern, including the carcinogen antinomy, and per- and polyfluoroalkyl substances (PFAS), which are known to be toxic, persistent and bio accumulative in the environment, and are often now called 'forever chemicals.' Recycled polyester offers no durable solution to the problems associated with synthetic materials as it emits the same toxic substances as any virgin plastic, such as Bisphenol A (BPA) which causes developmental issues, serious eye damage, respiratory irritation, skin allergies and reproductive harm.
The Mover capsule collection can be purchased at shopsailgp.com or mover.eu and is shipped in plastic free kraft mailers.