European Marine, the New Zealand agent for Spanish-built Sasga motor yachts, has recently added Finnish brand Sargo to its boat portfolio.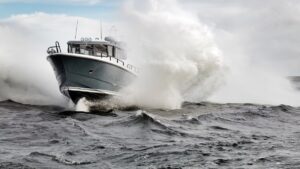 Sargo Boats traces its roots back to 1967, when boatbuilder Edy Sarin left Nautor Swan to build his own boats under the Minor brand, which became locally famous. In 2014 the family founded Sargo Boats and today three generations of Sarins produce around 100 boats a year, sold mainly within Scandinavia, especially in Norway and Sweden, but also exported to the UK and USA.
European Marine's principal Leighton Henshaw explained that when he began looking around for another brand for the New Zealand market, Sargo ticked a lot of boxes. Tough, well made, fast, and designed for challenging Scandinavian boating conditions, Sargo's range of all-seasons motor yachts struck him as the perfect fit for New Zealand boaters.
"These impressive boats are just right for New Zealand boating," says Henshaw. "Solidly built and well specced from the factory, including bow thrusters as standard, they embrace the Scandinavian design ethic, with clean, functional exteriors, stylish interiors, and excellent use of space. They also look good and perform and handle really well."
European Marine will focus on delivering four models from the Sargo range: a 31, a 33, a 36 and a European Boat of the Year nominee, the Sargo 45. The first boat, a Sargo 36, is due in New Zealand in November, with a 31 arriving in February next year, both in time for the Auckland Boat Show in March.
Although these will not be the first Finnish built boats to reach our shores, they are the first of this style of boat in Australasia, says Henshaw – proper weekenders with walkaround wheelhouses, dedicated bathrooms, and fully functional galleys.
European Marine will demonstrate the Sargo 36 out of Waikawa in the Marlborough Sounds following the boat show.
European Marine – Sargo and Sasga, www.sargoboats.nz