A total of 36 companies and individuals from 14 countries have been named as potential winners for this year's Boat Builder Awards for Business Achievement 2023, in association with Raymarine.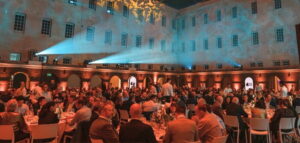 Final decisions were made by an international panel of 10 subject-matter experts from an initial selection of 90 very high-quality entries across 11 categories. The judges shortlisted 33 nominations and additionally identified who would receive this year's Lifetime Achievement and Rising Star awards during a spectacular gala dinner at Amsterdam's historic Maritime Museum on Thursday 16 November. Details of the shortlisted entries and information on how to purchase tickets follow below.
The Boat Builder Awards are jointly organised by IBI and METSTRADE in association with Raymarine, to reward the outstanding business achievements of individuals and teams working across the worldwide leisure boat and superyacht sector. The awards focus attention on key sector priorities – innovation, collaboration, environment, talent, and marketing.
Chair of the judging panel and IBI Editor, Ed Slack, commented: "The IBI METSTRADE Boat Builder Awards remains uniquely focused on the essential behind-the-scenes ingredients that make the global yacht manufacturing industry successful. This year, the standout growth area was in entries covering our two sustainability categories, an indicator that the sector is rapidly moving up the bell curve in its efforts from early pioneering environmental projects towards driving lifecycle approaches into a business-as-usual reality. The incidence of innovative younger businesses making an impact is another striking theme."
"Our awards evening will reflect the great strength of manufacturers large and small, as well as the individuals and teams that make them what they are today."
METSTRADE director Niels Klarenbeek adds: "The Boat Builder Awards, supported by our long-standing partner Raymarine, is one of the traditional highlights of METSTRADE, the world's largest gathering of leisure marine professionals. It provides an essential focal point for the thousands of METSTRADE visitors who work for the global yacht construction industry and allied trades, as well as those who supply the equipment and materials for them. This year's strong field of entries from four continents reflects the truly international standing of the Boat Builder Awards. We look forward to welcoming guests to the magnificent National Maritime Museum in Amsterdam on Thursday 16 November as we celebrate the very best of the best boat building and superyacht yard business achievements for 2023."
Boat Builder Awards 2023 Shortlist
Customer of Tomorrow
Axopar – x Agapi Boat Club
RAND Boats – in partnership with GoBoat Connect
TYDE – The Icon
Breakthrough Launch of the Year
Sponsored by High Pressure Watermakers
HH Catamarans – HH44
Prestige Yachts – M-Line
Sunseeker International – Superhawk 55
TYDE – The Icon
Innovative Design Solution
Sponsored by Fusion
Artemis Technologies – eFoiler – foiling pilot boat
Ferretti Yachts – INFYNITO 90 – All-Season Terrace, main deck layout, country kitchen and FSEA technology
HH Catamarans – HH44 – Eco-drive system
Sunseeker International – Superhawk 55 – aft deck and helm layout
TYDE – The Icon – glazing, flight control, digital helm, safety features and sound system
Supply Chain Collaboration – production boats
Sponsored by Ultraflex
Highfield Boats and Zerojet –EJET 330 electric RIB
Nautique Boat Company and Scanstrut – magnetic charger for 2024 ski boats
Princess Yachts, Whisper Power and Sleipner – X80 and Y80 E2 Hotel Battery Pack
Supply Chain Collaboration – superyachts
BSS and Lürssen – HISAC
CRN, RINA Services and Weichai-Ballard – SUP-Y: Sustainable Powered Yacht
Sustainability Project of the Year
Sponsored by ePropulsion
Amer Yachts – Go Slowly campaign
Azimut | Benetti Group – adoption of biofuel
Beneteau Group – recycling fibres into new builds
Eco-focused Boat of the Year
Sponsored by Marine Resources
IMPACD Boats – IMPACD 570
Saffier Yachts – Saffier Se 24 Lite
Sunreef Yachts – 80 Sunreef Power ECO
Designer of the Year
Carl Kai Rand – Rand Boats
Christian Gott – Fairline Yachts
Designworks, J&J Design and Tobias Hoffritz, TYDE – collaborators on TYDE The Icon
James Hakes – HH Catamarans
People and Skills Development
MIA, AIMEX and BIA – Australian Marine Jobs Initiative
British Marine – People & Skills programme
Sunseeker International – Sunseeker Skills Academy
Rising Star
Sponsored by LumishoreThis category celebrates those aged 35 or under, working for a boat builder, making a growing impact on any aspect of their business. The judges' pick of the global industry's young talent will be revealed in the evening.
Lifetime Achievement
Sponsored by Sleipner
The awards evening culminates with the much-anticipated Lifetime Achievement Award, presented in the previous eight years to:
Paolo Vitelli – Azimut Benetti
Robert Braithwaite, CBE – Sunseeker International
David King – Princess Yachts
Annette Roux – Beneteau Group
Robert T Healey Sr and William J Healey – Viking Yachts
Christoph Rassy – Hallberg-Rassy
Leon Slikkers – Slickcraft, S2, Tiara and Pursuit
John Lu – Horizon Yachts
Tickets for the Boat Builder Awards 2023
The 2023 Boat Builder Awards is running on Thursday 16 November this year for the first time – the second night of METSTRADE. Individual tickets are priced at just EUR 300.00 plus VAT, with tables of ten at EUR 3,000.00 plus VAT. For further information, please visit www.ibinews.com/bba2023/tickets