Christmas has come early for boating enthusiasts in Australia and New Zealand with the full range of Avator electric outboard models to be available for purchase from Mercury dealers just in time for the festive season.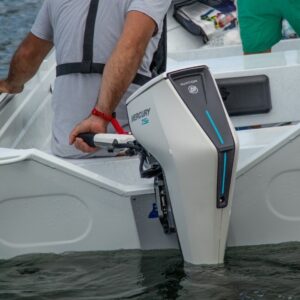 Following months of anticipation all three outboards – the Avator 7.5e, 20e and 35e – models will hit the market before Christmas, making them the perfect gift for boating aficionados to unwrap on Christmas Day.
"Since we launched the Avator 7.5e to the market at the beginning of 2023, the excitement and interest in our first electric outboard engine have far exceeded our expectations," Mercury Marine ANZP Senior Marketing Manager Anthony Brown said.
"This excitement grew with the unveiling of the 20e and 35e in late August, offering boaters even more electric outboard options.
"We are thrilled to now be able to deliver the full range of Avator outboards and look forward to seeing them on the water this summer."
Avator outboards transform the boating experience, delivering a smoother and quieter ride with no exhaust fumes and zero direct emissions.
The Avator series is designed for exceptional ease of storage and transportation, thanks to its quick-connect bracket, which enhances portability and allows for effortless installation. This versatility makes setting up these outboards a breeze, perfect for those who cannot wait to hit the water this summer.
The 7.5e model delivers speed and acceleration performance comparable to a Mercury 3.5hp FourStroke motor, while the 20e offers acceleration similar to a 5hp FourStroke outboard and the 35e generates acceleration comparable to a 9.9hp FourStroke outboard.
The Avator outboards come with the option of tiller or remote steering and are well-suited for powering small vessels, including aluminium fishing boats, micro skiffs, rigid inflatables, tenders, and small pontoons.
In addition to the Avator outboards hitting shelves by Christmas, the 7.5e model's 1 kWh lithium-ion battery and the 20e and 35e models' 2300Wh lithium-ion batteries will also be available to purchase.
The 7.5e model's 1 kWh lithium-ion battery is a game-changer, requiring no cable connections allowing the battery to conveniently slide into place under the flip-up top cowl, saving valuable space within the boat. For those wanting extended journeys, spare batteries can be swapped in seconds, ensuring uninterrupted fun on the water.
The 20e and 35e models up the ante, offering more power and the ability to connect multiple Avator batteries using a Power Centre for extended range and run time.
The Power Centre serves as a central hub for power cable connections, allowing for a clean and organised boat installation, able to connect to up to four batteries.
The Avator series is Mercury's next step forward in marine innovation and is part of its commitment to being a leader in electric propulsion.
For more information about Avator electric outboards, visit mercurymarine.com/avator or find a dealer here.