New Zealand-based Fastmount, manufacturer of hidden panel mounting systems, has launched the carpet clips as part of the Textile Range.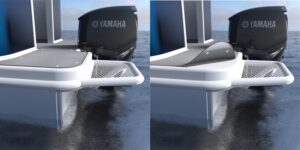 The innovative Fastmount Carpet Clip for boat decks is a game-changer in marine flooring maintenance. Crafted from durable polycarbonate, this clip outshines traditional metal alternatives. Unlike metal, it remains cool to the touch even under scorching sun, eliminating the risk of burns on barefoot passengers. What sets it apart is its functional flexibility—boat owners can effortlessly lift the carpet for cleaning or replacement without potential damage. This clever design ensures hassle-free upkeep, making it a must-have accessory for any boat owner seeking both safety and convenience.
The female component of the clip winds through a hole punched into the carpet, with the four wings tightening up onto the underside of the carpet to hold it secure. Then either of two male components can be used to clip it into place – a screw fix version for fibreglass or aluminium decks, and an adhesive option for painted or fibreglass surfaces. To remove for cleaning, winterising or replacement, simply use the recommended tool to lift the carpet off the male clip.
Say goodbye to hot metal, and hello to an improved boating experience.
The new carpet clips and other Fastmount products can be experienced at our stand 01.305 at METSTRADE in Amsterdam on 15-17 November 2023.
For more information visit fastmount.com