Flat out relaxing on deck, on the sand, by the pool or in the water is more comfortable with the stylish beanbags and outdoor cushions from COAST New Zealand, and now the Kiwi innovators have come up with an ingenious new collection that's portable and appealing: Nimbus inflatable furniture.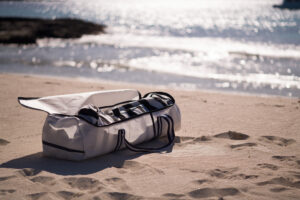 Since 2003, COAST has specialised in laid-back luxury outdoor furniture. When they launched their first product, the Marine Bean®, the America's Cup competition was in full swing on Auckland's Hauraki Gulf. COAST bean bags were snapped up by support vessels, and the brand enjoyed a nudge that would propel it into international circles.
Hand-made in New Zealand using high-quality Sunbrella® marine-grade fabrics, COAST products have become the choice of superyacht owners and crew, architects and designers, resorts, Councils, colleges, events and discerning customers who appreciate their design and durability.
Now, 20 years on, the result of extensive R&D and feedback from clients, COAST introduces the Nimbus Collection, designed as portable, stowable, stylish floating furniture that can take whatever nature dishes out.
Manufactured with the same high standards of durability and longevity using Sunbrella® fabrics, each piece in the range has been designed for comfort and convenience.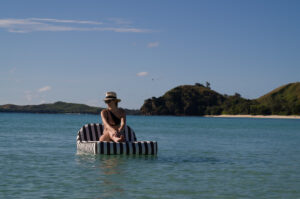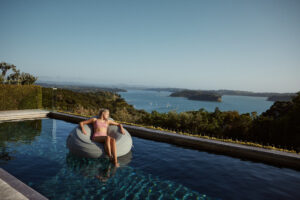 As COAST co-founder, Nicola Webster explains, there was a niche in the market which has traditionally been the sole domain of plastic pool toys!
"We've been asked many times over the years to develop high-quality inflatable furniture, especially by clients for whom storage space is a premium," she states. "There has been nothing on the market that's comfortable, durable and would stand up to the harsh marine environment, chlorine or UV exposure."
Harnessing their design skills and resources acquired from two decades in the business, COAST invented (patent pending) cloud-filled™ technology which features an air-filled liner made with marine-quality reinforced PVC and incorporating drop-stitch fabrics more usually found in high-spec stand-up paddleboards and tenders. All seams are heat welded, rather than glued, for added strength.
The liners are fitted with a standard marine inflatable boat inflation/deflation valve and can be inflated with a normal inflatable boat pump, or the USB electric pump that comes with each piece in the collection.
There are three models in the Nimbus collection: Orbit, Air Chair and Lounger. They can be deflated and rolled up into a compact, portable size for easy storage. Each comes with its own USB pump and sail bag made from recycled sails from Doyles.
"Developing Nimbus took time and there were challenges along the way," Nicola admits. "But the feedback from delighted clients makes it worth it."
Testimonials from international clients praise the durability and comfort of all COAST products.
Mike Sanderson, Rolex World Sailor of the Year in 2006, veteran of three America's Cup campaigns, and two times Whitbread/Volvo Ocean Race winner has been a COAST customer for many years.
He stated, "Being a sailmaker, I recognise the quality of the fabrics used and workmanship, which is second to none."
Jen Pack, Auckland-based decorator said "COAST is synonymous with outdoor high quality luxury living products which suit my clients for both their coastal homes and their urban homes. The longevity and excellent design are the reason I have been buying bean bags for over 15 years and will continue to do so."
Australian stockists, Cosh Living have represented the COAST collection for eight years and have recently received their first shipment of Nimbus pieces.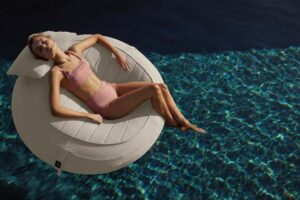 Lucy Downe, Showroom Manager for Cosh Living Brisbane says Nimbus is already attracting interest.
"COAST is a trusted brand in Queensland, where the heat and UV can be intense. COAST furniture suits the Australian alfresco lifestyle, particularly in Queensland where we relax and entertain outdoors all year round.
"The Nimbus range is a real breakthrough, and our clients tell us they love the flexibility of being able to use it on and off the water. Each style in the Nimbus collection is a piece of furniture, an investment that will last for many years."
COAST Nimbus Collection is available in New Zealand and Australia in time for summer 2023/24, via the brand's retail partners and worldwide via coastnewzealand.com.au.
In Australia, Cosh Living represents COAST products through its retail showrooms in Sydney, Melbourne, Brisbane and Perth.
coshliving.com.au/collections/coast