Marine Rescue NSW volunteers on board Kioloa 20 rescued a kayaker from Belowla Island earlier this evening (Monday 13 November).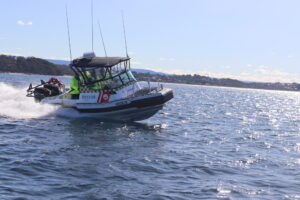 Marine Rescue NSW Inspector Stuart Massey said Marine Rescue Kioloa received a call for assistance just before 5:30pm after the paddler was separated from their kayak.
"A volunteer crew was assembled immediately and rescue vessel Kioloa 20 was deployed.
"KL 20 located the uninjured paddler on Belowla Island and safely returned them to shore while Marine Rescue Ulladulla Radio Operators assisted throughout the incident providing clear and effective communications.
"Paddlers using NSW waterways are encouraged to Log On and Log Off with Marine Rescue NSW by using the free Marine Rescue app or calling their local unit," Inspector Massey said.
Marine Rescue NSW is a volunteer based not-for-profit professional organisation dedicated to keeping boaters safe on the water and supporting local communities.