The UIM E1 World Championship, the world's first and only all-electric raceboat championship, is set to make a stunning debut at the E1 Jeddah GP in Saudi Arabia on February 2 and 3, 2024. Featuring mixed-gender teams competing in an iconic one-design fleet of RaceBirds, Jeddah will be the first stop of a global championship that will span the globe throughout the year.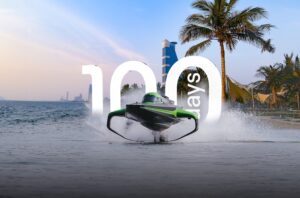 Presented in partnership with the Saudi Ministry of Sport and the Saudi Water Sports and Diving Federation, the racing at the Jeddah Corniche will take place close to shore on the sparkling waters of the Red Sea, ensuring a thrilling experience for fans.
"We are thrilled to get the first dates in our fans' calendars as the first-ever E1 Grand Prix is about to arrive. We know that audiences around the world will love our unique racing in stunning locations, as we make a positive impact on our race locations with our all-electric race fleet" says Rodi Basso, CEO and Co-Founder of E1
Up to 10 teams will compete in the inaugural UIM E1 World Championship season, each battling it out to secure the coveted E1 title of Champions Of The Water. The league has already announced world-famous team owners including Rafael Nadal, Tom Brady, Steve Aoki, Didier Drogba, Virat Kohli and Sergio Perez, with more to come.
Alejandro Agag, Chairman and Co-Founder of E1 say "We are proud to partner with the Saudi Ministry of Sport and the Saudi Water Sports and Diving Federation to make this event possible and delight fans in Jeddah and around the world. The Jeddah Corniche will provide a spectacular backdrop for our debut event. I'm so pleased to be taking one step closer to our first E1 race."
Each team will choose two pilots to share driving duties throughout the event, with regulations mandating each team to select a mixed gender pilot line-up to ensure equal opportunities in the sport. Onsite, fans can enjoy the first-ever Acceleration Festival, E1's dedicated village for attendees with a wide variety of entertainment options and experiences. Ticketing details will bereleased shortly.
"Our partnership with E1 Series will help accelerate the growth of water sports in the Kingdom of Saudi Arabia. This exciting race, in which the world's best athletes will participate, serves as an ideal incentive for participation in water sports and a source of inspiration for the nine million people living on the Red Sea coast. We are proud to host the inaugural event of this exciting global championship" says His Royal Highness Prince Sultan bin Fahd bin Salman bin Abdulaziz Al Saud, Chairman of the Saudi WaterSports and Diving Federation
For more information visit www.e1series.com