The show at RAI Amsterdam from 15-17 November marked its impressive track record serving as an essential anchor point and meeting place for all marine companies and professionals worldwide with three packed days of meetings, networking, researching, and learning.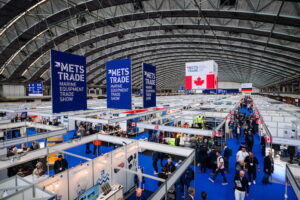 METSTRADE 2023 presented 1,540 exhibitors, 240 of them new to the show, from 53 countries across 11 halls at RAI Amsterdam. Busy stands, features and corridors hosted 28,900 visits from 18,630 unique visitors spanning 130 nationalities.
Croatia was the latest nation to launch a pavilion, taking the total to 29 country pavilions representing 19 nationalities. The number of sector specific pavilions also rose this year, with the Foiling Technology Pavilion and Start-Up Pavilion becoming instant hit newcomers alongside the well-established Superyacht Pavilion, Construction Materials Pavilion and Marina & Yard Pavilion.
The METSTRADE Theatre built on the success of its new hall 13 location from last year with a well-attended programme covering key issues of the day, including ICOMIA's propulsion decarbonisation study. Alongside the Next Generation Propulsion Zone focused attention on climate-friendly solutions while the DAME Awards display showcased 53 marine equipment products demonstrating the benefits of total design practice.
The industry's need to serve inclusivity and people and skills development were served in several ways, including an expanded Young Professionals Club with its METSTRADE Career Zone and the second consecutive Women in the Marine Industry event.
Nothing taken for granted
Speaking after the show closed, METSTRADE Director, Niels Klarenbeek, stated: "It is an absolute privilege to have the heritage and strong bow wave of positive sentiment from 34 editions behind us, but we take nothing for granted. The marine industry is moving at an incredible pace to address the many opportunities and challenges set before it. We were pleased to play our part for this 35th anniversary edition by offering several well received new features targeted at sustainability, people, skills, inclusivity, and innovation.
"Our team is committed to ensure that METSTRADE facilitates the connections and business required for a successful year ahead. Without the underpinning creativity and enterprise of the supply chain, we have no marine industry. Our 2023 numbers are impressive, but they don't tell the whole story. We are particularly grateful to have received so much positive feedback about the quality of the interactions between our audience and exhibitors over an extremely busy three days."
ICOMIA's CEO, Joe Lynch, commented: "When working day-to-day you can be oblivious to the scale, variety, pace of innovation and new developments happening across the leisure marine sector. There is so much passion and enthusiasm within our industry and to see it condensed in one place is very exciting. ICOMIA has been a partner of METSTRADE since its first edition; as the global association representing marine industry associations around the world, this show also offers the welcome opportunity for our committees to meet and plan together."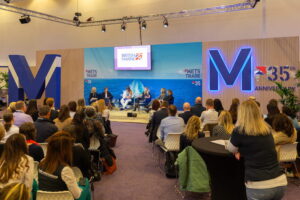 Positive impacts
Speaking on the positive impact of METSTRADE on the new Foiling Technology Pavilion's exhibitors, Luca Rizzotti, Founder of The Foiling Organisation and We Are Foiling events confirmed the 2023 edition had been highly successful: "I had multiple comments suggesting that exhibitors had already booked enough work by the second day to cover 2024-25 and would now need to recruit new staff. The AC40 simulator attracted people to our area and the conference programme was always full – we expect the pavilion to grow and grow."
Nearby it was a similar story for the 15 fledgling companies on the Start-Up Pavilion, as Gabbi Richardson, founder of Yachting Ventures explains: "We've had an incredible show with loads of traffic. People stopped to speak with one start-up, then ended up speaking to another and staying for an hour. All participants have been thrilled to be a part of such a positive initiative to encourage and promote new technologies and start-ups."
That same kind of encouragement was available for younger individuals too, as James Ward, CEO and Founder of Marine Resources relates: "It's been a brilliant three days in the Young Professionals Club & Career Zone. We've had great footfall coming through with real interest in the events here. The biggest takeaway is that there's a real community of young professionals at METSTRADE. They have an appetite to get together, benefit from careers development activity and enjoy networking opportunities. We're excited by the positive feedback this year and look forward to working with young professionals at METSTRADE in the future."