Dave Giddings is passionate about the boating industry, working with wood and helping others.  This is his story of how he helped a group of disadvantaged, disabled and disengaged youth building canoes in a week.  
By Dave Giddens – Part 1
I recently had the privilege of building three canoes with six (6) aboriginal Students from Eden Marine High School. Most of the builders and building advisors are proudly showing off their achievement in Figure 1. This was taken before hitting the water at the end of week 1 to do a trial run. Special mention for the building advisors who gave up their valuable time to assist with the build program- Far left -Steve Hayes, 3rd from left- Michael Palmer, 2nd from right- The Epoxy Guru, far right- Ethan McDonald. This initiative came about following discussion with Michael Palmer when he was purchasing supplies to build another strip planked canoe or to finish one off a couple of years ago.
Apparently, I spruked on about building canoes with High School kids at Wooden Boat Festivals with an article on the subject in Australian Amateur Boat Builder Issue 100. In that program we used the Bellinger Canoe design by Brian Jones, but it had several limitations for youth mucking around in boats. The main one being no inbuilt flotation and directional stability plus a mid ships brace which is necessary for minimum time build programs. Plus, it lacked character for long term use by builders. As a result, we put the thinking cap on and came up with the Muck-A-Bout which was a collaboration of our Mr Projects – Brian Wilson and my son Scott. The outcome is a much easier canoe paddle and turn. Anyway, back to Eden Canoes, the focus of this yarn.
The lead organisations had been looking for a project for aboriginal youth in the Eden area. They needed a project which could be built and used over a couple of weeks. To 'prove the concept' they needed to produce a project that could be seen as some were sceptical of students being able to build a canoe in a week. The management team wanted to see if it was possible for six students from Eden Marine High School to build, decorate and "paddle tour" three canoes. So the aim for the Eden Canoes Initiative was to produce canoes on week one, then paint them on the following Monday and Tuesday followed by paddling for three days.
The program was from 16-27 November 2020, with my part being the Epoxy Guru for building canoes in five days from sheets of plywood. The students did even better, as they were on the water by Friday 20 November sealed with Bote Cote Epoxy Resin Stitch N Glue technique with foam flotation in each end. Sure, they needed finishing off and that occurred in week two.
The drive behind Eden Canoes is a broad collaboration of Eden community to enable youth and adults to build, decorate and paddle canoes that would contribute to community resilience and cohesion while also building self-esteem and hope at all levels. Through dialogue and dreaming, the Eden Canoes team envisage a venture which would have programs from youth workshops to vocational training and from Team Building, and 'Cultural Safety & Awareness' for Organisation and Business, to Paddle Tours. Step one was achieved with the canoes completed and proven in action on week two as shown at Figure 2.
Michael was pleased to report that the Eden Canoes Minimal Viable Product (MVP) Initiative of 2020 was an enormous success.
Indeed, the Eden Canoes MVP Initiative produced a product, in canoes and enlarged lives, which exceeded Eden Canoes hopes. Their Foundational Steps were:
Listening – Everyone listen to stories – Of Family, Faith and Culture. All stories were valued for the virtues they inspire including Dave's Warries (Navy yarn).
 Virtues – We cultivate the virtues inherent in these stories as common aspirations for a decent society.
Skills – To gift one another with the skill of boat building. These skills range from patience to paddling; from sawing timber to sanding hulls; from fibreglassing to finances.
Shared Activity – Work as a team to shape both boats and our community life. Then, together explore the Eden waterways and invite others to share all these experiences with us
A hope of 'Eden Canoes' was that these Foundational Steps would provide all participants a greater future of self-esteem in employment, their relationships or, better still, all of these combined. The project also sought to encourage the youth to appreciate Indigenous culture.
This was achieved by surrounding them with Indigenous mentors and inviting Indigenous Elders to participate in every aspect of the project but most especially in assisting the students in Indigenous designs and to appreciate the evidence and importance of Indigenous culture in and around the waterways of Eden and Pambula.
This was achieved with a comprehensive program, starting with Indigenous Elders Welcome to Country and Smoking ceremonies of respect and anticipated achievement. I must say I never appreciated a Welcome to Country Ceremony and Pastor Ozzie Cruse spelt it out as to why the Smoking Ceremony occurs. It has a significant importance to Aboriginal culture and "shed light on" some of my dad's yarns about the aboriginal tribes around Wellington NSW in his early days. I commend everyone to check out these two ceremonies on aboriginal culture to gain a good understanding of their purpose, very inspiring.
The smoking Ceremonies occurred at both the commencement of building. Then again at the initial launch of the canoes as depicted in Figure 4.
The build progress of the canoes is shown at Figure 5 to 8. It was interesting listening to the building teams based on my comment of "we're going to build a boat" on day one and looks on their faces when they saw sheets of plywood and some lengths of radiata pine on the floor at the start of the day. By the end of day one the students were starting to gain inspiration when the panels were cut out and glued together saying "we're building a canoe" as shown in Figure 5 along with Nathan conducting the build smoking ceremony.
Day two involved stitching the panels together, fitting the spreaders, centre mould and gunwales. By this time there was good banter between the teams and comments of "I'm building a boat". With day two's effort shown at Figure 6. We use cable ties when building canoes with youth as they struggle with the concept of pull and twist using copper wire. The disadvantage is that you need to drill bigger holes (approx. 3-4mm) further back from the joining edge. Whereas, by using copper wire you can get away with 1.5-2.0mm and closer to the edge (approx. 5mm).
By the 3rd day there was an air of excitement as the teams started filleting the joints. The girls did a magnificent job with very neat fillets by masking about 2mm back from the drilled holes and then making the fillets followed by fibreglassing with 50mm tape and Peelply over the glassed surface. By the end of day three, there was considerable banter related to "my canoe is better than yours" which created creative debate and pride in the creations as shown in Figure 7.
By day 4 there was considerable pride in the student's creations and there was no complaining when the word sanding was mentioned. The only time the students wore respirators was sanding, due to the irritant dust from the timber fibres. Then it was time to apply two coats of Bote Cote Epoxy Resin inside and out to waterproof and densify the plywood. I would have liked to have three coats but time precluded this and they will spend most of their time on a trailer and undercover. The reason there were no respirators or disposable coveralls needed during the epoxy work is because they were using modern technology epoxy which has a safer chemical composition than old technology epoxy hardeners with Figure 1, 4, 8 & 9 showing off the epoxied canoes prior to painting.
On the morning of the 5th day, the canoes were up- ended and each end filled with a litre of Pouring Foam which expands to about 25 litres once it expands as depicted in Figure 8. This resulted in a bit of a challenge to see who could get the foam to rise the most. The Canoes were loaded onto vehicles with considerable excitement and comments of "my canoe will be faster than yours". Before launching there was another smoking Ceremony (as shown in Figure 4) to ensure the canoes would be seaworthy and look after those who sailed in them.
Then the launch with great excitement at Nullica River mouth as shown in Figures 9 & 10.
The 2nd week started with Indigenous artists showing the students various painting techniques. The 1st job was to apply a coat of Black Aquacote, a brilliant base colour to work with. Then the students were let loose to paint their canoes in Indigenous designs using Aquacote Topcoat vibrant colours on days 6 & 7 with the results shown at Figure 11 & 12.
The girls called their canoe Echidna after walking in on day 3 and seeing the canoe inverted with the cable ties hanging out. Good creativity which followed through in their art work.
There was considerable excitement on day eight as the students were able to show off their creations on the water. The Students, mentors and video crew paddle toured the canoes at Cocora Beach Twofold Bay with canoes resting at TwoFold Bay in Figure 13.
Then on day 9 the group paddled the canoes from Broadwater Boat ramp to Severs Beach and Return as shown at Figure 14. At Severs Beach an Indigenous Elder shared the significance and signs of Indigenous culture with the students and other members of the paddling team.
On day 10 the group paddled to view the Indigenous Fish Traps on the Yowaka River as shown at Figure 2 & 15.
The fortnight culminated in a Concert at Twofold Jigamy.
At a School Assembly on Monday 7 December the Students displayed their canoes and were presented with 'Certificates of Participation' as shown in Figure16.
The major sponsors of Eden Canoes 2020 project were St.Vinnies, Anglicare and Drive Marine Services / BoatCraftNSW. In addition, sponsorship and support- in-kind was received from many sources, in particular: Twofold Aboriginal Corporation, Eden Marine High School, the Eden Access Centre, Campbell-Page Eden, Pambula Rotary, Anderson Cranes, Tim Maher Oysters, Fraser Marine Eden & Friends of St.Michael's Anglican Church, Vaucluse.
Plus, Indigenous organisations pitched in providing mentors, Elders and a shed for operations, and many individual volunteers to enable the project to go ahead. Two amateur boat builders from Bondi assisted with building advice (Shown at Figure 1) and the Film Studio (MICA Studios) documented the entire experience with the cameraman discreetly filming in Figure 6. The film crew were regularly seen helping a team falling behind to make sure the daily target was achieved.
The broad support is a credit to Michael Palmer and his interaction with the above-mentioned organisations and Pastor Ossie Cruze in pulling such a diverse group together to make it happen. Michael and Ossie are lamenting (Figure 17) the canoe builds success. Michael bounced from one canoe to another making sure everyone was having fun or off showing dignitaries around to running errands and making sure morning tea and lunch arrived to ensure the teams had more than enough food to keep them going at maximum output.
During the two weeks Michael had organised many local dignitaries and influencers to visit and all were blown away by the skills being developed in such a short period. The ABC radio and other media outlets visited and the video team have developed an excellent video which is presently with all of the film festivals for screenings and hopefully awards, then with luck, gaining a spot on television.
The next step is pulling funding together to take the program from a successful trial to Eden Canoes becoming a sustainable venture for youth, disengaged families and rehabilitation for incarcerated youth.
The Twofold Aboriginal Corporation has already set land aside for a youth training centre but lacks funding and skilled assistance to make it happen.
If you know of an avenue to source funding or you are looking for a worthwhile philanthropic project to support, I strongly recommend Eden Canoes as a worthy project. Further information is available from Dave Giddings at or by contacting Michael at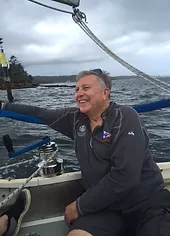 Dave Giddings is the Business Manager at DRIVE Marine Services and BoatCraftNSW.  He is passionate about boating having joined the Royal Australian Navy as a 16-year-old and working his way through the ranks to be a Warrant Officer.  The experience & skills gained provided a great love of steam & a healthy respect for the sea.
Based on his marine engineering background Dave has developed in-depth knowledge in Safer Ways to Work with modern products.  
Dave says, 'Males do not read instructions until they stuff up' and 'There is no such thing as a silly question'.  With this he welcomes calls from those needing help.  He can be contacted on Ph: 02 9533 5470, Mob: 0412 366 998, you can see him on his YouTube Channel – The Epoxy Guru, or you can visit the website, www.BoatCraftNSW.net