Superyacht visitation to Australia has surged, according to statistics published in the 2024 Superyacht Australia Magazine.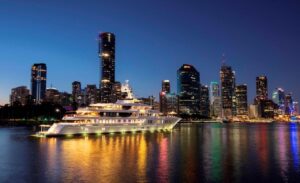 In a post-pandemic climate, the total number of visiting superyachts nationally began to recover closer to the long-term average, with a 105% increase from 2021 to 2022. The eastern states of New South Wales and Queensland had the highest visitation increases of 233% and 121%, respectively.
While these increases sound impressive, it's the total economic impact that is the number to watch. In 2022, the total economic impact was estimated at $52 million – an increase of 16% from 2021. A significant part of this can be credited to refit and maintenance works from both hauled-out and in-water projects, which represented rises of 183% and 450%, respectively, from 2021 to 2022.
While there are several factors behind these increases, Rivergate General Manager Andrew Cannon said the rise of younger, exploration-focused superyacht owners wanting to discover Australia had helped the visitation surge.
"Young, adventure-hungry superyacht owners are keen to discover Australia in all its natural beauty, opting to cruise the land down under over other traditional destinations like the Caribbean and Mediterranean," he said.
"Australia's pristine cruising grounds, coupled with our near-perfect weather for year-round maintenance, make us a desirable destination for owners, captains, and crew."
On a more local level, what measures are being taken to support Queensland's superyacht economy?
In a further positive step to support superyacht visitation to the Sunshine State, the Queensland Government has extended its superyacht strategy for another five years.
The strategy envisions that by 2028, Queensland's share of the Australian superyacht sector will have grown to 90%, and Queensland will be world-recognized as a major superyacht hub in the Asia-Pacific region.
This growth is expected to create thousands of new highly skilled jobs across the state and contribute hundreds of millions of dollars to the economy.
The Queensland Superyacht Strategy has five priority action areas to help achieve these targets. They are:
Supportive policy environment
Infrastructure for growth
Promoting Queensland as a global superyacht destination
Strengthening supply chains
Promoting superyacht visits for the Brisbane 2032 Olympic and Paralympic Games.
Rivergate is well-positioned to support the influx of visiting superyachts and promote Brisbane as a leading tourism destination, especially in the lead-up to the 2032 Olympic and Paralympic Games.
In 2023 alone, representatives from Rivergate have attended multiple international boat shows and rendezvous, including the Monaco Yacht Show and the Fort Lauderdale International Boat Show.
In collaboration with Superyacht Australia, Rivergate uses these opportunities to connect with owners, captains, and crew to highlight the refit capabilities of the region, as well as the unmatched cruising grounds of Queensland's coast.
For more information visit rivergate.com.au