The following is the story of the Little Red Tinny, a Quintrex owned by 4 generations that has been through some hardships but is still functioning to this day bringing joy to its owners.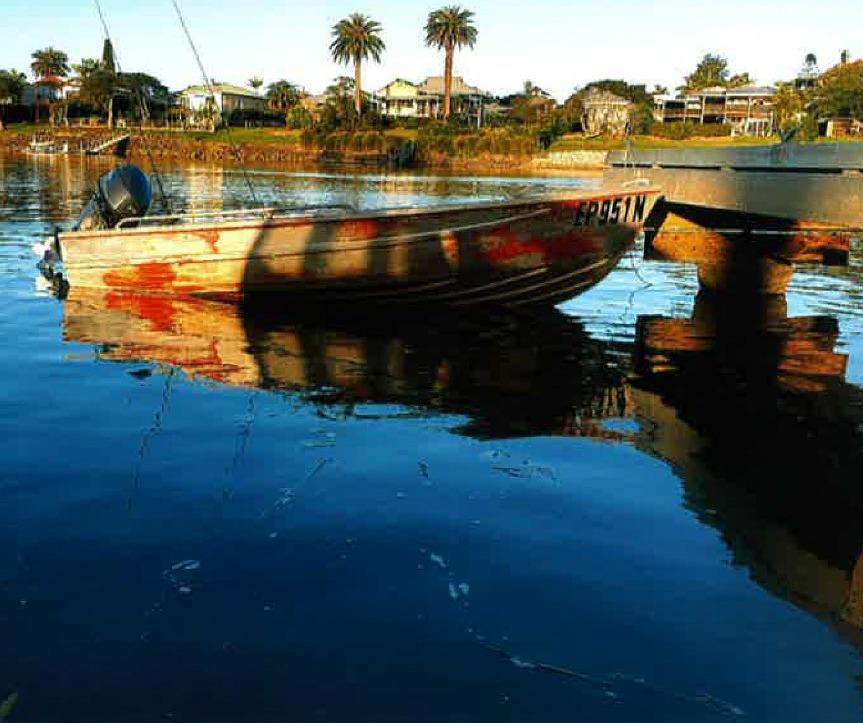 Originally I was sold to a man who owned a block of land on TuggerahLakes. I lived in a shed until the land in Tamar Street Toukley was sold to Mr William Townsend who owned holiday rental units (also in Tamar Street). The shed and contents were included in the sale so I passed into the hands of the Townsend Family in 1960.
I remained in Toukley, being used by the William's family until he sold his Toukley properties and returned to live in Sydney.
I was lent to William's grandson, Ted who lived in Culburra on the NSW South Coast. Whilst I was there another grandson, Kevin, painted me red and so the legend of the little Red Tinny was born.
The family were passionate anglers and most weekends would see me off to a fishing spot usually somewhere on the Hawkesbury River with BobbinHead or Coal and Candle Creek being favourite spots. All the children in the family loved being out on the water and many of them learnt to fish and row in me.
After William's death in 1969, I became part of another Townsend family. His son Neville became the new owner and my adventures continued. In 1991 I found myself on the move again when Neville and his wife Mary retired to the beautiful Tweed Valley in northern NSW. Neville's son Ian and grandson Aaron joined them and once more, another generation used me for fishing and exploring the Tweed River and environs. I was also used to catch and release Australian Bass on the Clarrie Hall Dam, a place on great scenic beauty surrounded by rolling hills and dense bushland.
Ian became a professional fisherman and after years of study obtained work on either fishing charters or longline trawlers. This meant he was away for extended periods so decided to lend me to friends whose property ran down to the waters of the dam. Moored here I was easily available for use once again.
In March of 2017, the Tweed Valley flooded and I watched as the dam waters rose. The wind blew fiercely. Suddenly my mooring rope snapped and away I went, drifting away to disappear from sight.
The family were sad to lose me; I had been such a huge part of their lives. They wondered  what had happened to me; did I sink, did I  wash over the spillway of the darn wall? Was I smashed to pieces on the rocks or was I sitting on the bottom of the dam?
Not known to them I was quite safe. Blown by the winds I travelled quite a distance ending up tossed into a small bay at the back of the dam.  ThereI sat, floating quietly in the now still waters.
All was well until the water levels began to-drop and I was left high and dry. I was fifteen metres from the water's edge and three metres off  theground – in a tree. Was this to be        my end? Was I going to be stuck in this tree forever, becoming a habitat for animals, birds, snakes and other creepy crawlies?
Four months after the waters subsided, a visitor to the home where I had been moored decided to hike around to the back of the dam. Admiring the scenery, he walked through dense bushland for some distance following the contours of the dam. Imagine his surprise when he glanced up into the canopy and there above his head  I  sat, the Little Red Tinny.  Of course, he knew the story but he thought, as did many others I was sitting on the bottom of the dam.
A phone call bought Ian down to the dam to claim me.  He was  pleased to see that although I was somewhat battered and full of debris I was not badly damaged.  I was soon down off my perch and floating on the dam again.
Since then I have had some repairs, my trailer has had a facelift and soon it will be my turn to have a fresh coat of red paint.
I have  been  out  on  the dam again with Ian and his grandson, fishing and relaxing together. Another generation is learning to fish from me, the Little Red Tinny.
I am telling my story to let everybody known what a great product I am.  I think I am about sixty years old as Quintrex was founded 1945.I have proved to be strong, well made, tough and reliable just like other Quintrex boats. I have now been bringing my current family out fishing and rowing for over fifty years, with a fourth generation now enjoying fishing trips  in  me.  I would like to bring more good times to my family and hope they will continue to enjoy their Little Red Tinny.