Australian Sailing CEO and Commonwealth Games President, Ben Houston and Vice-President of World Sailing and Chair of the Sport Integrity Advisory Council, Sarah Kenny, have joined a team of sporting directors and governance experts to help develop a new free online resource launched by Sport Australia, the 'Start Line'.
A free online resource, The Start Line aims to help directors at all levels of sport govern successful sporting organisations from community level to elite. Participants will also improve their knowledge of the fundamentals of directorship, and support their contribution and impact to their sport.
"The Start Line is a fantastic opportunity for Directors of sporting organisations at all levels to build their governance skills." Houston said.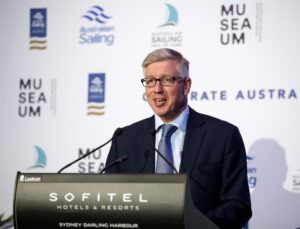 The Start Line was developed with input from National Sporting Organisations, industry experts and State and Territory Agencies of Sport and Recreation.  Houston and Kenny have joined a team of Australian sporting experts, which includes Kieren Perkins OAM, Liz Ellis AO, AFL CEO Gillon McLaughlin and Rowing Australia President, Rob Scott to help develop the sport governance education and training materials to build the capability in sports organisations.
Australian Sports Commission (ASC) Chair Josephine Sukkar AM said the course was another way Sport Australia was helping to strengthen the sport sector.
"Sport Australia is committed to supporting sporting organisations and their leaders to continually improve their governance systems and processes," Sukkar said.
"It is extremely important that the sport sector has the right people on boards with the right skills. Even for experienced directors, there is always more to learn and opportunities to grow.
Sport Australia is responsible for driving greater participation, engagement and capability in Australian sport, with an investment in national sporting organisations, including organisations for people with a disability, to champion the value of sport and encourage Australians of all backgrounds, ages, and abilities to get involved in sport.
To access the course, visit the Sport Australia Sport Governance Education and Training website.