Colin Whitbread ordered his Goldsbrough new in 1967. He paid $2000. He owned Shoe stores so named his new toy Shu Shu. He used it until she got damaged in a flood on his Wilberforce property over 40 years ago. Dave Pagano bought the boat from Colin 12 months ago. Colin had owned her for 54 years. Yesterday she hit the water again after a sympathetic restoration maintaining as much of the original patina as possible. Shu Shu really is a time capsule.
This is her story.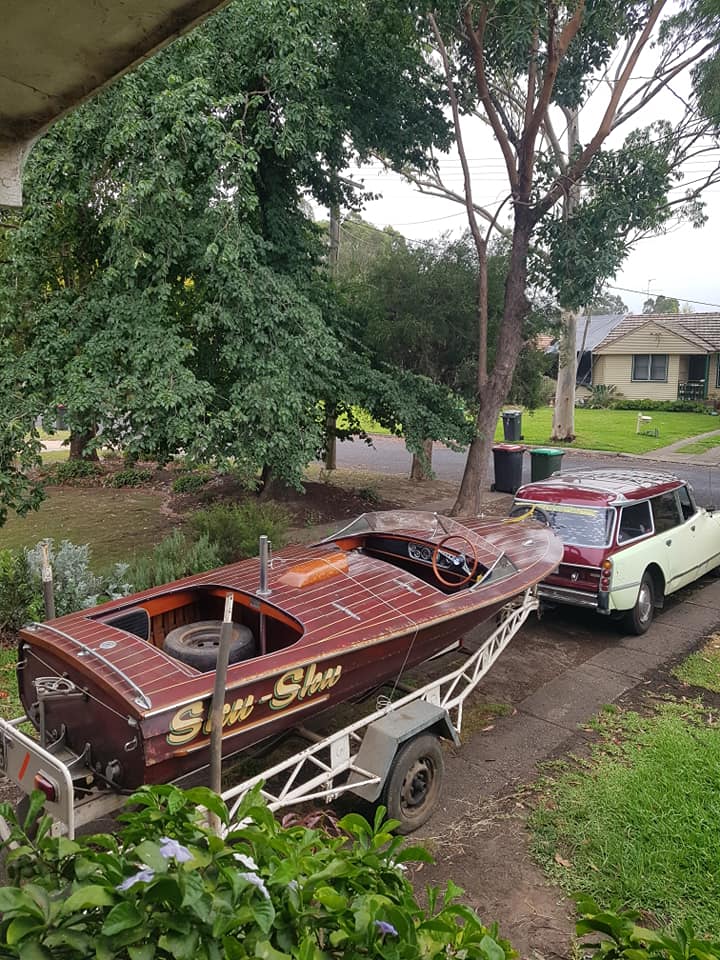 On the 22nd of April 1967 Shoe store owner Colin Whitbread placed a deposit for a new Goldsbrough ski boat. On the 26th of July that year he took delivery.
Tuning legend Ken Waggot built the Y block Ford V8. Colin had the steam tube trailer custom made. The total cost was a little over $2000 which at that time was around 8 months wages for an average working man.
Thanks to his business interests he named the new boat "Shu Shu " and kept it on his Hawkesbury riverfront weekender at Wilberforce.
His whole family enjoyed the boat, but around 45 years ago during a flood, Shu Shu floated off her trailer and smashed into the roof of the storage shed. Shu Shu would never see the water again.
25 years ago, whilst at Windsor boat ramp, Dave Pagano with one of his old woodies Colin and his sister approached him and commented how they liked his boat. Five minutes later Dave took them both for a joy ride.
They parted ways and Dave never gave them another thought until 12 months ago when Colin called and asked him to look at his boat.
Dave visited Colin and a deal was struck. Colin had owned the boat for 54 years.
Dave gave the boat a sympathetic restoration. He repaired the damaged gunwale and striped and revarnished the deck. His main aim was to try and not over restore it so he kept the varnish a bit dull. Dave really wanted it to be a survivor boat.
The y block was removed, and a dog clutch was fitted. The modern Holley was replaced with period twin 94s. A fresh coat of paint on the engine again trying to not go overboard with bling.
Dave only re chromed a few deck fittings that absolutely had to be done. The exhaust was beyond using so he made a whole new water jacketed system. The trailer got a little love also.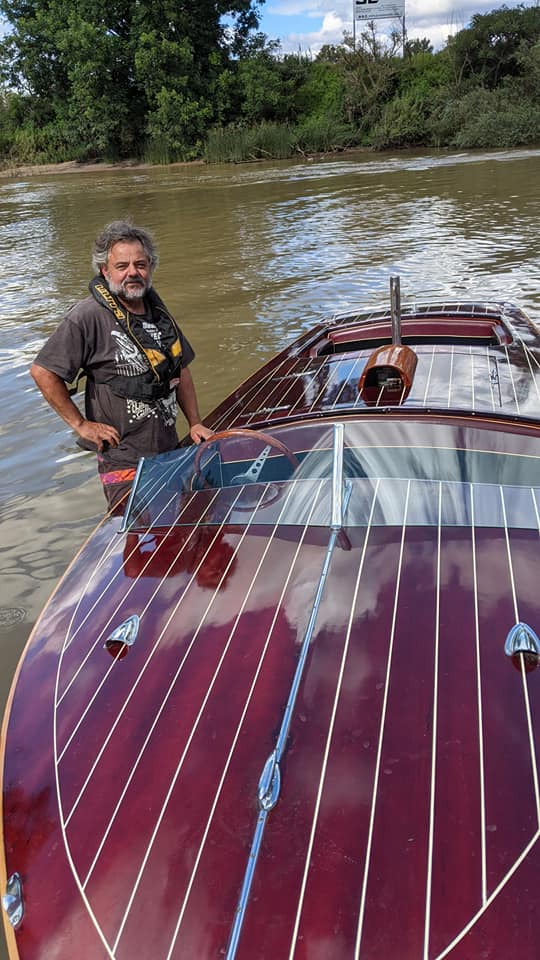 Yesterday Shu Shu hit the water again and ran really well. Dave said that a few bugs will need to be sorted out but he was really happy.
Dave said "Shu Shu is a time capsule of a bygone era. My plan is to give it to my kids. I hope they enjoy it".
See also videos of Shu Shu in action, including one of Dave's daughter Bronte driving below:
Click here to see the whole photo album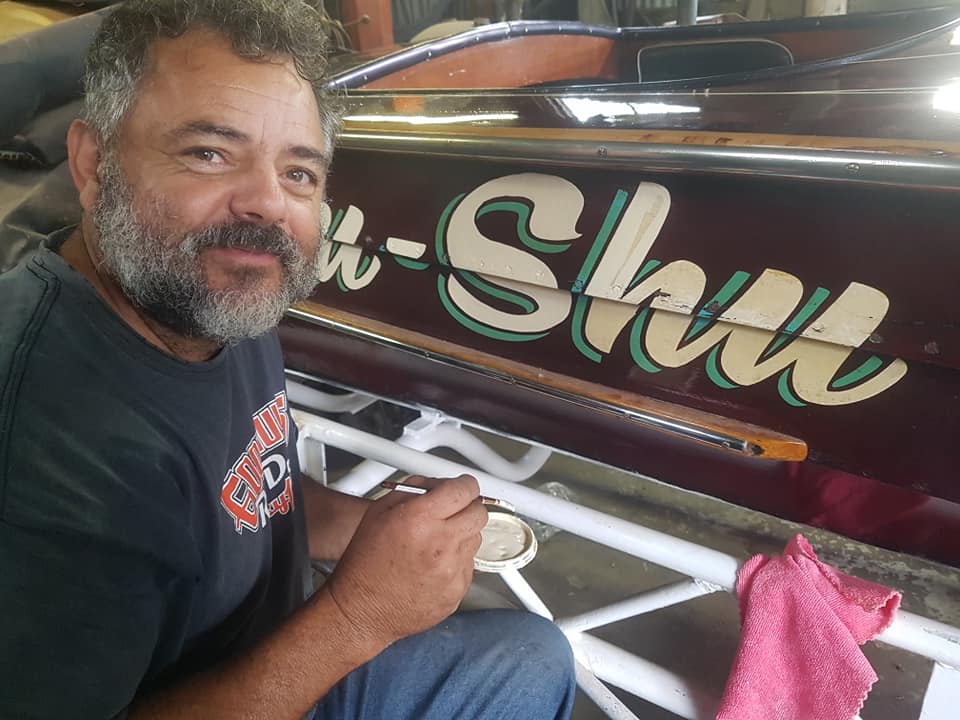 Dave Pagano is a classic powerboat collector, restorer, and an avid boat historian. His collection is extensive which includes the legendary Rolls-Royce Merlin V12 powered hydroplane "Aggressor". After gaining an Arts degree, Dave began making stained-glass windows, a skill he still uses to produce beautiful works of art.
Some of Dave's boats have been meticulously restored, some are works in progress,
and others are being saved for future projects or simply to prevent them from deteriorating any further. Many have come out of long-term storage or from abandoned restoration efforts. Dave keeps as many as he can in sheds while others are under covers outdoors. It's a huge ongoing commitment for just one person.
Dave is a founding member of the Classic Australian Wooden Power Boat Association, where enthusiasts work together to save and restore classic wooden boats and preserve their histories.