Horizon Yacht Australia has wrapped up 2021 with record sales – $150 million in new models and millions more in Horizon brokerage vessels as owners move up in the brand.
"It has been our biggest year to date with over 14 new vessels sold, three stock boats arriving and 45 brokerage boats sold," reports Managing Director, Mark Western, adding that an appetite for boats over the pandemic, combined with quality product that has struck a chord with boaties formed the "perfect storm".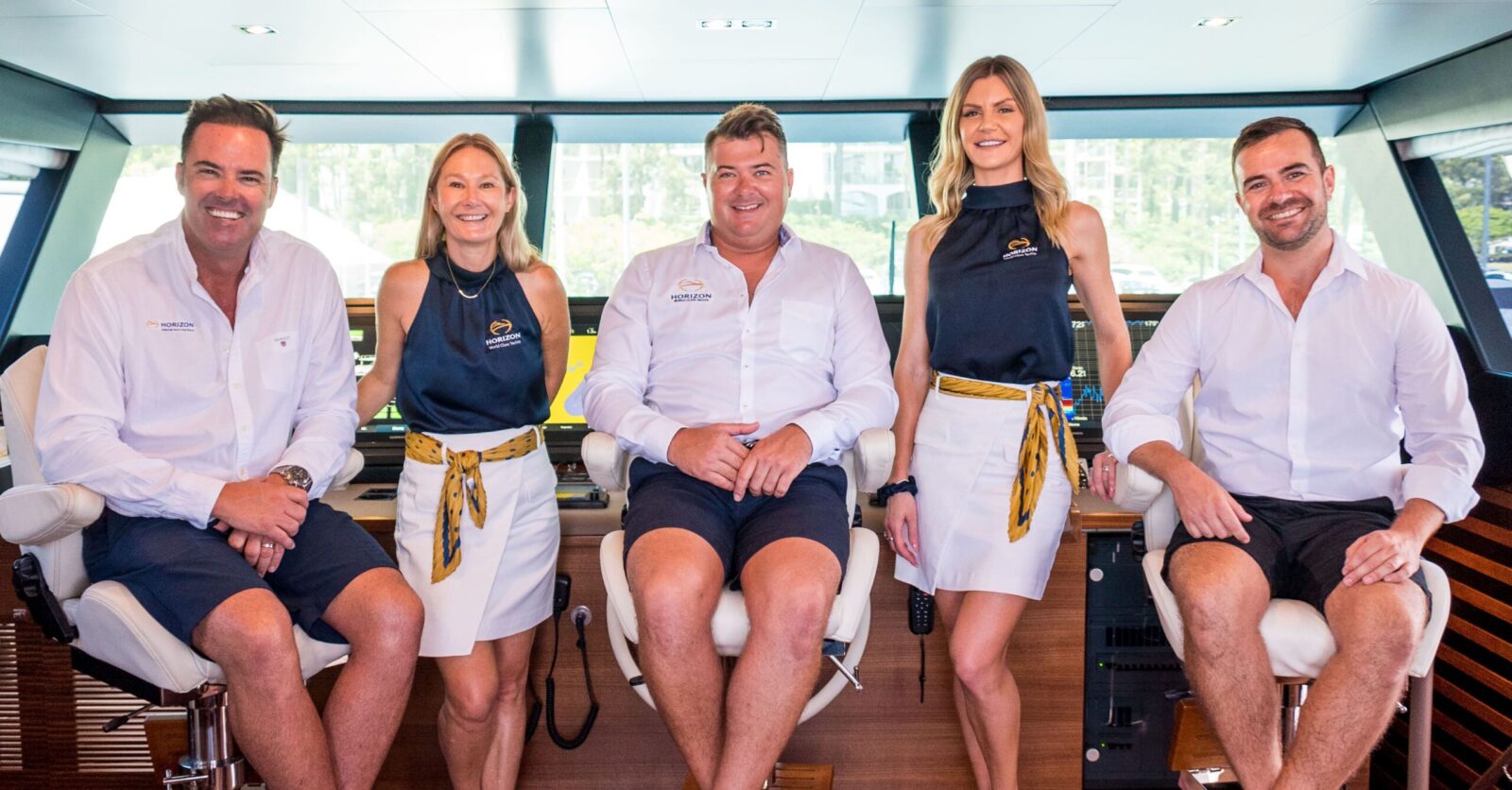 Tony Jones, Rachael Kahui, Mark Western, Erica Rae and Craig Maile
At the Sanctuary Cove International Boat Show in May, Horizon recorded the first sale of the show, selling the Horizon RP100 for $12.9 million to a local Gold Coast buyer. Since then, 95 percent of sales have been in the FD (Fast Displacement) range.
The boost to sales can be largely attributed to the Horizon FD series, which "is exploding" on the Australian market, according to Mark, who has been with Horizon since 2004.
"They have really struck a chord," says Mark of the Cor D. Rover-designed series that spans 75 to 125-feet.
"We will deliver 12 FDs in 2022 – which is equal to the US. Production is now booked out until early 2023."
The popularity of the FD models is due to their volume and profusion of features. "Size does matter!" states Mark. "They are so spacious and offer all the features of a much larger boat, but with lower running costs and the ability to operate single-handed."
For example, the FD87, now referred to as the 90, boasts a beam of over 23-feet, and has a huge on-deck master stateroom, four double cabins on the lower deck and an additional two or three crew cabins.
"Crew are starting to become more popular as the boats get bigger," Mark observes. "In the US, 100-foot boats might have five or so crew, while in Australia we're seeing owners opt for a Captain, Chef and a Stewardess for entertaining or special occasions."
A big plus for newcomers to the brand and loyal Horizon owners is the degree of customisation the factory offers. "That and the large production capacity at the Horizon and Vision yards in Taiwan. We can manufacture 25 to 30 per year at Horizon and 10 to 13 at Vision."
The Horizon factory is a state-of-the-art yard in Kaohsiung, close to the southern tip of Taiwan.
"Our owners appreciate the flexibility and degree of customisation that Horizon offers," Mark explains. "Being factory owned has made buyers feel a lot more confident in the Horizon brand."
Another point of difference is that clients are now able to hand-pick their interiors using samples and swatches within a dedicated showroom at Horizon's Sanctuary Cove headquarters, under the experienced eye of Erica Rae, who has been with Horizon for 11 years.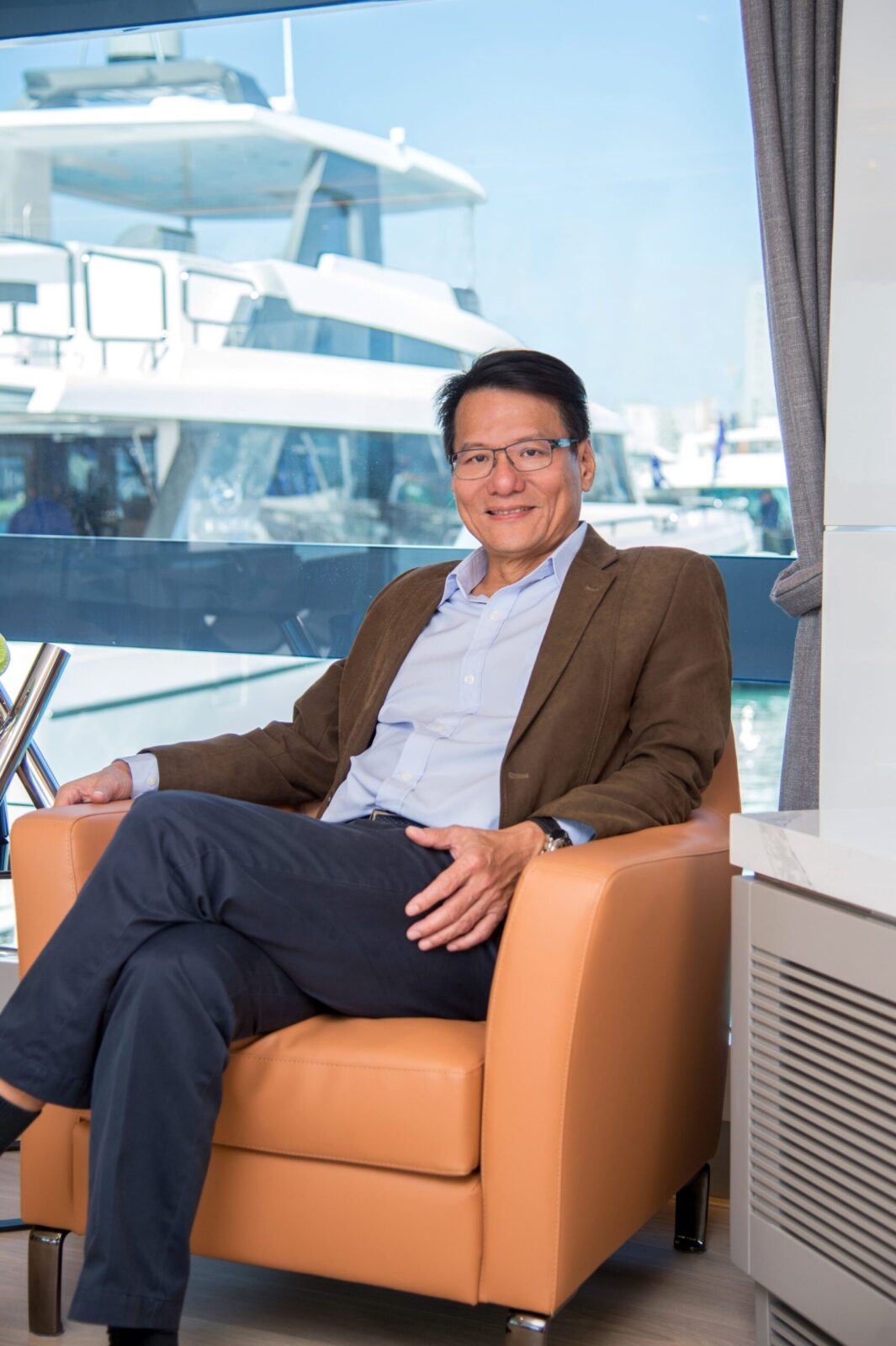 John Lu
Key to the Horizon brand and its promises is the vision and the larger-than-life persona of John Lu, who founded the company in 1987 and has attained somewhat of a "rock star" status in global superyacht circles.
"John has superb intuition," attests Mark. "Mid-Covid, based on his sheer belief in the potential of the FD Series, John invested US$100 million in a new facility that could produce a further 10 to 12 boats. John is a dealmaker, he drives Horizon with the attitude that nothing is too much trouble. The aim is customer retention and that's achieved with a quick response to fix any issues."
Factory ownership has its benefits for sales staff as much as owners, as Mark explains.
"The biggest difference is capital, having the ability to do competitive deals and provide first-class after sales service."
Over the past 34 years, Horizon has found and dominated a niche, delivering superyacht technology and features even in its entry level boats.
"The Horizon difference is that we listen, we're client focused, customisation is everything," states Mark.
"Our owners have confidence in the brand quality and performance. As people move up in size over the years, by the time they're ready for a true superyacht, they're looking for volume, offshore performance, space for the extended family. Once you've been in a Horizon, nothing else comes close."
The team at Horizon Yacht Australia is close-knit and experienced. Director, Mark has been with the company for over 15 years and in the boating business for 20 years, Business Manager, Erica Rae for 11 years, Office Manager, Rachael Kahui for three years and Brokerage Sales Manager, Tony Jones has more than 30 years in the industry. Craig Maile recently joined the Horizon team as Service Manager bringing with him a solid 10 years in a similar role in the UK and Europe, delivering superyachts and providing service and support to owners.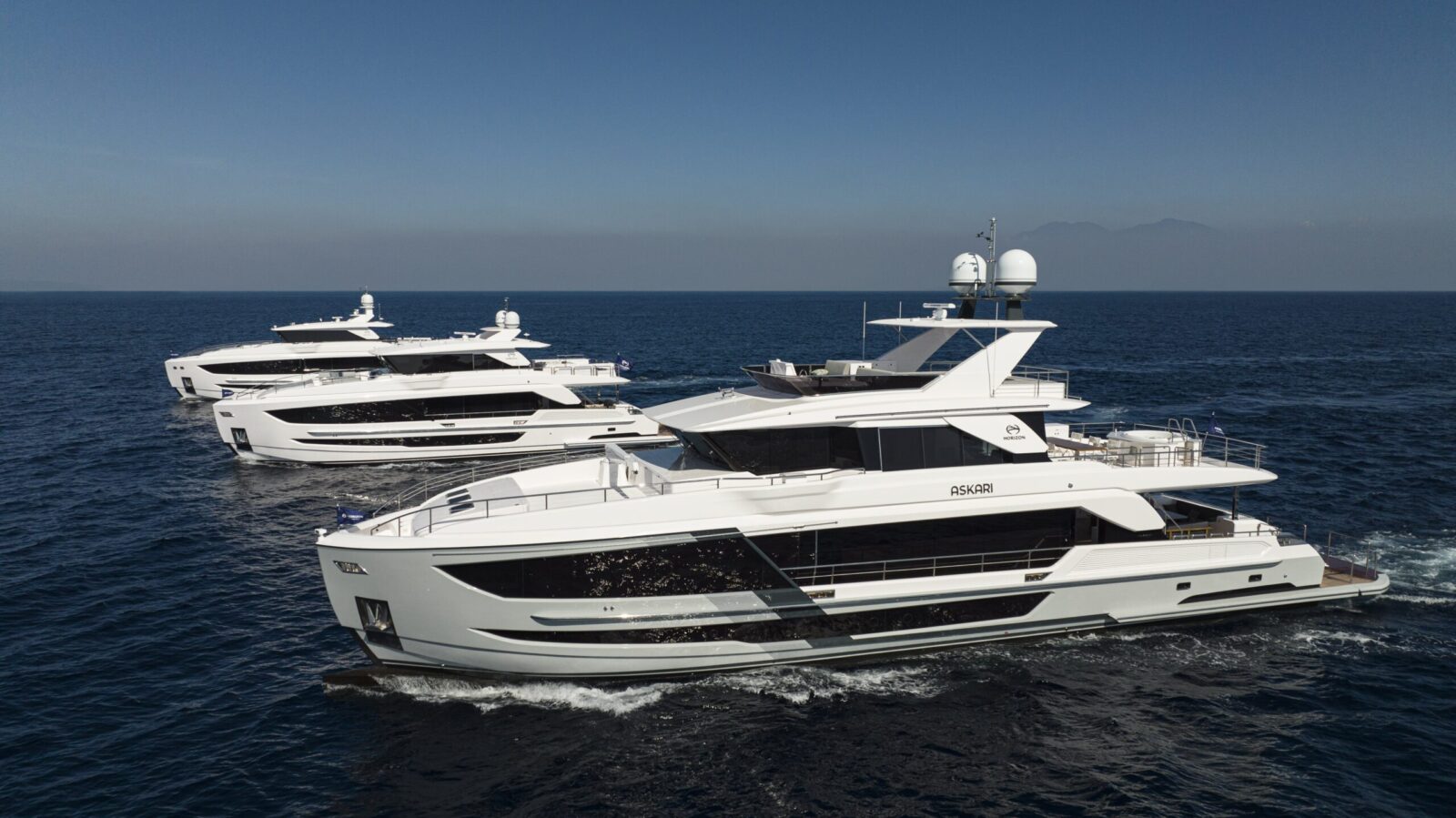 "Tony is the master of brokerage," asserts Mark. "He is just a sales machine! His strong point is relationships with people and looking after them throughout their lifetime of boat ownership."
Craig is also a "people person" who understands what customers want. "And that is the biggest factor in retaining customers and guaranteeing future sales," says Mark.
"Erica is a tremendous asset who knows the brand and the business inside out and Rachael brings so much energy and enthusiasm to the office every day.
"Together, we're a team that's young at heart," he continues. "We work well together and we've found a good rhythm built on good strategies. I would say that 2022 is looking very bright in terms of handovers, sales, innovations and new model arrivals.
"I hope to get back to Taiwan late next year to see for myself the incredible new facilities and hear about John's plans for the next phase in Horizon's evolution."
For more information about Horizon visit horizonyachtaus.com