Riviera this month is celebrating 10 years of ownership by Rodney Longhurst.
Together with long-term CEO Wes Moxey, their vision for creating the ultimate boating experience has driven Australia's premium motor yacht builder into a new era of design, innovation and luxury.
The milestone achieved this month has coincided with the world premiere of Riviera's new flagship 78 Motor Yacht, the largest and most luxurious production yacht ever built in Australia.
Mr Longhurst, whose passion for boating was born from his family's decades of accomplishments in the Australian marine industry, acquired Riviera in March 2012 and since then he has launched over 18 new models, building on Riviera's heritage of creating luxury motor yachts for the global market.
"The achievements of the past decade are a credit to our entire team at Riviera as they have strived to be the best they can be," says Mr Longhurst.
"We're honoured to have the support of so many owners who truly appreciate Riviera's authentic dedication to creating luxury motor yachts of distinction."
The spirit of Riviera
Mr Longhurst acquired Riviera at a pivotal time in the company's history. Recognising the potential of Riviera, Mr Longhurst invited long-time friend and experienced marine industry professional Wes Moxey to resume his role as CEO. Together they set out to shape the future of the company through a focus on new designs, engineering advances and supreme luxury that define Riviera motor yachts today.
After joining Riviera in 1982, Mr Moxey became the main driver of Riviera's advances over many years before retiring as Riviera CEO in 2008. Mr Moxey's return led to the addition of Belize motor yachts to the Riviera collection, bringing a range of classic designs he personally developed during his sabbatical from the company.
"We both recognised the great potential of Riviera," says Mr Longhurst. "Our vision from a decade ago has redefined the Riviera motor yachts that we create today."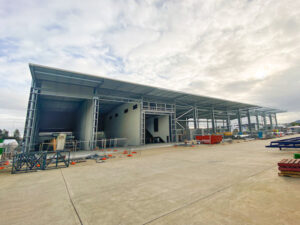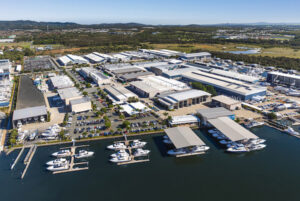 Riviera today offers an expansive range from 39 to 78 feet across six collections. Each new model has raised the bar higher in terms of engineering, design and performance, complemented by the superior luxury finishes and appointments for which Riviera is renowned.
Among the significant achievements of the past decade is the development of innovative models that have pioneered new styles and redefined motor yacht designs to inspire greater enjoyment.
The plans we put in place a decade ago have redefined the Riviera motor yachts that we create today. - Rodney Longhurst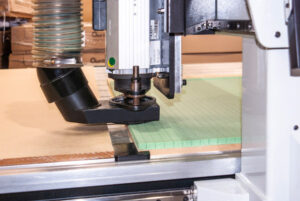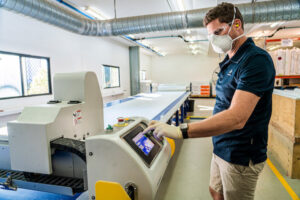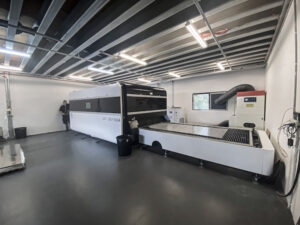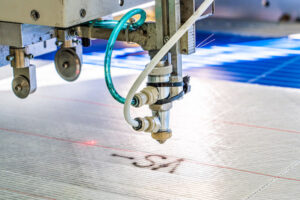 Riviera today supplements traditional handcrafting techniques with advanced computer-aided design technology to create world-class luxury motor yachts.
Pioneering the SUV range
In 2012, Riviera pioneered the SUV range by combining the popular attributes of the Riviera flybridge design with those of the sport yacht to create a new breed of adventurous luxury motor yachts. After initially releasing the 445 SUV, Riviera's SUV range has now grown to six versatile models from 39 to 64 feet.
By 2013, the 445 SUV had become the 5,000th motor yacht built by Riviera, a number that has since grown to more than 5,850 under Mr Longhurst's ownership.
After introducing the 6000 Sport Yacht in 2015, Riviera continued the evolution of this stylish and sophisticated Sport Yacht range through the refined Platinum Edition in 2019. The popularity of this special edition range was highlighted in 2020 with the 100th yacht each of the 5400 and 6000 models launched.
In 2017, Riviera introduced the Sports Motor Yacht range that brought real innovation in luxurious motor yacht design offering wide walk-around side decks, a spacious four-sided enclosed flybridge and multiple entertaining spaces including the alfresco deck and foredeck relaxation zone. The Sports Motor Yacht collection redefined long-range boating with Riviera's introduction of the 72, 68 and 64 Sports Motor Yacht, and more recently the 50 Sports Motor Yacht. These yachts offer inspired offshore performance, full watersports capability with larger motor yacht features that puts them in a league of their own.
Riviera has steered a new course in design with the world premiere this month of the magnificent 78 Motor Yacht to the fleet, the largest motor yacht ever created by the company. Taking the acclaimed blue-water boating capabilities of Riviera motor yachts to the next level, the 78 MY has been created by superyacht designer Luca Vallebona in collaboration with the award-winning Riviera design group. The flexibility of the new 78 MY design, available with an enclosed or open bridge plus four-stateroom accommodation, allows owners to personalise their yacht to reflect their individual tastes and further enhance their lifestyles.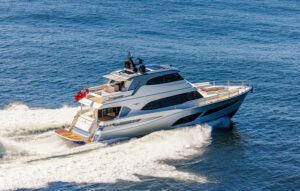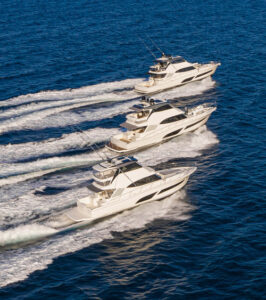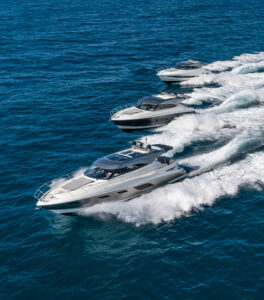 The Riviera model range has grown to include the new flagship 78 Motor Yacht (left), the Sports Motor Yacht collection (middle) and the Sport Yacht collection (right).
Investing for growth
The ongoing multimillion-dollar investment in new models defines the company's commitment to new model development driven by the desires of motor yacht owners and advances in ease-of-boating technology.
"Quality, innovation and refinement are at the heart of our philosophy at Riviera as our passion is creating exceptional motor yachts," says Mr Longhurst.
"This drives our model development in form, function and performance that not only reflects on us as a trusted market leader, but it also showcases Riviera's proven world-class manufacturing capabilities."
"We are at the forefront with designs and refinements that include some of the most advanced engineering with drive systems for smooth and quiet operation and our hull design and performance that places Riviera among the world's finest motor yacht builders."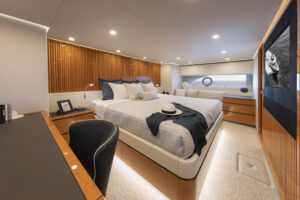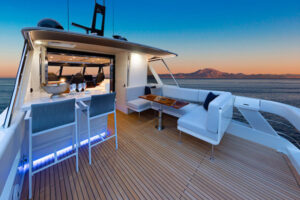 Over the past decade, Riviera has expanded its global representative network in the Americas, Europe, Middle East and Asia, enhancing the company's focus on owner care and service. With the company currently exporting more than half of the yachts it builds each year, Riviera motor yachts can be found cruising in the South Pacific, Caribbean, Mediterranean, Asia, Middle East and the Americas, as well as all around Australia and New Zealand.
The growing popularity of Riviera's luxury motor yachts has led the company to further invest in the future through a $10 million capital works program that includes the construction of a new Lamination Centre. Covering some 3,400sqm, the Lamination Centre will accelerate workflows and enhance efficiencies when it opens next month at Riviera's 16.8-ha facility, the largest of its kind in the southern hemisphere.
Under Mr Longhurst's ownership, Riviera has expanded its team to more than 950 as the reputation and popularity of the company's motor yachts continues to grow around the world.
"All of this is made possible through our constant drive to create the best team, a great culture and the continual investment in our people," says Mr Longhurst.
Riviera invests in its team through many different training programs from leadership and management to its award-winning apprenticeship program, which is training the master craftspeople of the future. Riviera this year welcomed 40 new apprentices and trainees as the team continues to grow. In tandem with training in their respective field, each apprentice is also participating in Riviera's Propel program which provides them with essential training in leadership and life skills.
"We cannot underestimate the importance of training," says Mr Longhurst. "We are building world-class motor yachts, and our world-class team share our vision and our passion through our training and development programs. For us, this is a journey and after a decade of striving to create the ultimate boating experience for our owners, the Riviera evolution continues in 2022".