Australian Sailing announced the opening of the 2022 Whitworths Tackers Boat Scheme. This initiative aims to grow kid participation in sailing by financially assisting Discover Sailing Centres to buy Tackers vessels thanks to our sponsor Whitworths's financial support and OziOpti's special discount. Indeed 50% of the Tackers boat price will be sponsored by Whitworths and OziOpti will also grant a further 15% discount. Hence Discover Sailing Centres have the opportunity to acquire Tackers boats through OziOpti at a total price of $1,271.87 (GST and shipping excluded) per vessel.
All Tackers boats will have the Whitworths's logo imposed on the sail.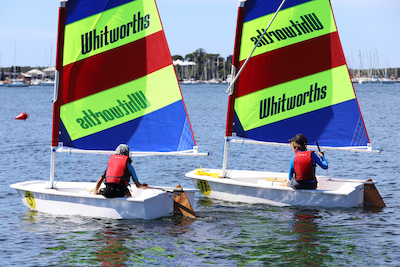 Boats available for purchase are limited and the following criteria will be taken into consideration when reviewing applications:
strategies to market and promote the Tackers program
the projected increase in participant numbers
confirmed sailing pathway within the club
previously supplied loans within the state of application
location in relation to a Whitworths's store
Applications opened on the 14th April 2022 and will close 13th May 2022.
To read further details and apply click HERE.