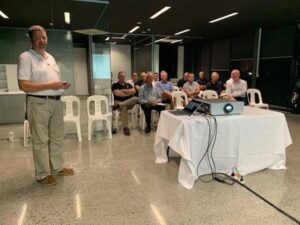 The State Council AGMs for 2022 were held recently, with members in SA, NSW and Queensland meeting in-person for their state AGM for the first time since 2019. The meetings provided an update on BIA local and national activity over the year of 2021 and a welcome opportunity for members to meet face-to-face for industry networking. The BIA thanked the Drummoyne Sailing Club and Sanctuary Cove Marina for hosting members in NSW and Queensland.
Each state council elected councillors for the year ahead, a full council of 11 now in place in each state. New councillors were welcomed in NSW and Queensland, with two Councillors in Queensland retiring after several years committed service to their industry peers as state representatives.
Joining state councils are:
NSW – Matthew Lloyd of Book My Boat
Queensland – Andrew Cowley of Merlin Marine and Derrick Nowak of Maritimo Offshore
Standing down were Peter Ruhle of Boating & RV and Nathan Nichols of Cruise Craft Boats, however Nathan will continue to serve on the BIA Board of Directors to represent members in Queensland and the Boat Manufacturers Division. Thanks go to Peter and Nathan for their support for the BIA over the course of many years.
Following each state AGM, the new Council met to elect a Council Chair, with Miriam Griffen (SA), Adam Smith (NSW), and Andrew Fielding (Queensland) each confirmed for a further year.
BIA State Councillors and Board of Directors 2022
BIA Board of Directors
Darren Vaux (President)
Andrew Fielding (Vice President)
Simon Cook
Miriam Griffen
Andrew Hayes
Richard Hopkins
Jon Hunt
Micheal Jarvin
Nicholas Kitchen
Nathan Nichols
Adam Smith
NSW State Councillors
Adam Smith (Chair) (Australian Boating Collage Sydney Pty Ltd)
Simon Cook (Cook Family Enterprises Pty Ltd)
Brian Gatt (Logix Group)
Jon Hunt (Hunts Marine Pty Ltd)
Michael Jarvin (Advanced Marina Management Pty Ltd)
Matthew Lloyd (Book My Boat)
Ned O'Neil (Rose Bay Marina)
Tracy Souris (Sydney Boathouse)
Shannon Stocks (Shannon Outboard Service)
Stave Williams (Standen Marine)
Lorraine Yates (White Bay 6 Marine park)
SA State Councillors
Miriam Griffen (Chair) (Griffens Marina)
David Binks (Binks Marine)
Allen Buckley (Riverdance Houseboat)
Tim Cook (Club Marine)
Rob Cuming (Christies Beach Marine)
Jason Day (Dockyard)
Jason Deckers (Seatrail SA)
Trish Flaherty (Nautilus Marine Insurance Agency)
Andrew Hayes (Hallett Australia Pty Ltd)
Richard Hopkins (EJ Milde & Co Pty Ltd)
Steve Ottaway (Marineex Australia)
QLD State Councillors
Andrew Fielding (Chair) (Anchorline Yacht Brokers)
Ben Anderson (Mackay Marina/Peter Hansen Yacht Brokers)
Brett Bolton (Coriolis Marine)
Andrew Cowley (Merlin Marine)
Johan Hasser (Mulpha Sanctuary Cove Boat Show)
Nicholas Kitchen (Yamaha Motor Australia)
Sharon McNally (Cumberland Charter Yachts)
Derrick Nowak (Maritimo Offshore)
Mike Orsmond (Rib Force Inflatables)
Fabien Vignes (All Marine Spares)
Sonya Wilmen (Coverforce)