Maritime Safety Queensland (MSQ) took the lead in coordinating with other agencies to help alleviate immediate dangers posed by uncontrolled flood debris and, where possible, assigned contractors to salvage boats and pontoons that had broken away from their moorings.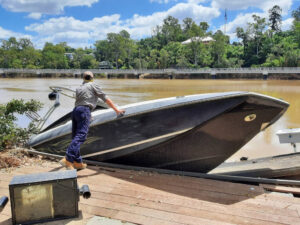 Notable hazards that needed to be dealt with urgently included a 550-tonne jack-up barge supporting a crane that broke free of its moorings on Sunday 27 February and drifted downstream.
The barge eventually grounded itself on its 'jack-up legs' in front of Eagle Street Wharf. MSQ reacted quickly, deploying a tugboat and contractor with salvage experience to assess the dangerous situation.
By Monday night, with aid from the barge's owner, the crane was stabilised and secured, before being towed on Thursday morning to a safe berth at Murrarie.
At the Port of Brisbane, the oil tanker CSC Friendship broke away from its moorings in the early hours of Monday 28 February, grounding nearby. Working in challenging conditions, MSQ's Acting Regional Harbour Master oversaw the response, coordinating agencies to re-float and secure the stricken vessel within hours.
Further upstream, a former floating restaurant, previously damaged in the 2011 floods and unused since, was swept off its piles to wedge precariously into the riverbank at Milton, blocking the Bicentennial Bikeway.
Again MSQ responded quickly, establishing and maintaining an exclusion zone to keep craft away from the site.
Subsequently, using powers under the Queensland Reconstruction Authority Act 2011, the Queensland Reconstruction Authority delegated to MSQ the responsibility for engaging a contractor to remove the structure.
By 14 April the corner of the structure that had blocked the bikeway had been removed, with full removal scheduled for early-June, weather permitting.
More than two weeks into our flood response, a CityCat ferry that had been submerged at Addison Quay after being holed by debris re-surfaced during high tides, requiring MSQ to take prompt action with a tug contractor to secure it.
As we transitioned into the recovery phase, MSQ's hydrographic services team worked alongside the Australian Defence Force, surveying the river to locate sunken debris, restore navigation aids and validate channel depths in preparation for the Port of Brisbane's re-opening.
Our Incident Control Centre at Pinkenba coordinated the recovery of more than 3000 tonnes of unsalvageable property and debris from the river. A small number of salvageable items were transferred to holding yards, which provided opportunities for owners to reclaim their vessels and pontoons.
At the Port of Brisbane, after significant efforts to survey and clear shipping channels, business as usual operations were able to take shape again. This allowed us to focus on clearing the backlog of ships waiting to enter the port.
We undertook a staged re-opening process of the Brisbane River for recreational craft, finally re-opening the whole of the river on 26 March with certain restrictions in place to preserve safety.
Notable recovery efforts have been replicated across Moreton Bay, Sunshine Coast and Wide Bay, where flooded river systems produced similar problems. Considerable work remains in identifying and arranging the removal of all major hazards to navigation and potential pollution hazards from the waterways in these areas.
Off the river, MSQ teams worked together seamlessly to provide updates and alert the public to ongoing dangers and river closures to maritime traffic, followed by advice when safety inspections allowed the river to be re-opened.