As cities worldwide struggle to keep up with rapid rates of population growth and migration, one question is on the minds of urban planners: How do you make the transportation system as clean, smart and easy to use as possible?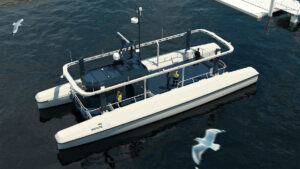 The CAPTN (Clean Autonomous Public Transport Network), a public-private research consortium in the German port city of Kiel, is trying to solve this big question. The project has reached a milestone recently with the christening of the research vessel MV "Wavelab". Soon, the Torqeedo-powered catamaran will begin collecting data and doing research that will ultimately help set up a planned electric-autonomous ferry network. In the long run, CAPTN plans to establish a system that connects all means of public transport.
Like many of the world's great cities, Kiel is built near the water. The Kiel Fjord divides the city and supports its vibrant maritime culture. Now, many cities like Kiel are looking to their rivers and coasts to do more than transport goods and provide a place to fish, swim and boat. The world's waterways are becoming an integral part of urban mobility networks.
The research vessel of the CAPTN initiative was christened in a festive ceremony at the Gebr. Friedrich shipyard in Kiel-Friedrichsort on February 22, 2023. The catamaran will be used for research and to test autonomous shipping. Credit: CAPTN
"Waterborne public transit offers flexibility to urban mobility planners," said Fabian Bez, CEO of Torqeedo GmbH. "Roads, tunnels and bridges take up space and stay where they are built, but water taxis and ferries can move where they are needed to meet peak demand. As cities become more populous and more connected, this kind of rapid response capability will prove ever more valuable."
Torqeedo supplied dual 50 kW Deep Blue steerable thrusters and eight Deep Blue lithium-ion batteries with a total capacity of 320 kWh. Four Power 24-3500 batteries supply the 24V onboard grid and the system is completed by a 22kW fast charger, DC/DC converter and DC/AC converter.
The catamaran is owned by the Research and Development Center of the Kiel University of Applied Sciences (FuE-Zentrum FH Kiel GmbH), which heads the consortium of five project partners. For Björn Lehmann-Matthaei, Managing Director of FuE-Zentrum FH Kiel GmbH, the launch of the 21-meter-long and eight-meter-wide research vessel marks the beginning of the decisive step towards the future of new mobility. "The christening is a major milestone: Soon the ship will be able to start its actual research operations."
The CAPTN project is concurrently developing the enabling technologies for sustainable urban transport, including a 5G network to connect the autonomous ferries. The new network can also be leveraged in the future to optimise port logistics and to help with the broadcast of the fjord's famous sailing regattas.
CAPTN is also working on renewable energy for maritime uses and is leveraging artificial intelligence to collect and process traffic-relevant data to depict a real-time situation. Using machine-learning methods, the research partners want to create models for forecasting traffic events and corresponding recommendations for action.
"Torqeedo's proud to power the MV 'Wavelab'. This vessel is a big step toward the development of fully autonomous, emission-free, waterborne public transport," said Bez. "CAPTN is steering the way towards the cities of the future."
For more information visit www.torqeedo.com