AVIKUS, HD Hyundai's autonomous navigation in-house startup announced today to adapt automotive's self-driving platform from Hyundai AutoEver, a subsidiary company of Hyundai Motor Group, to its self-boating platform. Hyundai AutoEver (CEO Seo Jeong-sik) and Avikus (CEO Lim Do-hyeong) held a signing ceremony at Pangyo Global R&D Center on April 4th, signing a collaboration contract to implement next-generation automotive's self-driving platform to marine mobilities.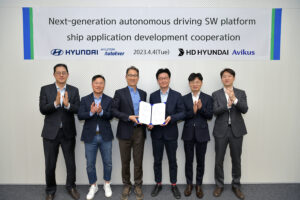 The two companies will work together to apply Hyundai AutoEver's vehicle software platform, mobilgene, to NeuBoat – an autonomous operation solution for leisure boats developed by Avikus. Avikus' NeuBoat provides steering and docking capabilities far beyond monitoring and alerts, corresponding to the users' selected level of navigation assistance. The two companies plan to promote development and quality verification with the goal of mass production in 2026.
Hyundai AutoEver's mobilgene is a software platform that was developed based on the global development standard AUTOSAR and has been applied to more than 200 types of controllers mass-produced by the automobile industry, proving its reliability many times over. Hyundai AutoEver plans to apply this technology to autonomous ship operation, as well as use it to provide key solutions for future mobility in various fields such as robotics, Advanced Air Mobility (AAM), and defense.
"We are excited about the synergy between Hyundai AutoEver's solid software platform and the highest level of Avikus autonomous operation technology," said Lim Do-hyeong, CEO of Avikus. "Together, we will create a new paradigm in boat autonomous operation."
"Our collaboration with Avikus NeuBoat marks a significant new phase in the proliferation of our advanced automotive applications," said Lim Yang-nam, executive director of the Hyundai AutoEver Integrated Solution Center. "We expect to expand our vehicle software platform to other industries as well such as shipping, robotics, and AAM."
Building on HD Hyundai's fifty years of experience in the shipping sector as the world's leading ship manufacturer and Hyundai AutoEver's experience in the automotive sector, this collaboration will provide leisure boaters with an advanced autonomous operation solution for future mobility. In May of last year, Avikus succeeded in crossing the ocean for the first time in the world by installing HiNAS 2.0, a second-stage autonomous operation solution.
Avikus NeuBoat's primary target will be the North American leisure boating market, the largest leisure boating market in the world, accounting for more than 50% of the global market share. It is estimated, by Avikus' internal study with McKinsey & Company, that more than 400,000 autonomous navigation systems will be ready to install on new or existing boats annually from 2024 to 2030. The global market for leisure boats is expected to grow rapidly, with boat construction increasing by more than 40% after the pandemic, and the market for autonomous shipping solutions will expand in kind.
"Compared to self-driving cars, autonomous boating is a brand-new market, and it is expected to quickly grow in popularity due to the nature of leisure boats, with many novice drivers and low price elasticity," added Do-hyeong. "Applying a highly reliable hardware/software platform that has been proven in the automobile industry is expected to overwhelm market competitors, especially with the application of functional safety and cybersecurity technologies at the level of autonomous vehicles."
For more information about Avikus or NeuBoat, visit avikus.ai.