Collective Spirit, the sailing yacht that was built using over 1,200 donations of wooden items to celebrate the London 2012 Cultural Olympiad, has been acquired by Universal Yachting. Her first public appearance after many years will be at the South Coast Boat Show, 21-23 April in Southampton, relaunching her legacy as a boat designed to involve the community in her construction and experiencing her on the water.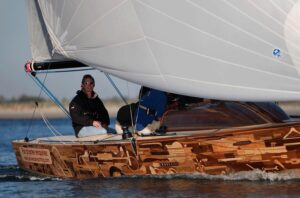 The concept for the boat was originally created by the Lone Twin Boat Project. It was funded by the Arts Council, designed by Simon Rodgers and built in Emsworth by a team led by local Olympic yachtsman and silver medallist, Mark Covell. The result is a stunning 30' sailing yacht, constructed with items of wooden memorabilia donated by people across the south coast of England, containing treasured children's toys, wooden sports kit, a piece of a Jimi Hendrix guitar, with sections of vessels from family sailing boats to the Mary Rose and the Royal Yacht Britannia. Each item was catalogued, capturing the fascinating stories and memories behind every donation.
Collective Spirit was launched on 7 May 2012 and attended a variety of events leading up to being at Weymouth and Portland, the sailing venue for the 2012 Olympic Games. Subsequently, the boat has been involved in a few community projects although more recently has been inactive for a number of years with an uncertain future.
"Collective Spirit is not only a remarkable, living archive of treasured items but also a modern sailing yacht that is great fun to sail," explains Chris Warwick, owner of Universal Yachting. "We were involved with the boat in 2012 and when we saw her go up for sale, we felt we had to act to safeguard her future and avoid her going into disrepair or worse, lost forever. Our intention is to get Collective Spirit back on the water and continue her legacy as originally intended, so that she can be shared and enjoyed by the community and need to raise the funds to do so."
Universal Yachting intend to run Collective Spirit on a 'not for profit basis', and are looking to raise sufficient funds each year to cover her running costs and upkeep through donations and by taking people out on the water. The first task is to carry out some fairly urgent remedial work and modifications to get her back on the water for this summer.
"There is so much more to Collective Spirit," adds Chris. "We want to bring back together all those that originally donated items to continue their story. We're hoping we can generate more funds than we need and use these funds for a range of good causes and charitable purposes and introduce a new generation to sailing."
Anyone interested in using the boat or getting involved in the project in any way is invited to register on the website to be kept in touch with the next phase of her life.