A favourite with billionaire yacht owners, people living on canals, SUP uses, kayakers and cyclists, the new Red Shark Bike, designed by a master race car designer is launching in Australia at Sanctuary Cove International Boat Show.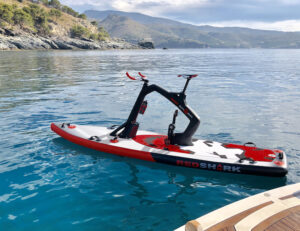 IT'S a favourite with the superyacht set, but soon the Red Shark Bike will be accessible to Gold Coasters looking to take their on-water experiences to the next level.
The Red Shark Bike range of premium water bikes, which will be officially launched at the Sanctuary Cove International Boat Show later this month, are the inspiration of the globally renowned designer of the Tramontana supercar, Josep Rubau, who holds a Masters in automotive design and previously worked for Volkswagen's Advanced Design Center.
They're being brought to the Australian market by mechanical engineer John Jancsek and his partner, physiotherapist Shelly Fern, through their Brisbane based company Red Shark Bikes Australia.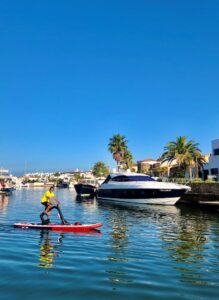 The core Red Shark Bike product is a .90m wide x 3.9m long paddleboard, with an HDPE moulded bicycle-like frame which is attached through the top of the board. The frame can be removed when not in use for easy storage. The pedal-driven propeller runs through a well in the paddleboard to protrude through the underside. Each turn of the peddles turns the propeller 10 times.
"The Red Shark Bikes come in three models: the ENJOY, FITNESS and ADVENTURE," John says. "They can be used as a single or tandem and offer room for smaller passengers as well."
"All three models are made from recyclable high-density polyethylene, use an inflatable board, offer easyassembly, and are transportable in a standard-sized car. They appeal to anyone who loves cycling, kayaking, paddleboarding or simply just getting outdoors."
Shelly says that when on the water, Red Shark Bikes are exceptionally stable, easy to mount, easy to ride, and most of all they are an incredible experience. "The feeling of pedalling on top of water can't be compared unless you can walk on water.
"We tested them on over 40 riders and not one person has fallen off on their first ride," Shelly says. "I forced myself to tip a Red Shark Bike to see how easy it is to right the bike in the water, and I had no trouble in deep water getting the bike upright and getting back on. It's really easy to manage."
The ENJOY premium water bike model is designed for travelling long distances. It features a softer, largerand comfortable seat, and comes with a bungee to carry your extras, straight upright handlebars, and it comes complete with everything you need to start a new adventure on the water.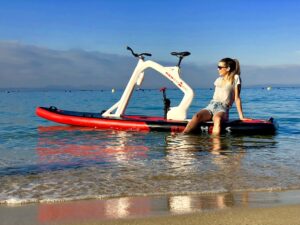 Ideal for the fitness and training enthusiast, the FITNESS model is a more advanced design letting cyclists train with options for greater speed and manoeuvrability. It comes with four different propellers, a road cycling saddle and handlebars that bring the body more forward to a more ergonomic position when cycling faster or for longer distances. The FITNESS model has a high-end road bike seat most cyclists are accustomed to using. This model comes with a net bag holder that attaches to the frame, a dry bag to put your dry gear in and a bungee on the board for your dry bag or other gear.
The ADVENTURE model is perfect for fishing and outdoor excursions and is designed for truly getting into nature. This floating fishing machine has all the features you'll need for a day of fishing or an overnight eco-adventure. It features two propellers to give the rider different options for speed and manoeuvrability, and a mobile device holder on the handlebars. This model's seat allows for greater comfort for those slower, longer rides. The ADVENTURE model allows you to travel silently into remote areas to find your new favourite fishing spots. The ADVENTURE model includes two waterproof bags, a waterproof handlebar bag and a nylon rear seat bag for extras. There is an integrated rod holder, front and rear net bag holders for gear/tackle attached to the frame and bungees on the front and rear on the board to secure your esky, bait container or dry bags.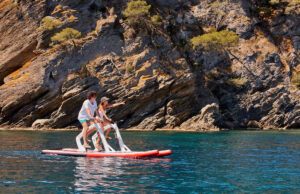 All three models include a water bottle and holder, a manual air pump, a board-patching kit, a multi-tool, and a rugged wheeled transport bag for the board. Among the optional extras are an electric air pump, a kayak kit, SUP kit, and tandem kit. Transport products available include a two-bike rack for your tow bar, a three bike trailer and an eight bike trailer.
Around the world, Red Shark Bikes are already becoming a global phenomenon, with Forbes Magazine listing it as one of Top 10 Billionaire Superyacht Toys. However, these SUP bikes appeal to all sections of the market, from everyday enthusiasts to luxury resorts and water sports rental organisations, as well as those with leisure boats and yachts. They are also extremely popular with traditional cyclists as an on water cross trainer.
"The bike uses standard bicycle componentry," John says, "so if you have a favourite crank, seat or pedal, they can easily be fitted to the bike.
"They also offer tandem use, and there is room for passengers as well. At the moment we are talking to a NDIS provider who is looking to offer the Red Shark Bike experiences to clients. Its appeal is so broad, and it has such an enormous range. We are really looking forward to introducing the bikes to the Australian market – we know they are going to be extremely popular."
Here on the Gold Coast, Red Shark Bikes are set to become the must-have piece of water equipment for every waterfront canal homeowner.
Shelly says after seeing the Red Shark bikes online, her and John immediately took steps to enquire about distribution rights in Australia. They then travelled to Spain to get to know the company owner and his team.
"It was very important to us to support a company that is ethically and environmentally sound," Shelly says. "Red Shark Bikes is exactly that. Employees are treated and paid fairly, there is a real focus on sustainability, and we found it to be a company and a product we could be proud to represent."
John and Shelly are launching the range at Sanctuary Cove International Boat Show, May 25 to 28. For more information go to www.redsharkbikes.com.au