Composites specialist, John Ilett and the team at Fastacraft, located in Yangebup, south of the Swan River near Fremantle, are busily building their second Javelin dinghy for a client who's a member of the passionate local sailing community.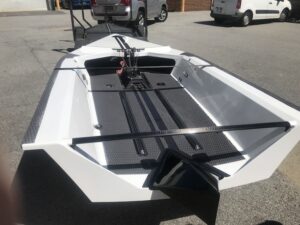 A 4.27m (14-ft) high-performance, single trapeze, semi restricted one design class dinghy, the Javelin is a two-handed skiff raced competitively throughout Australia and New Zealand.
It has a powerful, efficient sail plan allowing it to exceed speeds of 25 knots and provide an exhilarating "ride" with exciting fleet racing. The hull weight is light at 70Kg, yet leaves plenty of scope to build in a good level of robustness keeping them easy to maintain.
"We are on to our second one," explains John. "The first one we built won the Australian championship last year, and we have two more to build."
Their owner, Brien Hennessy, has been sailing the Javelin for a long time, and was the winner of the recent Javelin Australian Championship in 2022 held on Perth's Swan River.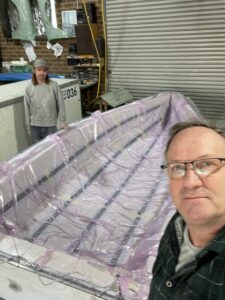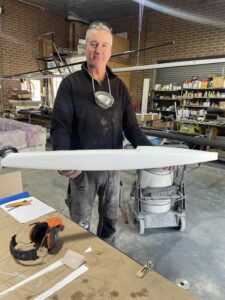 The Javelin class itself traces its origins back to 1960s America, when it was also known as a Javelin 14, designed by English designer and sailing enthusiast, Uffa Fox as a one design racer.
The WA "Javo" fleet is based at Perth Dinghy Sailing Club, with up to 15 boats on the water each week and competitors ranging from teens to 80-somethings sailing on the Swan River and in various venues around Australia and New Zealand.
"As a one-design class, there are rules and parameters, but they're not super strict," says John.
"Owners can make some modifications, change masts and sails, redesign hulls – there's ongoing development."
For the Javelin builds, John has chosen KINETIX R118 Infusion resin with HD120 Room Temperature Cure hardener. The KINETIX range of laminating and infusion products are formulated specifically for the fabrication of fibreglass, aramid and carbon-fibre composites using wet-lay-up, vacuum bag and resin infusion laminating processes and are ideal for the fabrication of parts requiring high strength and lightweight, like the high-performance Javelin designs.
He also uses the Divinycell H80 and H100 Structural foam cores to provide a high strength to weight ratio required for these lightweight racers.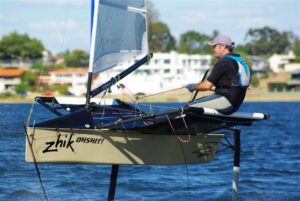 For bonding, John chooses to use ATL's Techniglue R15 Toughened and R60 Structural adhesives, both popular adhesives in the commercial and racing marine sectors.
"We have been using these products for years," he says. "They just work. I like to stick with what I know because we get the same results every time."
For close to 30 years, John has been building and repairing boats. "I've done all sorts of stuff," he says modestly.
"I began sailing in the Moth class in 1989 when the scow design's heyday was over with newer and ever narrower skiff hull designs now coming through the fleets, knowing and working with Brett Burvill from Windrush Yachts – we had both built a few Moths since we were 17-years-old.
"By 2010 Brett surprised the Moth class in the 2000 world championships with the only hydrofoil Moth in the fleet. He came 10th overall in this regatta and even won two races with some big margin at the finish line.
"Brett's Design had three foils all up as a surface piercing design but by 2002 had tested a two foil inline arrangement as today's boats appear, except this had no control systems other than a twist tiller adjustable rudder wing. I was inspired by Brett's almost working inline foiler and I built a new foil set and fitted this to my brother, Garth's Fastacraft Prowler design.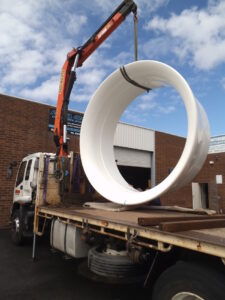 "This foil set also had the addition of a bow wand control system which automatically regulated the centreboard wing lift with a flapped trailing edge helping to control the boats flying height and that's now a standard part of the inline foiling moth designs used today.
"From this point the demand grew; they couldn't make enough of them during the mid-2000s. Foiling Prowler design Moths finished 3rd in the 2003 France worlds as the only hydrofoiling boat in the fleet, then the first foil moth to win a World Championships in 2004-2005 and one more overall win in the 2006 Worlds in Denmark, but by 2010 the Prowlers days were done with other newer designs coming through."
The team of three at Fastacraft then diversified into other projects, including the construction of complex hovercraft propeller ducts for a commercial operation.
"There were two of them, 3-metres in diameter, built using vacuum infusion with six-piece moulds. We used Divinycell in those as well," says John.
Another significant and ongoing project is a series of folding gangways for fellow WA marine proponents, Echo Yachts, who specialise in custom-designed and built superyachts. One example for a 61m motor yacht is a vacuum infused, 3.2m long gangway with an 80cm wide deck for wheelchair access, and with a finished weight of 31kg including handrails.
"We have also built a couple of powerboat racing hulls, one in particular was a challenging project: a big power cat, Ocean Foiler, a foil-assisted design. We are currently working on the development of wingboards with foils and a kite – the new windsurfing! We're collaborating with a local sailing specialist with designs and prototypes for a couple of brands."
For more information visit www.atlcomposites.com.au
To keep up to date with all marine industry news visit www.marinebusinessnews.com.au