The creation of an innovative trade centre of excellence at Rivergate Marina and Shipyard will position Australia as a world leader in training and skilling a global marine workforce.
Maritime Professional Solutions (MPS), recognised internationally for its premier superyacht repair, maintenance, and manufacturing service, expects the proposed Rivergate expansion to increase our skills engagement with the world and significantly enhance the services on offer in Australia.
A 5-storey trade centre is part of Rivergate's proposal to develop a $200 million maintenance and refit hub capable of lifting multiple vessels of up to 3,000 tonnes.
The centre will be an industry leader in marine courses and practical learning, bringing together customised, hands-on training, research, and development in one central location.
MPS Directors Joel Allingham and Daniel Fodie said the proposed Trade Centre would be among the best in the world and the catalyst for growth in the maritime industry in South East Queensland.
"We are very excited about the expansion; it will create a lot of new jobs and really strengthen and expand on the already impressive skills and services on offer in our industry locally," said Joel.
"For our business personally, we will be looking at doubling our staff including apprentices, which is really exciting. Off the back of that we will be looking to expand our capability with more machinery and increased training of staff.
"We want to play a bigger game and the expansion will allow us to focus on sustainable growth while increasing our capabilities to better service our industry."
All refit and maintenance work on these luxury vessels needs to be undertaken by highly skilled trades and engineering professionals that are responsive to the changing needs of the industry.
The trade centre will upskill apprentices and trainees from various locations around Queensland and keep them up to date with the latest technology and techniques.
Commencing operations at Rivergate in 2014, the MPS owners attribute their business success and growing staff numbers to Rivergate's enviable reputation in the superyacht sector.
"The tireless work of our industry representatives to attract vessels to the region and push for legislation changes to grow the sector has seen our business grow from just Dan and I to now employing 17 staff," said Joel.
"When we started the business, Rivergate was the place we saw as having the best potential for the success of our business. With Rivergate's continued growth, it has meant our business has grown with theirs.
"When the vision, values and standards of all the businesses in the precinct are aligned, it creates a successful environment and I think that is what we have here at Rivergate."
Renowned within the Australian Defence industry, MPS will also increase staff numbers to ensure it can still continue to support the Department of Defence.
In the past, MPS has worked as Project Manager for refits of Navy vessels in Cairns and Darwin and has also been manufacturing ventilation products for the Navy and Border Force.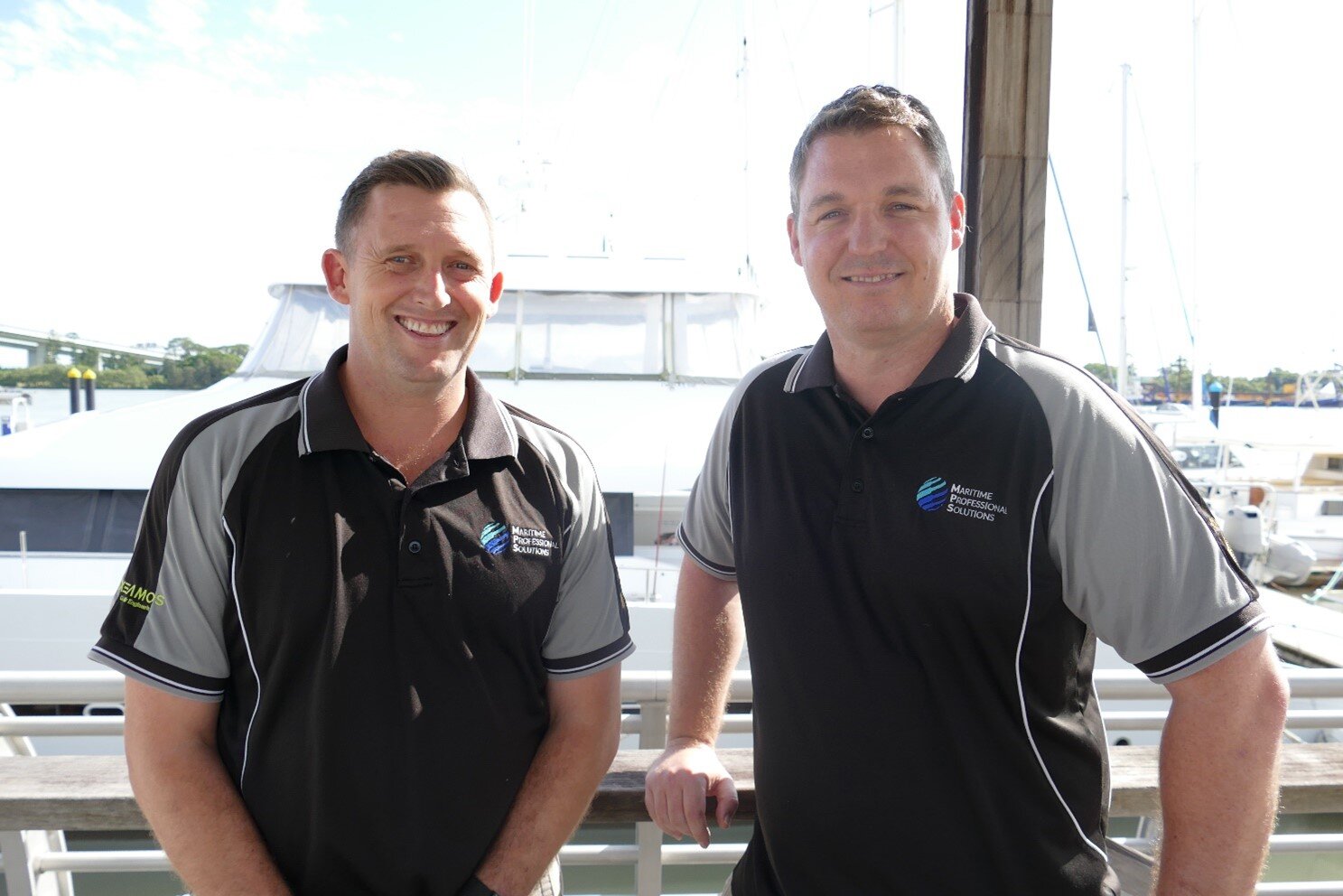 Joel Allingham and Daniel Fodie, Directors of Maritime Professional Solutions