The Cairns Marine Precinct is set to cement its future as a marine maintenance leader with a $39 million injection for road and bridge infrastructure and upgrades for local shipyards.
Premier Annastacia Palaszczuk has announced the Government is committing $27 million over two years from 2023-24 to provide direct access from the Norship and Austral shipyards to the common user facility planned for the precinct at Portsmith.
It will fund a 1.2km road upgrade with increased load capacity and a 30m bridge allowing the two shipyards, and potentially others, to lift vessels out of their facilities and access the common user facility using existing travel lifts.
Vessels of up to 57m could access the common user facility via the designated route.
Another $12 million has been earmarked for local shipyards to upgrade existing facilities within the Cairns Marine Precinct.
The funding, administered through the Industry Partnership Program, will be subject to matched industry funding and satisfactory business cases.
The upgrades aim to help industry meet growing demand in ship maintenance work while the $300 million common user facility is being built. This will allow shipyards and other future entrants to lift vessels out of their facilities and access the common user facility using their existing travel lifts.
Once complete, the common user facility will feature ship lift facilities capable of lifting vessels up to 120m and 5,000 tonnes, three hardstand areas and two paint and blast sheds.
Subject to matched funding from the Australian Government, the game-changing facility is expected to be finished in 2027-28 and up and running soon after.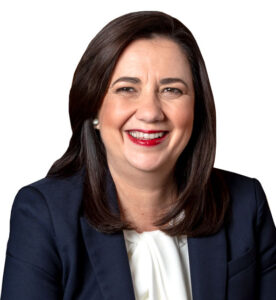 Premier Annastacia Palaszczuk said "This investment demonstrates our government's commitment to supporting the thriving maritime industry here in Cairns.
"As the premier destination for maintenance, defence and maritime repair in the Far North, there are thousands of jobs that rely on the facilities and capabilities of the region.
"That's why this $39 million boost is so important, kick starting a chain of game changing improvements for the Marine Precinct and sending a signal to people right around the country that there are good, secure jobs in Regional Queensland."
Deputy Premier Steven Miles said "This is an investment which will ensure a strong economic future for Far North Queensland.
"We want to see the Cairns Marine Precinct get bigger and better, which is why we're backing a major expansion to create a common user facility, to help Cairns capture bigger maritime and defence contracts.
"The Palaszczuk Government's investment in enabling infrastructure and upgrades is critical to ensure local shipyards can capitalise on emerging maintenance work from the Royal Australian Navy, Border Force and the private sector, strengthening the Cairns marine sector and the 4,600 jobs it supports."
Member for Cairns Michael Healy said "The Cairns Maritime Precinct is northern Australia's home of maritime maintenance.
"We are committed to ensuring the common user facility is viable and supports the local maritime industry to grow.
"That's why we're allocating an additional $12 million to work with local shipyards on projects that will help to strengthen their businesses while the common user facility is being constructed.
"The economic benefits from bolstering the local maritime industry will flow to the community, delivering more secure, highly skilled jobs for locals.
"We're on board for Cairns to continue its journey as a global leader in the repair, maintenance and overhaul of naval, border force, commercial and superyacht vessels."
A spokesperson for Norship, Tropical Reef Shipyards and Austal Queensland said "This latest investment by the Queensland Government in the Cairns Marine Precinct, including the upgrade of waterfront facilities operated by local shipyards, will enable even greater engagement and collaboration in the local ship repair and maintenance industry, and achieve greater efficiencies in the delivery of support services to our commercial maritime and defence customers.
"The new infrastructure, including two wharves and a common user facility, will further enhance our proven capabilities and offer additional career opportunities, while firmly establishing Cairns as one of the leading maritime ports in the South Pacific."