Horizon Yacht Australia hosted the world's largest display of Horizon yachts and announces three sales during the 2023 Sanctuary Cove International Boat Show.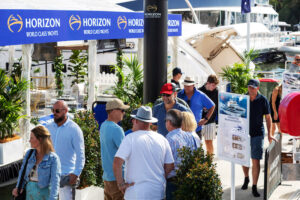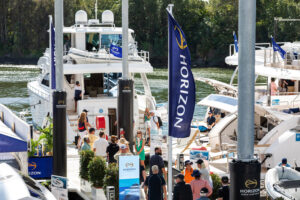 The 2023 Sanctuary Cove International Boat Show (SCIBS) marked the world's largest boat show display of Horizon yachts, with 13 Horizon builds ranging from 73 to 125 feet comprising the Horizon Yachts' showcase. Three sales were announced during the show, with a number of promising prospects coming as a result of the four-day event, held May 23 – 26, 2023.
Demonstrating record sales over the last two years, the Australian market has fully embraced the variety of Horizon yacht models targeted to the region's diverse boating audience. Bookended by the debuting V74 and RP125 motor yachts, this year's display featured 150 million dollars' worth of yachts, with 13 Horizon builds including an RP100, two FD90s, two FD80s and an FD75 Skyline on location. Accompanied by Horizon Yachts' CEO John Lu, members of Horizon's headquarters joined the Horizon Yacht Australia (HYA) staff to meet with current and potential clients during the show.
The flagship of this grand display was the new Horizon RP125, the largest Horizon yacht sold in Australia. Commissioned for a repeat owner, the RP125 is the largest of the J.C. Espinosa-designed Raised Pilothouse series of yachts. Uniquely, this build also features the High Performance Piercing Bow (HPPB) design found in the Fast Displacement (FD) Series of yachts and, despite its model moniker, has an enlarged salon and galley in lieu of a raised pilothouse.
Customised for the Australian market and conforming to AZ/NZS electric standards, the RP100 on display featured a spacious four-stateroom layout. The two FD90 models on display each boasted unique features that are indicators of Horizon's willingness to engineer and customise to an owner's specifications. The FD90 Hull 22 features an enclosed skylounge configuration and a four-stateroom layout, while the FD90 Hull 25 was constructed to meet the Australian Maritime Safety Authority's (AMSA) new 2C Survey requirements for commercially-operated vessels.
Two FD80 models were also on display, the first of which – Hull 9 – featured a split-use skylounge and a four-stateroom layout. Another show debut was the brand new FD80 Hull 10, which is the first FD80 model in Australia to feature a galley-aft layout. Numerous innovative features are found throughout this four-stateroom yacht, from its helipad to its large VIP with convertible beds, to its fully customised aft and boat decks fitted with convertible dining tables and BBQ grills. Attendees were able to experience the full scope of the FD Series with the FD75 Skyline on display, which was the first of the entry-level models to be delivered to Australia and the first enclosed skylounge configuration. This three-stateroom yacht was built with serious owner involvement and showcases the scope of customisation available to Horizon clients.
Rounding out this exceptional showcase was the brand new, four-stateroom Horizon V74, which turned out to be one of the stars of the show, with visitors commenting that they were wow'd by the beautiful and spacious interior. HYA reports three strong clients interested in this boat with a contract expected soon.
HYA also announced three sales during the show, including a charter-classed Horizon FD90, a custom E88 sport yacht to be designed by Cor D. Rover, and a custom FD80 fishing-focused yacht signed in conjunction with noted broker Don Senior.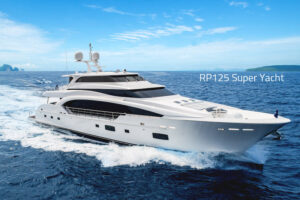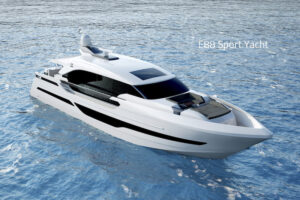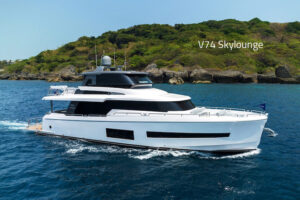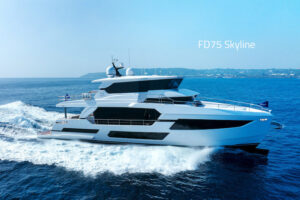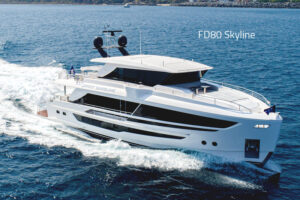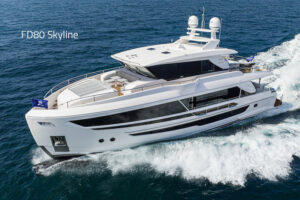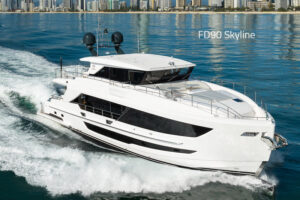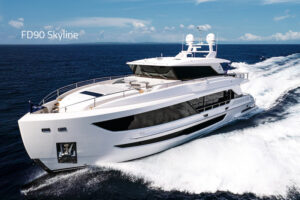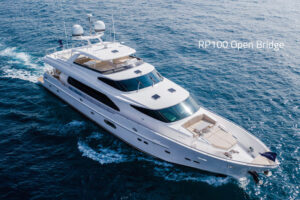 "The response from our biggest-ever showcase has been phenomenal and the turnout of potential clients was the best we have seen in years," says Horizon Yacht Australia Director Mark Western. "We had several meetings for new custom builds and believe these will turn into sales in the coming weeks. So far we have done about 40 million dollars in sales and hope to double this in the coming weeks."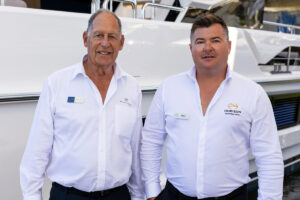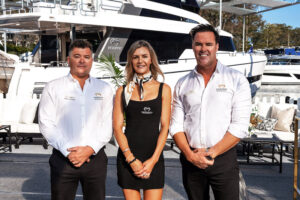 For more information on Horizon Yacht Australia's new build and inventory or to make an appointment to visit the HYA showcase at Marina Berth 123 at the upcoming Sydney Boat Show August 3-6, 2023, please contact Horizon Yacht Australia at or visit www.horizonyachtaus.com