Internationally we are seeing some ingenuity around the development of Electric Boats.  Last week in Portugal, the Faro Electric Boat company launched a solar powered dock for one of their vessels.  Faro say that they are "The World's First Fully Self-Sustainable Solution for Leisure Boating, and that the Faro5 Solar Set is the first fully autonomous, 100% sustainable boating solution that combines the unique elegance of the Faro5 Runabout with a custom designed, Solar Charging Dock, complete with integrated raising winch".
It's cleaver and no doubt this type of technology and ingenuity will be seen locally at some point in the future.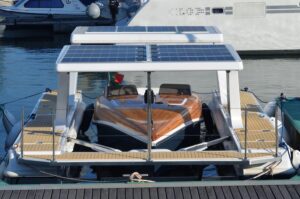 This Solar-Charging, floating Powerdock® not only charges the 6kW Faro5 in less than two hours, but it can also raise it completely out of the water to keep its hull dry and free of any fouling.
Its solar panels – and wind generators in selected models – charge its internal batteries within the course of a sunny day.
The Powerdock® recharges its batteries, and can fully charge the 6kW Faro5 in less than two hours: anytime, anywhere, regardless of the existence of any power grid at hand. The Powerdock® itself is towable, so you can take it anywhere and have the absolute freedom of quietly exploring some of the remotest, most exquisite corners of the world.
Dimensions
The Faro Solar Docking Station was designed – and sized – to fit any single berth at any standard dock or marina anywhere in the world. Whether you are mooring it next to your lake house, or having it tied to your regular finger at the local harbour, you will find that it is the perfect fit for your available space, as well as the custom-tailored fit for your Faro5.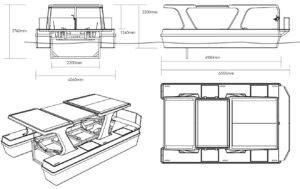 Faroboat's Vision
Faroboats will become a global benchmark in self-sustainable solutions for exploration and leisure boating.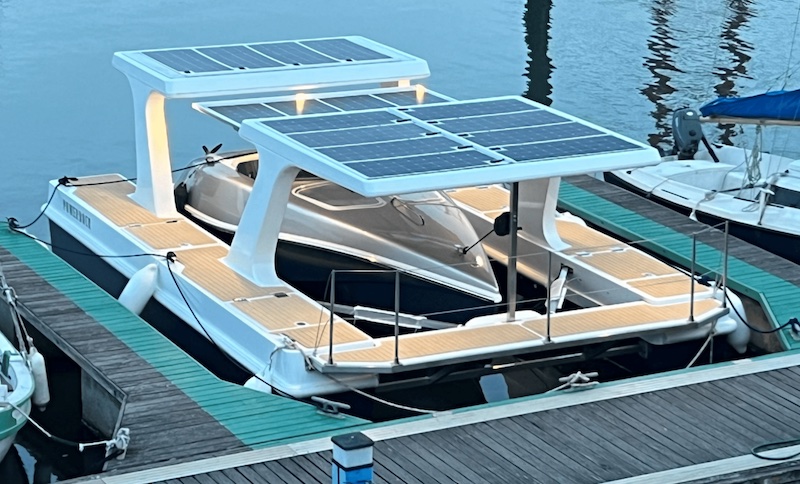 Faroboats is currently the only boatbuilder in the world with a combined solution of electric boats and dedicated, custom-built solar charging dock. Our breakthroughs are merely the tip of the spear of innovation that we have imprinted into our company DNA. Complacency will not detain us, since we are constantly striving to improve the sustainability of our solutions, as well as our own.
Integrating new wind generation solutions; replacing all fibreglass with organic flax, and all foam hull fillings with cork; integrating new combined mobility and sail solutions: these are the kind of innovations already on our drawing boards that will keep Faroboats on the cutting edge of self-sustainable marine solutions. As the world acknowledges our work, we shall be followed, for the sake of our planet.
For more information visit faroboats.com
To keep up to date with all marine industry news visit www.marinebusinessnews.com.au