Leading Australian luxury motor yacht builder, Maritimo are set to Globally Launch their newest flagship model, the M75 Maritimo Flybridge Motor Yacht at the Maritimo Boat Show at Sanctuary Cove marina, July 14-15.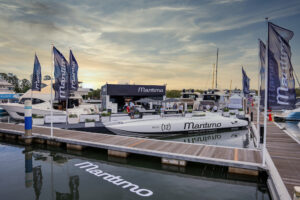 The Maritimo Boat Show is open to the public and visitors will be able to witness the very best of Maritimo from 9am to 5pm on each day.
The event will also welcome Maritimo owners, Maritimo staff, and media at special events over the two days.
After the brand's most successful Sanctuary Cove International Boat Show in 20 years of attending the event back in May this year, Maritimo will now deliver the ultimate Australian designed & manufactured long-range luxury motor yacht at its own standalone event.
The M75 is the largest motor yacht ever built in the history of Bill Barry-Cotter's Maritimo, and the Global Launch of its new flagship vessel fittingly coincides with the 20th anniversary of the world renown Australian luxury motor yacht builder.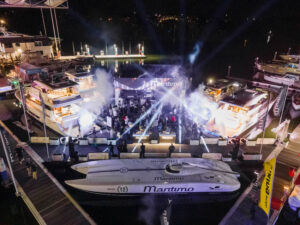 The new M75 is the culmination of over 120,000 hours of dedication to research, design and tooling by Maritimo's world leading craftspeople, with another 35,000 hours dedicated to each and every M75 build.
The first M75's construction involved over 40 skilled craftspeople including Lamination Technicians, Detailers, Painters, Engineers, Stainless steel Fabricators, Electricians, Upholsterers, Cabinet Makers, Fit Out Boat Builders, Procurement Staff, Quality Control Managers and Commissioning Technicians – An estimated 800+ years of experience.
"The M75 features is the sum of 20 years of Maritimo evolution, and will be Maritimo's most magnificent model ever," said Maritimo Managing Director, Tom Barry-Cotter.
"We have taken two decades of our customers' experience and input into our design evolution and melded that into what is the most incredible flybridge motor yacht ever crafted in Australia. The M75 represents a quantum leap in long range cruising design when it comes to cruising range, offshore performance and on-board comfort.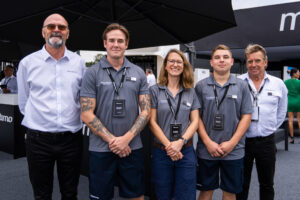 The company is also taking this opportunity to host Maritimo Careers Day as part of Maritimo's Boat Show on July 14 & 15 at Sanctuary Cove. The growth of the marine industry in south-east Queensland has been exponential in the past 3 years, and the national recruitment drive is vital to the growth of this vibrant industry. Maritimo's ethos is to support their community workforce, growing and develop unique skills for the manufacturing of their highly sought after motor yachts.
Media viewing opportunities of the M75 will be between 9:30-10:30am on the 14th of July.
For more information visit www.maritimo.com.au
To keep up to date with all marine industry news visit www.marinebusinessnews.com.au