When the Protocol for the 37th America's Cup was announced, one of the key initiatives aside from the re-vamped rules for the AC75 and the initiation of the new AC40's for the Youth & Women's America's Cup, was the introduction of Hydrogen powered chase boats that all teams must build.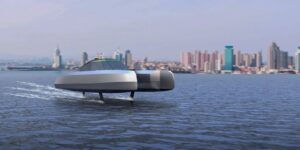 Emirates Team New Zealand, partnered with sponsor Toyota, led the drive and when Chase Zero was launched it stunned the world. Performance trials clocked a maximum speed of 52.7 knots and an easy, eco-friendly cruising speed of between 30-35 knots. The vessel took flight on its foils at 19 knots and trials have been ongoing ever since down in Auckland out of the ETNZ base through the winter months.
With the success of the project established, McConaghy were asked to undertake a styling exercise and found that with a lowered coach roof they could extend the 10m length overall (LOA) out to 13 metres to create a hydrogen-powered foiler capable of housing VIPs or race officials with no change to the centre of gravity and only a marginal 150kg increase in all-up weight distribution. The VIP version can be customised to include heads facilities, a fridge and air conditioning plus some stunning, state-of-the art, custom-built carbon Recaro seating and detailing as a customisable option.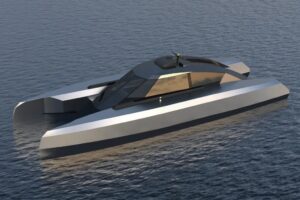 Speaking about the new design, McConaghy's Mark Evans said: "When we were asked to look at the styling conceptually, after the success of the ETNZ Chase Zero in trials, it became apparent that we could really move the design forward to build a bigger boat that could house more guests but at a minimal weight gain and an almost negligible performance deficit. The 13m version is set to be a very big consideration for teams and individuals considering the switch to hydrogen powered vessels."
The 13-metre version has an all-up weight of 5350kg and a draft of just 2.2 metres. At 4.5 metres of beam, there's a roomy, spacious interior that new owners can customise to their needs and tastes. Range is an impressive 180 nautical miles at a cruising speed of 35 knots. Construction is full carbon, Nomex and structural foam whilst two Toyota Hydrogen fuel cells are housed within each hull delivering some 80kW's of power each. The powertrain cooling system is via a seawater pick-up located at the front of each foil-strut torpedo with two pick-up pumps per hull. The port and starboard main T-foils are connected via a central wing foil spar and the single rudder features an elevator with adjustable rudder rake.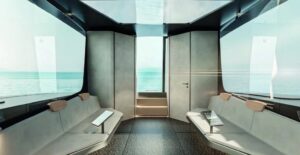 All the considerable power is harnessed with fly-by-wire joystick controls in the main console and a considerable array of onboard navigational equipment including VHF, AIS and system monitoring equipment. Mercury Bravo 1 propellers have been mounted at the aft end of the foil strut torpedo on the new design and the four 8.4kg powertrain hydrogen tanks take 350bar of pressure.
McConaghy's thematic designs for various layout options inside express a cool, modern, futuristic tailoring that can be customised for communal bench-style seating or more individual with race-tuned seats of the highest specification with Italian based design studio – m2atelier. Viewing is expansive with the glass extending the cockpit aft, creating a light and airy sensation amidst an extremely quiet powertrain as guests, VIPs or race officials glide atop the surface on the foils.
For more information visit mcconaghyboats.com
To keep up to date with all marine industry news visit www.marinebusinessnews.com.au