Alexander Marine have "gone the extra mile" recently with the delivery of late model premium brokerage 2021 Palm Beach 52 Sedan from Auckland, New Zealand to the Gold Coast, Queensland, Australia – on her own bottom!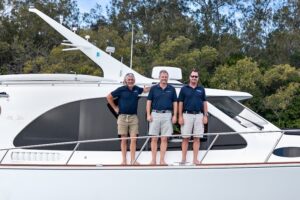 This delivery spanned 1,320 nautical miles and was for the benefit of a repeat Alexander Marine and Palm Beach Motor Yacht owner who was adding to his fleet.
Alexander Marine previously sold the vessel and exported her from Australia to Auckland some time ago – so this was a homecoming moment for this late model immaculate vessel.
Upon arrival into Australia of the yacht Dealer Principal / Director of Alexander Marine Todd Holzapfel said: "We are delighted to have again acted for this Buyer, and in this case have completed the seamless delivery of his latest Palm Beach Motor Yacht acquisition. I am very proud of my entire team for this achievement."
With careful and meticulous planning the team at Alexander Marine orchestrated a seamless operation to deliver her across the pacific. Three highly skilled yachtsmen, each of whom have an ongoing association with Alexander Marine, were handpicked for the voyage.
Departing the azure waters of New Zealand, the course over four days took the vessel initially via the Bay Of Islands, up to the tip of New Zealand, then north west out across the broad pacific ocean on a course for Hord Howe Island. After taking on fuel at Lord Howe Island, where the crew admired the island's natural beauty, the Palm Beach continued on its final 380nm run to the Gold Coast.
With careful weather planning the crew enjoyed often glamorous weather throughout the journey. The seas were generally calm, the skies clear, and night time visibility was enhanced by the ethereal glow of the supermoon's light.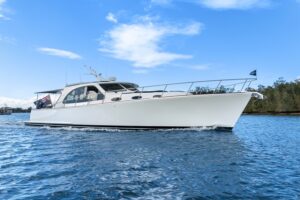 As the yacht steamed closer to the Australian coast, a sense of fulfillment washed over the crew and the broader Alexander Marine team. The distance covered and the challenges conquered were a testament to everyone's commitment and professionalism. Finally, the Palm Beach 52 Sedan Motor Yacht docked at its new home in Australia.
The Australian client's excitement and gratitude were palpable as they stepped aboard their new vessel. Alexander Marine's dedication to going the extra mile had paid off.
Alexander Marine are the exclusive dealer for Ocean Alexander Yachts and Galeon Yachts in Australia and New Zealand, specialising in the sale of new and premium brokerage motor yachts. With their head office at The Boat Works Marina and Shipyard in the heart of the Marine precinct on the Gold Coast, Queensland, Alexander Marine customers enjoy 1st class sales and after sales service provided with the assistance of Australia's highest concentration of marine trades.
For more information visit www.alexandermarineaust.com.au
To keep up to date with all marine industry news visit www.marinebusinessnews.com.au