The team from Performance Cruising Yachts say that they are thrilled to announce Elan Yachts has unveiled a new addition to their fleet: the Elan GT6 Explorer, also known as the Elan GT6 X in its abbreviated form. As suggested by its name, the Explorer is built on the platform of the multiple award winning GT6—a luxurious 49-foot cruiser designed in collaboration with Studio F. A. Porsche. Notably, it was one of the first sub-50-foot yachts of its kind to feature a flush deck.
A Journey Beyond the Horizon
Designed for adventurous sailors aiming to explore the world's seas without sacrificing luxury or aesthetic appeal, the Explorer seeks to harmonize practical maritime utility with high-end design. It boasts an array of modern equipment, handcrafted furniture, and the latest in GRP composite technology.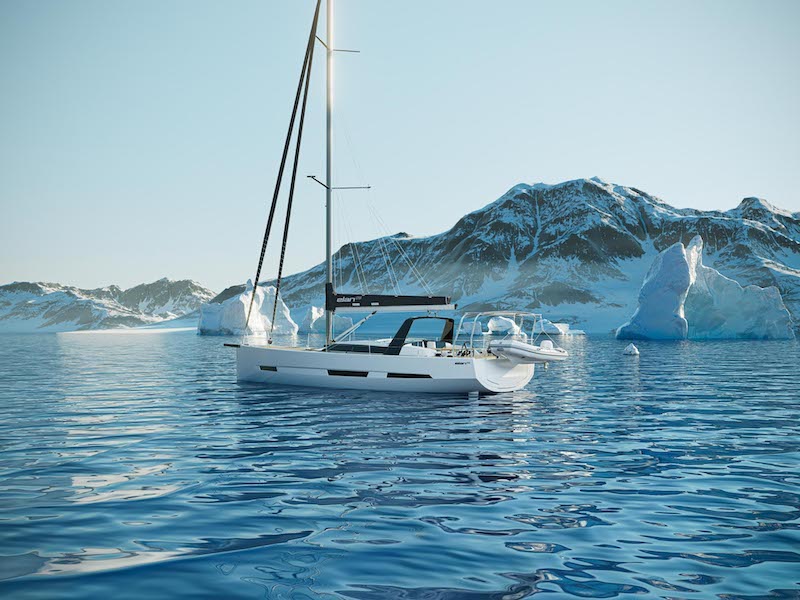 Technology and Blue-Water Features
Elan Yachts sets a new standard with its 3D VAIL (3D Vacuum Assisted Infusion Lamination) hull technology, ensuring robust, stiff, osmosis-proof, and lightweight performance. The additional forestay empowers the sailor to deploy a staysail with self- tacking track enabling smooth short-handed manoeuvres, simplifying the sailing process. The laminated bulkheads, both in the bow and aft, have been fortified to be watertight, ensuring the utmost protection against water ingress.
Range and autonomy are paramount for a blue water cruising yacht of this type. Addressing this necessity, the Explorer is fitted with a robust 500 L fuel tank capacity and up to six 140 Ah service lead-acid or LiPo batteries, that can be charged via an optional solar installation of up to 1187 Wp. Further enhancing its self-sufficiency, the yacht can be equipped with a water maker capable of producing 100 L/h and a generator with a maximum output of 6400 W.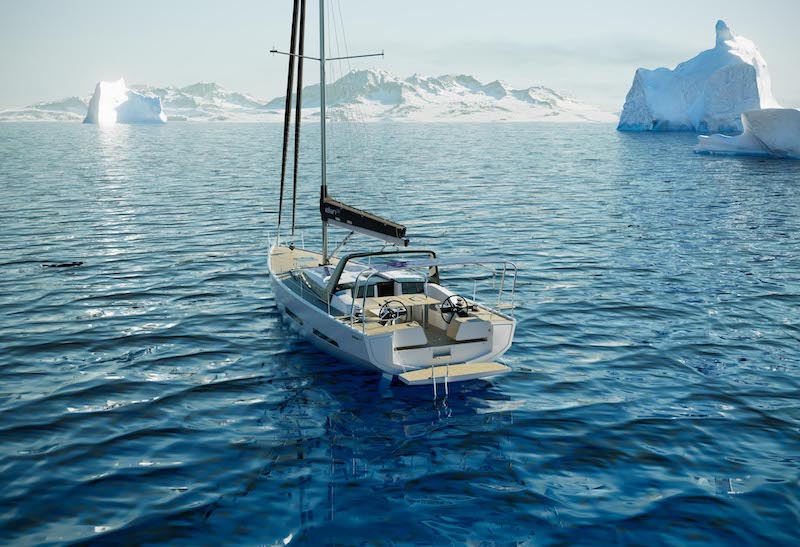 Embracing the Future with Oceanvolt
In catering to the forward-thinking sailors, eco-conscious explorers, and early adopters of marine innovation, Elan continues established a partnership with Oceanvolt. The GT6 Explorer offers an array of Oceanvolt propulsion choices, emphasizing sustainable sea travel. Impressively, the electric iteration of the GT6 Explorer can be equipped with a potent 25kW continuous (30kW peak power) HighPowerServoProp motor, complemented by batteries boasting up to 62.4 kW capacity and capability for power generation whilst sailing, both through the solararray and hydrogeneration of the servoprop. For ultimate versatility, the Oceanvolt drive can be paired with a 15 kW generator, morphing the GT6 Explorer
into a hybrid yacht.
The Exquisite Exterior: Form Meets Function
Drawing from Studio F. A. Porsche's legacy, the Explorers' hull showcases clear, distinctive lines, a distinctive angular stance, and the sharp powerful silhouette. It creates a feeling of strength, and agility. Echoing its pioneering legacy, the Explorer prominently highlights a flush deck, of the original GT6—a trailblazer in its segment to champion this feature. Enhancing the Explorer's design is its spacious cockpit, designed for efficient shorthanded sailing and comfortable onboard living.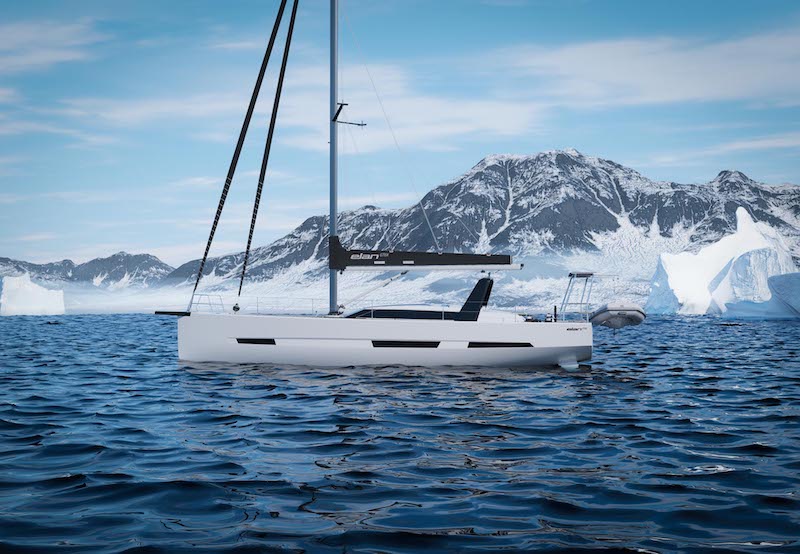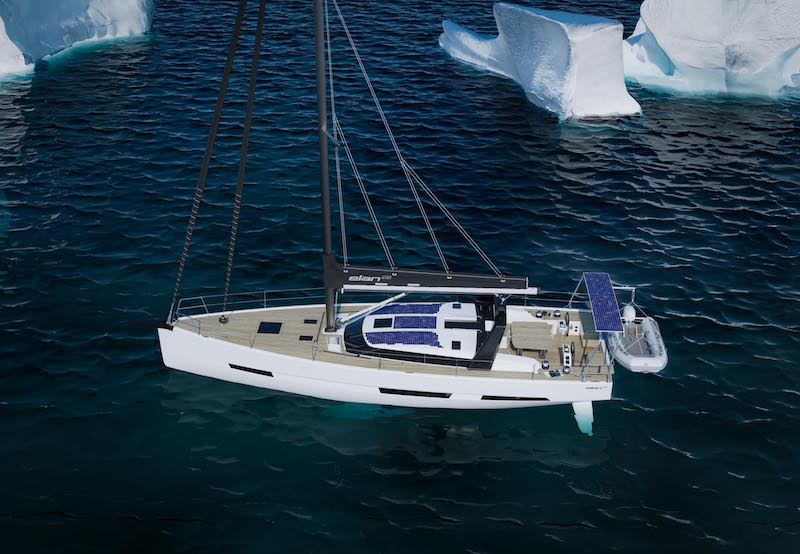 In contrast to most other blue-water cruisers, the Explorer provides a more Mediterranean yachting inspired experience, presenting more space and equipment for a range of alfresco lifestyle options, whether it's enjoying a barbecue outdoors, big game fishing or taking a moment to sunbathe.
Central to the yacht's new features is the cockpit arch, a modern addition that offers a blend of functionality, aesthetics, and protection. Enhancing the multifaceted capabilities of the GT6 Explorer is the optional inclusion of a dinghy arch. With this feature, sailors have the freedom to easily stow a serviceable tender.
Interior Elegance: Comfort Meets Adventurous Spirit
Crafted through the expert touch of Studio F. A. Porsche, the space marries aesthetic finesse with practical features. Each facet of the design aims to serve dual purposes: offering comfort to the adventurous sailor and providing a serene sanctuary for those in search of respite.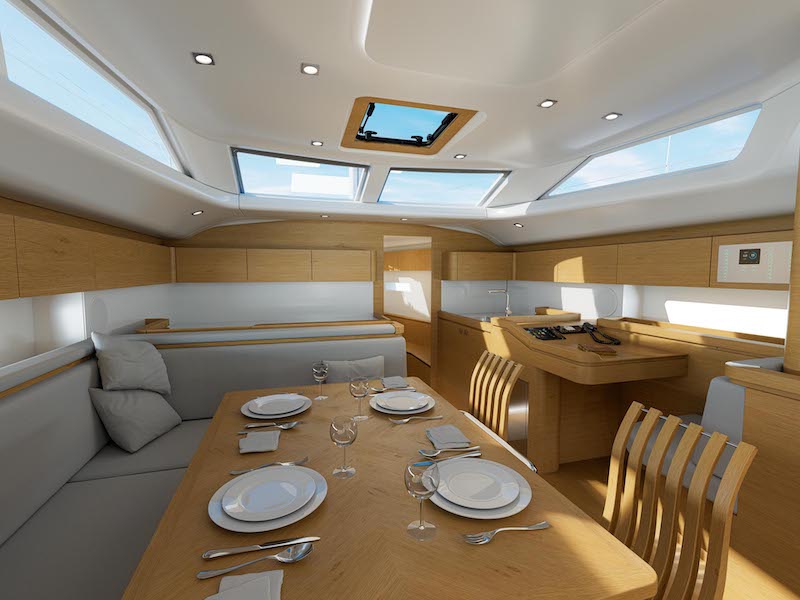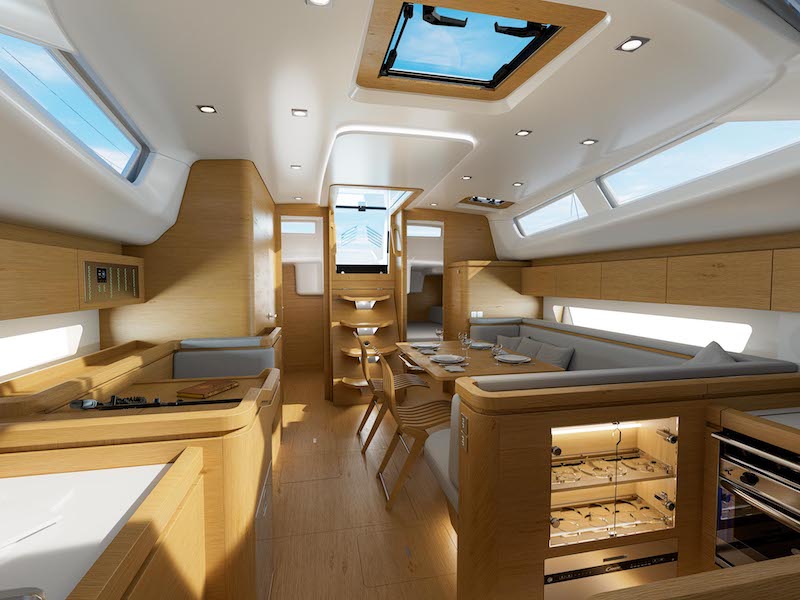 The yacht features a forward-facing chart table, strategically positioned for the skipper's ease of access to essential navigation equipment. Adding to the social atmosphere, a spacious seating area in the saloon invites guests to relax and revel in maritime camaraderie. Positioned directly above the keel, the forward-galley layout provides a stable platform that simplifies cooking while under way. This strategic placement takes advantage of the yacht's most stable area, maximizes storage options, and can be equipped with modern amenities such as a dishwasher, front-loading refrigerators, a freezing compartment, and ample protected countertop space.
In crafting the Explorer, flexibility is key. Owners can choose between a two-cabin or a three-cabin layout to suit their specific needs and preferences. Opting for the two cabin configuration repurposes the third cabin into a versatile utility hold. This thoughtful design decision creates dedicated spaces for wet and dry storage, accessible from the cockpit and the interior, or even the inclusion of a washing machine, adding another layer of practicality to this vessel.
For more information on the New Elan GT6 Explorer call (02) 9281 4422 or email