Agriculture Victoria has released the Invasive Marine Pests Module, which takes a deep dive into how Victoria manages marine pests.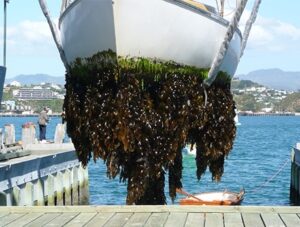 Agriculture Victoria Executive Director Agriculture Regulatory Policy Dr Trevor Pisciotta said the module aims to protect the state's unique marine environment from the impacts of pests.
'Government, industry and the community worked together to develop this module designed to protect Victoria from serious marine threats.'
'Victoria is home to a range of species that are unique to southern Australia, includingthe delicate Weedy Seadragon with fins resembling kelp fronds and golden 'Crayweed', which forms vital underwater forest homes for other animals.'
'Victorian coastal saltmarsh along with mangroves and seagrass form 'blue carbon ecosystems' which play a key role in carbon capture.'
'Healthy marine environments generate millions of dollars per year from commercial and recreational fishing and tourism, as well as having immense cultural, social, and spiritual meaning of Sea Country to Traditional Owners,' he said.
Marine pests are highly invasive, non-native animals and plants that pose a significant threat to Victoria's marine environment, industries, and our way of living. Once a marine pest becomes established, it can be nearly impossible to eradicate it.
One such example is the Northern Pacific Seastar, Australia's most serious marine pest which is well established in Port Phillip. This hungry predator of native bivalves such as mussels and scallops has a significant impact on the natural environment and on aquaculture.
Preventing its spread to new areas along the Victorian coastline remains a priority.
The module outlines how the Victorian Government manages established marine pests like the Northern Pacific Seastar, while developing new strategies to prevent and manage the spread of exotic marine pests.
It also explains how the Australian Government, states and territories work together with industry and the community to successfully manage threats posed by invasive marine pests.
The Invasive Marine Pests module is the second module to be developed under the Invasive Plant and Animal Policy Framework (IPAPF), following the previously published Weeds and Vertebrate Pests module.
Visit the Agriculture Victoria website to access the Marine Pests Module.
To keep up to date with all marine industry news visit www.marinebusinessnews.com.au