MY Wanderlust – one of the largest superyachts to be built on Australian soil – recently visited Rivergate for a whirlwind maintenance period, with 43 trades carrying out approximately 100 individual tasks in the space of 13 days.
The 85-metre Silveryachts vessel is one-of-a-kind, with its floor-to-ceiling glass that wraps right around the back of the boat, and substantial entertaining areas. The aft deck is a vast 400 square metres – the size of a basketball court – and holds a 52-foot tender on the deck.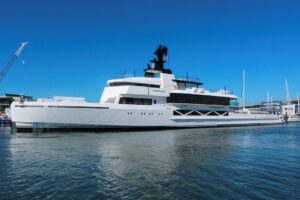 Rivergate sat down with Project Manager Angus Paterson to discuss the ins and outs of Wanderlust's recent refit at Rivergate.
Scope of works
Primarily visiting Rivergate to conduct maintenance on firefighting equipment and lifesaving appliances, the vessel took the opportunity to carry out a host of other works.
"It was a quick 13-day turnaround and extra works included dive equipment servicing, interior shipwright works (including replacement of loft woodwork), appliance maintenance and servicing, service and maintenance of AV/IT systems on board, marble polishing, various engineering tasks, repairs and improvements and resupply of on-board consumables," Angus said.
"This was in addition to works carried out on the support vessel, which included the replacement of fendering and fabrication and installation of new clears."
While considered to be a light maintenance period, the scope of works did provide a challenge for both Angus and the various trades involved – with coordination and communication of scope critical to carry out approximately 100 tasks in less than two weeks.
"Due to the scoping work that was conducted prior to the vessel's arrival at Rivergate, the specialist contractors based on site at Rivergate and the professionalism of the crew onboard, the project successfully completed all the goals of the vessel's visit," Angus added.
The Rivergate Difference
The Rivergate team built a relationship with some of MY Wanderlust's crew through trade shows and other vessels that had visited the marina and shipyard. After building a rapport with the vessel's captain and crew, Rivergate met with the boat in Tahiti this year prior to the Superyacht Australia Rendezvous.
Angus said the vessel's visit highlighted Rivergate's ability to deliver exceptional refit and repair services, no matter the size, scale or budget.
"It was amazing to see an Australian built superyacht of that size visit us; it was testament to the skills currently available in Australia's superyacht industry for both new builds and refit and repair," he said.
"It was also great to have the opportunity to take the crew out to a local Rugby League game and give them a chance to unwind and see what Brisbane has to offer. Being able to offer a great maintenance period in addition to a positive experience of Brisbane is very important to Rivergate."
For more information visit rivergate.com.au